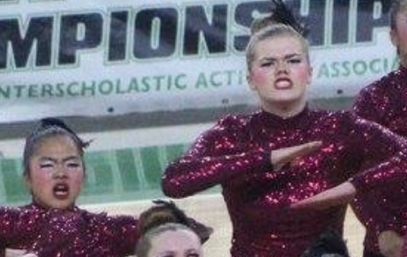 By Amy Rowley

The college-sized basketball court fills with more than 200 drill team members, all state qualifiers from 1A, 2A and 3A high schools. Each competitor stands ready, at attention, to receive a list of commands. The Drill Down competition occurs at the end of a long day of performances. To win this competition, you must be completely focused, shutting out all distractions. You are performing on your own, show the judges your very best.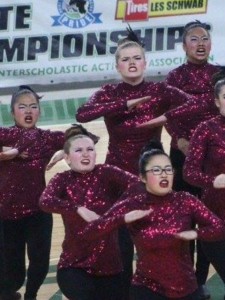 Claire Smith, a sophomore at Capital High School and a first year drill team member, describes Drill Down as a "hard core version of Simon Says." She's quick to add, "This makes it sounds childish. It's very complicated."
"It's crazy how intense the Drill Down is," adds Claire's coach, Jan Kiefer. "You must get into a mental zone that requires an extraordinary amount of focus."
A caller announces commands that could include a series of pivots or turns, along with hand movements. Sometimes you are marching while you memorize the order of the commands. The caller also may change the cadence, insert a hesitation or other tricks to try to make the competitors lose concentration or miss a beat.
When the Yakima Valley Sun Dome filled with state-qualified high school drill teams, Claire took the floor with her Capital Cougarette teammates. She explains that during the first few rounds each participant is on their honor to sit down after a mistake. There are simply too many competitors for the judges to watch each movement. "It's simply disrespectful to not honor your mistake," says Claire.
As Claire advanced further in the Drill Down competition, the commands became more complex, the caller's tricks more intense. A quick flinch or even a hesitation can result in elimination. "My heart was pounding so fast that I was shaking. I was worried that this slight movement would get me eliminated," she recalls.
But it was this adrenaline rush that Claire was searching for. "It's so empowering," she adds.
As the Drill Down continued, three of Coach Kiefer's Capital Cougarette drill team members were in the finals.  Alongside Claire was Kathy Ly and Vivian Ha who finished fifth.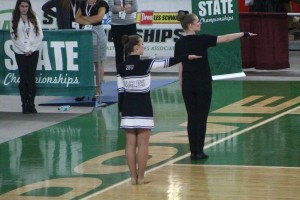 Finally, it was Claire and Becka Heelan from Elma High School. "There were a couple thousand people in the audience," recalls Coach Kiefer. "You could have heard a pin drop. That's how intense the final round was. I found myself whispering 'come on, Claire.'"
Claire shut out the audience and focused only on the caller's series of commands. Becka performed one hand command. Claire did a different one. "I knew right then that Claire had won. I didn't need to wait for the judges," says Coach Kiefer. "Our team exploded, jumping up and down, cheering and yelling. It was a great moment."
"Both her mom and I are so proud of Claire," says her dad, Steve, who was watching intently in the audience. "We know how hard the coaches and the girls work throughout the year and this was an awesome experience."
"In that moment, I had so much pride in my team. I was able to show everyone that I do pay attention and that I'm good at following commands," says Claire.
Claire will treasure her 1st place Drill Down medal. "It's so hard for anyone to win Drill Down," adds Coach Kiefer. "For Claire, in her first year of drill team, this is simply amazing. It's unheard of for a first year participant to win."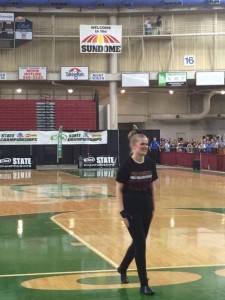 "Claire is so focused and determined. She is one of the most coachable kids that I've had on our drill team in a long time," summarizes Coach Kiefer. "You can see the results of Claire's hard work. She keeps getting better and better."
Claire notes that the drill team has spent more than 700 hours on practice throughout the year. "Drill team takes so much dedication but it feels so good at the end. It's taught me a lot about the power of positive thinking. I've also learned the value of stepping up, even if something seems tough."
Claire is already looking towards next year when she returns to drill team. "I hope that I have improved. I want to put myself in a position that will make me a very valuable dancer to the team."
She also credits her coaches with the success that the Capital High School team had at the state competition, placing 2nd in 3A military, 2nd in 3A pom, and 3rd in 1A, 2A, and 3A dance. This was the first year for the Capital Cougarette Dance Team to compete in the dance routine and the group is quite proud of their performance.
"Our coaches shape our team," says Claire. "They are the reason our team is as good as it is. Not only are they good coaches but they are good people. This was my way of showing them how much they are worth to me."
The Capital Cougarette Dance Team will be holding tryouts during April. To learn more about the team, follow them on Facebook.