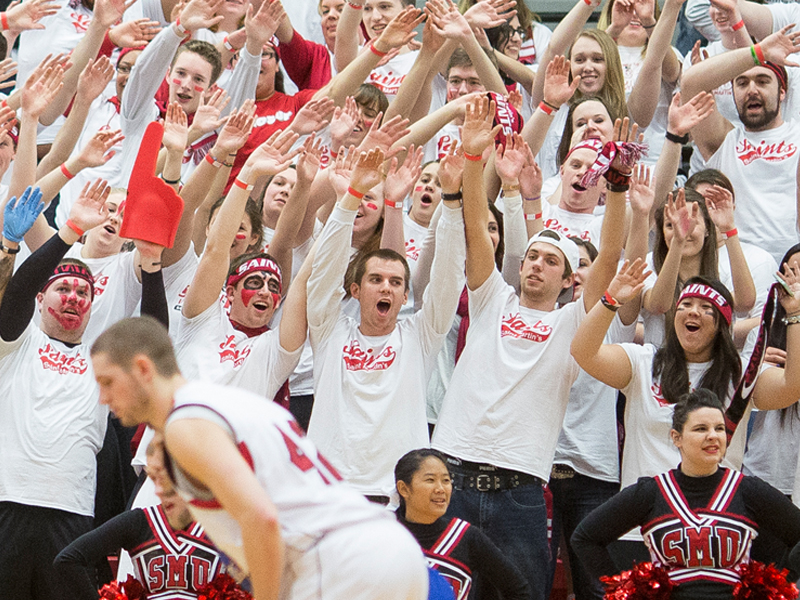 By Gail Wood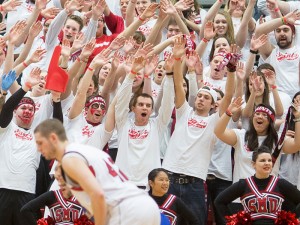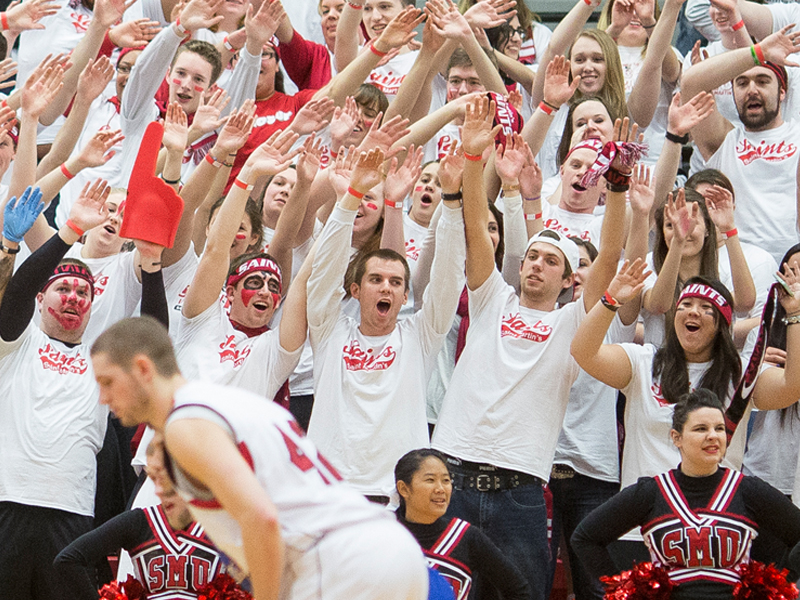 Michael Ostlund and Tim Healy are followers of the old "play them one game at a time" cliché.
But their Feb. 11 game against Western Oregon is one that both Saint Martin's University coaches have circled on the calendar. On this date, the Saints play a doubleheader at home in the University's Marcus Pavilion that will be televised by Root Sports.
"To me, it's like a four-hour commercial for Saint Martin's University," says Ostlund, who is in his second season as the men's head coach. "Yeah, it's one game, but from that standpoint, I think it's very significant for Saint Martin's."
It's the first time Root Sports has televised a doubleheader of a GNAC game.
"I know for the kids it's a fun experience," says Saint Martin's women's head coach Healy. "It's great for the school to get that exposure. In that regard, it's a great marketing tool and good for recruiting."
With TV cameras coming, Saint Martin's has planned a busy week of activities called #PackThePavilion. To ensure a packed house, Megan Lobdell, Saint Martin's sports information director, will be doing a six-week social media campaign, including the use of the #PackThePavilion hashtag, to promote the event.
The women's game starts at 6:00 p.m. and the men's game follows at 8:00 p.m.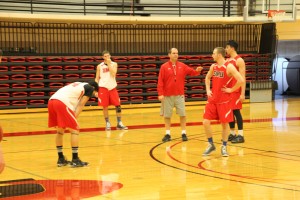 From 5:00 p.m. to 7:00 p.m., there will be a Red Out pep rally and tailgate in the Worthington Center for season ticket holders, alumni, parents and members of the school's board of trustees.
The students will have a tailgate function starting at 4:30 p.m. at the TUB, including food and raffle tickets. At that time, students can also pick up red T-shirts and Saints Nation scarves.  Raffle tickets will be handed out for an iPad or a GoPro camera.
"We are going to red out the gym. We encourage everyone to wear red," Lobdell says.
During halftime of the women's game, a dodgeball game will be played, matching the school's faculty and staff against students.
Riley Carel, a 6'2" senior guard, says in the past, when Root Sports has telecasted one of their games, there was an added buzz on campus.
"I think it makes it more fun," Carel says. "A small school like this, it makes the community get excited and the school get excited."
According to Carel, people on campus stop him to say they are excited about the game. He's even seen the intensity dial crank up for the teams involved because it's going to be televised.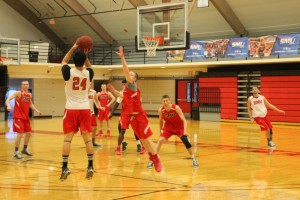 "While it's just another game, I think it definitely adds more spark, more energy," says Carel. "It makes it a little more exciting to come to the gym and play."
While Carel admits there's an excitement boost to the game because it's being televised, he's just excited to be back playing. Carel missed much of the early part of the season with injuries. After starting every game last season, Carel had knee surgery in the off season. Then he pulled a groin muscle playing against Montana in an exhibition game and was out for three weeks. During his first game back, he sprained an ankle and was out for two additional weeks.
The Saints have had to deal with several injuries, forcing Ostlund to go with a younger line-up. As a result, they started the season 0-5, losing several close games. Then they won four of their next seven games and started GNAC play 1-1, knocking off Fairbanks.
In that early losing stretch, Ostlund started three freshmen and often had four freshmen on the floor at the same time. Still, despite their youth, the Saints were close.
"We were competitive but we weren't getting the wins," Ostlund says.
Trey Ingram and Tyler Copp lead the Saints in scoring, averaging 10 points each. The Saints have balanced scoring as they have five players averaging between eight and 10 points. Ryan Rogers, a preseason all-conference player, has been injured and hasn't been the go-to scorer Ostlund had anticipated.
"(Rogers) has battled injuries," says Ostlund. "It's good to have balanced scoring. But it's a little challenging when we're coming down the stretch and knowing what buttons to push."
Krista Stabler, a 5'6" junior guard, leads the Saints women's basketball team with 10.1 points a game, shooting 35 percent from the field. Playing just one game at home in their first 10 games, Saint Martin's got off to a 3-7 start.
"We're playing a lot of kids," Healy says. "And we're getting a lot of different combos every night."
Saint Martin's is holding opponents to 64.6 points a game and 41 percent shoot.
"Defensively, we're really good," Healy says. "That's our best thing. We need to control the tempo of games and make sure we're playing our way."
Pull out all your red clothing and join the Saint Martin's University community on Feb. 11, beginning at 5:00 p.m., for a night of basketball.