By Kelli Samson

Baby, it's cold outside.
Lucky for you, a few classy joints in town have got what it takes to warm you right up.
Along with the longer nights comes a need for cozying up, hunkering down, and connecting with friends. It's almost as if we are wired to emotionally survive the extra darkness by this sudden desire to gather together in the evenings.
Or maybe it's just the holiday spirit. Who knows? I'm not going to over-think it.
Whatever it is, I am thankful to be living in Olympia because we have no shortage of spectacular places to meet for drinks. And winter is the perfect season for tucking into something with a little more body than our summertime favorites.
The kind folks at Dillingers, Swing, and Rhythm & Rye would not only love for you to join them for a drink or three some evening, they are taking it one step further this season and offering you the secrets to their favorite winter drinks.
Get out your martini shaker, put on some Rat Pack-era holiday music, and call up a few pals. We're just getting warmed up.
Swing Wine Bar
Stop by Swing just before dark, and you'll get a moody view of Capital Lake, shrouded in fog.  It's the perfect place to watch darkness fall.
Their drink menu is mighty but light-hearted. "We name all of our originals after song titles," says co-owner Nicole Butigan.
This winter they're spinning the Platter's classic "Smoke Gets in Your Eyes," but in a glass rather than on the stereo. People, this was the tastiest drink I've had in a long time.
It begins with a little bit of pyrotechnics, as a server lights on fire a glass holding a single sprig of rosemary and a bit of absinthe. As the flame sends the scent of anise into the air, the rest of the drink and its ice is poured over the top, extinguishing the flame.
It's an impressive little show, but the headlining act follows with a bang. This drink is citrus-y, but the bourbon cuts the sourness well, adding a hint of sweetness. It would be very, very easy to drink more than one.
Be careful, as absinthe is a heavy hitter and packs an addictive quality. There's a reason they referred to it as "the green fairy" back in Victorian times.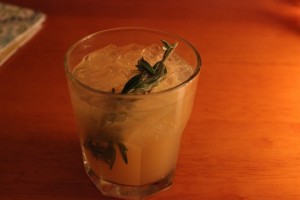 Swing's Smoke Gets in Your Eyes 
2 ounces Bulleit Bourbon
3/4 ounce fresh lemon juice
1/2 ounce simple syrup
2 sprigs Rosemary
Absinthe
Ginger Beer
Shake first three ingredients.
Place rosemary in a rocks glass and saturate with atomized absinthe.
Light the rosemary to a slight char, then pour the chilled beverage, including the ice, over the flaming rosemary, releasing the smoke.
Finish with a splash of ginger beer.
Dillingers Cocktails and Kitchen
Dillingers is killing it lately. They are still absolutely slammed every night since they opened earlier this year.
And with good reason. Bar manager Sherilyn Lightner is so efficient at her craft. She does everything at once – chatting, mixing, pouring, taking orders – with seemingly little effort. Her style is vintage-personified, and she is constantly smiling and exuding genuine charm beneath those gorgeous chandeliers that hang above the swanky bar.
It is simply a pleasure to be served by someone so friendly, knowledgeable, and at the top of her game.
Lightner came up with an original drink in honor of this article, and she calls it the Red Velvet.  She describes it as "very simple and approachable, yet elegant, festive, and delicious."
The base of the drink is a cranberry shrub. Shrubs are vinegar-based, so this drink seems not as naughty as others.
Gin is also a front-runner here, which is why this writer had to have fellow staff writer Emily McMason do the taste-testing.
Of all the things to be allergic to, why do I have to be allergic to Juniper?
"It's fabulous for the holidays," says McMason. "The shrub adds a tart, but earthy, flavor. It's a good alternative to a sweet cocktail."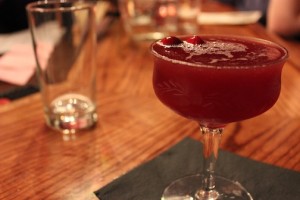 Red Velvet
First you'll need to make a cranberry shrub:
12 oz. fresh or frozen cranberries
1 cup sugar
3/4 cup red wine vinegar
zest and juice of one lemon
Simmer all ingredients with two cups of water over medium heat, stirring often.
Reduce heat to low and cook until most cranberries have burst, 5-10 minutes.
Strain mixture, pressing liquid out of pulp using the back of a spoon.
Discard pulp and chill mixture for at least one hour.
For the cocktail:
1 1/2 oz gin
1 oz Cranberry Shrub
Shake. Strain and serve up in a martini glass or coupe.
Top with sparkling wine.
Garnish with a fresh cranberry.
Rythym & Rye
Rounding out our trio is a twist on the classic Tom and Jerry cocktail from the new Olympia establishment, Rhythm and Rye. Located where the Royal used to be, this new watering hole's primary focus is to offer a great concert venue so you can enjoy a show while having a drink.
A Tom and Jerry is quite similar to eggnog, but warm, for those unfamiliar with this winter beverage. The bartenders at Rhythm and Rye suggest swapping out the traditional cognac for some bourbon in the recipe below. It makes "for a wonderful, warming holiday cocktail that is perhaps a bit lighter than the classic hot buttered rum," they explain.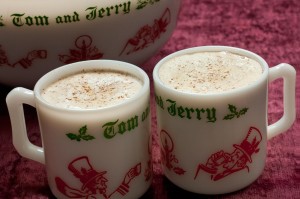 Tom & Jerry
First comes the batter. This is a standard recipe:
12 eggs, separated
1 tsp cream of tartar
2 cups of powdered sugar
2 oz dark rum
1 tsp vanilla
1/4 tsp. cinnamon
1/4 tsp. nutmeg
Whip the egg whites with the cream of tartar until they form stiff peaks.
In a separate bowl, beat the yolks with the sugar, rum, vanilla, and spices.
When the mixture is completely liquid, fold it into the whites.
For the cocktail:
1 scoop of batter
2 oz of Meyers dark rum
2 oz of Four Roses Yellow Label bourbon
2 oz of hot water
Place a scoop the batter into a glass.
Add remaining ingredients.
Stir and enjoy.
When you're planning your holiday parties, don't forget to include one of these cocktails. It's always good to have a signature drink to serve your guests, and any one of these will do well to warm everyone up.
Or, make it easy on yourself and drop by one of these three establishments. Be sure to thank them for the recipes, and remember what I said about that absinthe.
Be responsible, kiddies. Happy Holidays!
Dillingers: 404 South Washington, Olympia
Swing Wine Bar: 825 Columbia St. SW, Olympia
Rhythm & Rye: 311 Capitol Way North, Olympia