Planning, planning, planning. That's what a lot of us are doing right now.  Whether it's finalizing the details for a summer trip or tying up loose ends for seasonal childcare, it's a common thread throughout families during the month of May.  Around our house this includes choosing which summer camps to attend this year.  And while there are outstanding options throughout Thurston County, we have settled on a few camps through the South Sound YMCA.
Why did I pick the Y for my girls?  These people know what they are doing.  The South Sound YMCA has been taking care of kids in Thurston County for decades and their experience has taught them volumes about helping kids learn, grow and have fun.
"One of the things I love about our summer camps," shares Director of Development and Marketing, Susan Callender, "is that there is honestly something for everyone."  And a quick browse of the summer camp brochure confirms this.  From Robotics and Space to Drama and Cooking to Swimming and Soccer, there are offerings to appeal to all interests. Camps are designed for kids ages five to twelve, however leadership programs are included for teens 13 to 16 as well.
Camps are organized into one week sessions with a single topic focus for the week.  Whether you are looking for summer-long licensed child care or enrichment opportunities for single weeks during the summer, the South Sound YMCA's programs will fit for you.  Sessions begin June 16, as soon as area public schools release for the summer, and continue for 11 weeks, concluding August 29.
There are five camp locations spread throughout the county allowing families to choose a location most convenient for them.  These include the Olympia Downtown and Briggs Community branches, Chambers Prairie Elementary, Tumwater Hill Elementary, and Roosevelt Elementary.  "Some families choose to stay at one site all summer, rotating through the different camps offered there.  Other families will swap sites, following the camp topics that most interest their child," explains Callender.  No matter which site you attend, the camps are run by experienced, trained counselors and ensure your child a week's worth of fun and learning.
What's new at the Y this year?  One offering is Space Academy.  Explore the stars, learn about planets, and create rocket ships at the all new Space Academy. If you have a STEM kid (science, technology, engineering, and math) at home, this camp is a great fit.   Campers explore all things space, creating their own universe by week's end.  Also great for STEM-inclined kid are the Robotics camps, offered during multiple weeks and sites.
The Sports Extravaganza camp engages those kids who love to move.  A full day of sports related activities will ensure a tired kiddo is delivered home to you each night.  However, the Y also offers a Sports Extravaganza PLUS option.  This camp is all about sports in the morning and after lunch, is partnered with another camp topic ranging from dance to robotics to cooking.  A good fit for those who can't decide on just one.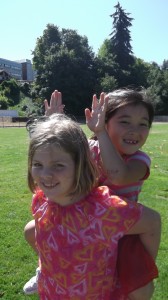 Also new this year is the Leader in Training Program for 13-year-olds.  Previously, teens began the Counselor in Training (CIT) program at age 14, learning skills to become a fully qualified camp counselor.  "This program is hands-on experience for teens and designed so that they can get a job with the Y when they are done if they choose," explains Callender.
However, there was a gap between camp fun and CIT training for thirteen-year-olds.  The new Leader in Training (LIT) program is geared towards teaching teens how to be leaders, helping them practice essential skills in a more structured setting.  "It's a great stepping stone for our CIT program and my daughter is going to be enrolled in this one this summer," shares Callender.
The program will again feature its very popular Arts Alive drama camp, sited at Roosevelt Elementary with Dave Marsh, a veteran with the Y.  Another returning feature is the Summer Excursions.  These one day field trips to places such as a Seattle Mariners game, Experience Music Project, or the Museum of Flight are open to anyone who'd like to join the fun.  Simply register with the Y – no week long camp enrollment required.
And, the classic summer camp experience returns as well at Camp Bishop.  The Y's week long overnight camp includes kayaking, archery, campfires and more on the shores of Lost Lake in Shelton.  Read more about Camp Bishop here.
One of the things the Y prides itself on is making camps accessible to all families in Thurston County.  With financial assistance available for all who qualify, the South Sound YMCA can truly give all kids a summer to remember.  To access information and apply for financial aid, simply click here to download the form and return it to a local branch.
"I think it's important for all kids to have fun in the summer, but equally important for them to be learning skills, both social and academic, through the summer months," says Callender.  "Camps at the Y can provide it all."