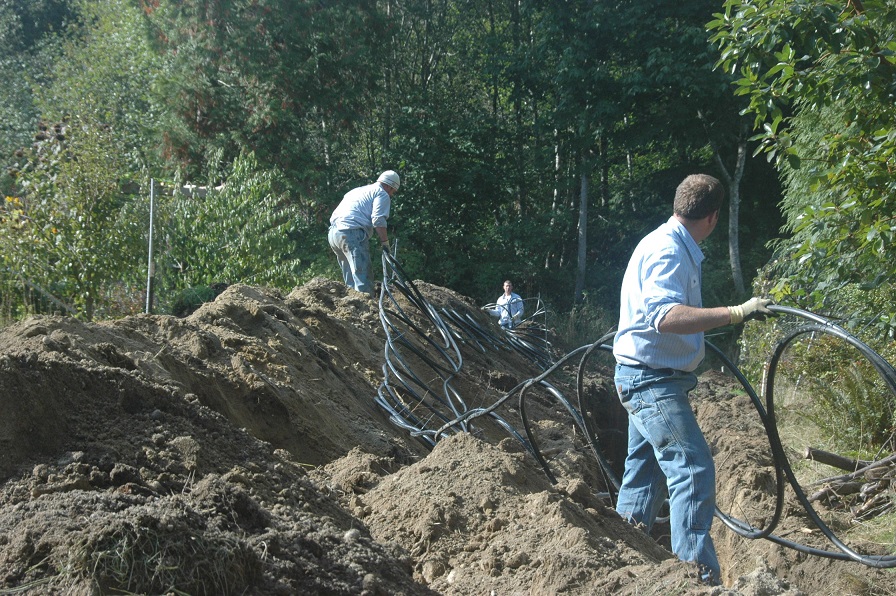 No matter what the seasons throw at us, there are ways to harness the Earth's changeability to our benefit.  Whether it's through solar panels to catch the sun's rays or geothermal heating to warm our chilly homes, why not use the greenest of methods: Mother Nature herself?
Lacey's Sunset Air, winner of the 2014 Corporate Employer of the Year for the Thurston Economic Development Council, has been working with geothermal heat products for over 35 years.  Whether they're built into an award-winning project like Saint Martin's University's Fr. Richard Cebula, O.S.B. Hall Engineering Building or to retrofit an existing home, the options are as multifaceted as the earth they utilize.
Requiring approximately half an acre of space per home, geothermal systems consist of underground pipes which harness the consistent warmth of the earth.  This piping is either drilled down into the ground like a well or coiled horizontally six feet under the soil.  The property layout, size of the home, type of soil, and home's "load calculation" determine which method will be used by the Sunset Air team.  Ideally the goal is to produce 125% of a home's need, with the overage built in for unexpected extreme temperatures.
Because of the complexity of retrofitting a property, geothermal designs are often worked into the initial building plans.  Through 2016 there is a 30% federal tax credit on the entire job which often makes the costs no more than similar green technologies.  Puget Sound Energy also offers rebates on geothermal projects, but exclusively on retrofits and to a lesser degree.
Residential Division Manager Randy Norris is proud that Sunset Air "can adapt to any type of system" when it comes to geothermal projects.  Homeowners shouldn't be afraid to contact staff with any questions because their years of experience help make any project less daunting.  Existing machinery can be adapted or replaced, groundwork adapted to existing terrain, and issues dealt with in a timely manner.  Basically, if Sunset Air can't design, install, or maintain something, they'll know someone who can!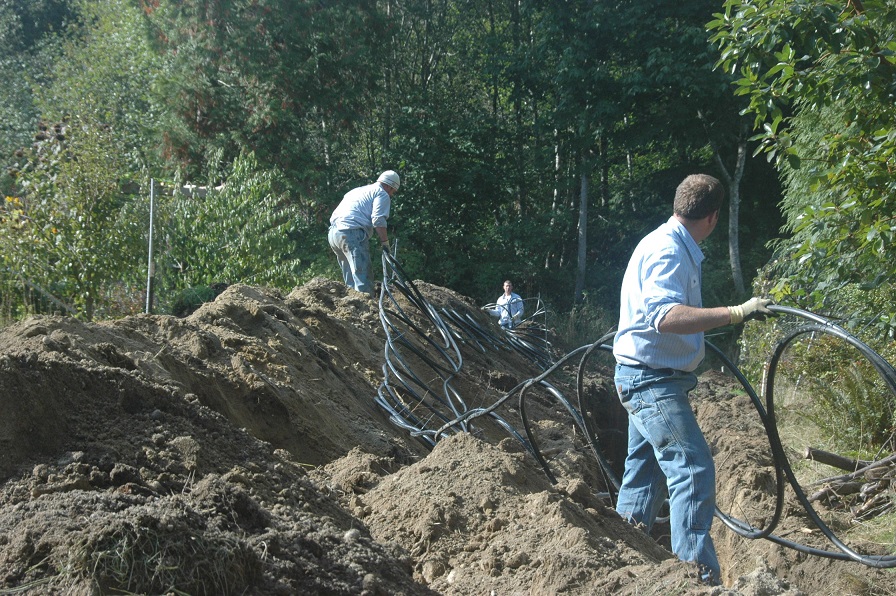 geThe United States Department of Energy states that "Even though the installation price of a geothermal system can be several times that of an air-source system of the same heating and cooling capacity, the additional costs are returned to you in energy savings in 5 to 10 years. System life is estimated at 25 years for the inside components and 50+ years for the ground loop. There are approximately 50,000 geothermal heat pumps installed in the United States each year."
Our hesitant economy means that homeowners are staying in their homes longer.  Realtor.org states that in 2013, "the typical seller lived in their home for nine years.  The median tenure has increased in recent years.  In 2007, the typical tenure in home was only six years."  Whether you're waiting out an underwater mortgage or simply saving your pennies for a rainy day, the money retained through geothermal heating might as well stay in your pocket.  It's always worth a call to the knowledgeable staff of Sunset Air no matter what your heating, cooling, window, door, fireplace, generator, ductwork, or design question.  Your home will be more comfortable, beautiful, economical, and green, whether you decide to sell or enjoy it for years to come.
Sunset Air is located at 5210 Lacey Blvd SE or you can call 360-456-4956.