I love the transition from winter to spring. The grey dreary days become fewer. Flowers begin to bloom. Sunshine comes streaming in our homes.  But, then it spotlights the dirt and stains that we have been able to hide all winter long on our carpets, tiles and upholstery.
DKB Restoration are experts in carpet cleaning as well as upholstery, air duct and dryer vents. And while spring cleaning is upon us they are tooled to clean any time of year.
Dan Baxter started DKB Restoration after serving in the military for four years, in the mid-1990s. "I wanted to build a decent company that would provide a good service to people and give back to the community," shares Baxter.
Baxter's customers seem to appreciate his style of business and quality service.  His company is growing monthly through its repeat customer and referral program. Baxter believes in rewarding those who refer and gives a 10% discount on future services.
As specialists in carpet restoration, DKB Restoration also provides air duct and dryer vent cleaning – two household areas that require cleaning but are rarely considered.  Dirty carpets are obvious so they get vacuumed regularly and professionally cleaned a few times a year. According to Baxter, ducts do not get cleaned as often as they should. Ignoring ducts for years can lead to them get clogged with gunk that then gets blown back into the house.
"The EPA estimates indoor air can be two to five times more polluted than outdoor air," cites Baxter.  Homes naturally collect dirt, dust and allergens. And when ducts are not cleaned, then the polluted air is pumped through your home every time the heating or cooling system comes on.
DKB Restoration does not only clean the air ducts in your home but they also restore heating and air conditioning filters to superior cleanliness. Baxter uses Ram Air which is a revolutionary duct cleaning process that allows for state-of-the-art forced air cleaning with no mess or debris and no harm to the inside of ducts.
Baxter is passionate about dryer vent cleaning for safety reasons. "Most people are not aware that airflow restriction causes dryer fires," he explains.  "If the vent gets clogged up it can catch fire and create a home fire situation. These are really simple fixes."
"Even when you clean the lint screen before each cycle lint gets past the filter and collects in every exhaust system," he continues.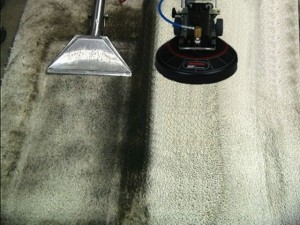 DKB Restoration can clean out dryer vents.  Baxter's company also installs lint alert systems to inform homeowners about the dryer's performance and recommended cleaning schedule. Dryer vents should be cleaned out once a year to keep your home safe and efficient.
When natural light highlights upholstery stains, DKB Restoration can assess your furniture for potentially permanent stains or damage and clean the upholstery. DKB Restoration can also advise on simple furniture care techniques such as regular vacuuming or brushing of your upholstery to prevent build up of grime between the fibers of the fabric to extend the life of furniture.
DKB Restoration guarantees 100% full customer satisfaction. Baxter built his business on integrity and is committed to protecting customers' health and investment. You can breath a little easier knowing DKB Restoration guarantees their work, creates dust free air through duct cleaning, and ensures a safe home through dryer vent cleaning.
Click here to learn more about services provided by DKB Restoration or call Dan Baxter at 360-688-4392.