By Kelli Samson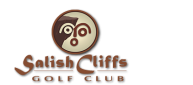 Remember what it was like to only have the simple responsibilities of school, your favorite activity, and some chores at home? No meals to cook, no groceries to buy, no children in need of raising. Just you and time to focus on being in love with your favorite sport or activity. Those were the good old days.
Capital High School's Gabriel Barnes is living the good old days. He has no big plans other than playing golf today. And tomorrow. He is just going to see where the game takes him.
As I climb the stairs to the Olympia Country & Golf Club's newly built restaurant and pro shop, I can't help but marvel at what an exceptional day it must be for a golfer. It's the lazy, sunny, spring break kind of perfection. Some deer linger on the nearby course.
I meet CHS freshman Barnes here. He is the boy wonder of the school's golf team, as he earned himself a spot at the state golf tournament in late May as a young player.
Of placing fourth at the district competition of around sixty golfers last fall at Chamber's Bay, Barnes says, "It feels really good. I wasn't sure how it would be. I knew districts would probably be pretty competitive, but I ended up playing really well. I'm glad I did!"
Golfers at the district tournament needed to place in the top sixteen to advance to state. Barnes' teammates Joel Christopher and Brent Chapin also made the cut.
Barnes has been playing golf seriously for three years. He became a Junior Golfer at the Olympia Country & Golf Club in middle school, playing tournaments with the Washington Junior Golf Association, the Junior Golf Tour (JRGT), and the Pacific Northwest Golf Association.
Golf wasn't his first love.
"I'd played baseball before golf, but I decided to stick with golf. I'm better at golf than baseball and I like it a bit more," he says.
Barnes was not motivated to get serious about the sport by celebrity golfers. Instead, he says, "I got inspired by kids my age that were playing well."
CHS golf coach Steve Hamilton and the older members of his team first noticed Barnes last year. "He would practice next to us on the course, and the kids and I noticed how good he was," he says.
When Barnes is not practicing with the Capital team, he practices on his own. "I probably golf three or four times a week now, but during the high school golf season, I golf every day," he states.
As it turns out, golf is a Barnes family sport. His dad picked the game up again when Barnes began to take a serious interest, and now his whole family spends time together golfing.
"My younger brother Finn is actually really good," brags Barnes. "He made it to state this year for the Washington Junior Golf Association. He doesn't golf as much as I do, but I think, if he gets into it, he could be really good."
His family keeps him very grounded. "We do a lot of yard work at home. I have to take out the compost, mow, and weed," says Barnes. "Sometimes I don't want to come out and practice, but my dad makes me. I think that's good because you're not going to become good at golf unless you're practicing."
It's that very attitude that leads Coach Hamilton to believe Barnes will go far.
"Gabe brings a model of self-discipline to our team. He truly wants to get better. He has a sense of internal drive that many golfers lack," says Hamilton. "A lot of kids do it for other reasons. His drive will allow him to get really good."
The state tournament will be held at Chamber's Bay, the site of the 2015 U.S. Open. Barnes' goal for the state tournament is "to be able to be in the top ten. I'd like to win, but I think that's almost out of reach for whom I'm competing against. I'm going to practice really hard in these next couple of months."
He also has a lucky charm that he'll bring along with him. "I like using poker chips to mark my ball. I have one from Chambers, so I'll probably be using that."
Beyond his first high school state tournament, Barnes' goal before his 2017 graduation is to have an individual state win, along with a win as a team.  "He has all the foundation to do it," says Hamilton. "He just needs time, practice, and experience."
When asked if he has any advice for a kid interested in pursuing the sport, Barnes says, "The most important thing is to have fun. Golfers can get really down on themselves because it's really, really hard and it's not something you can pick up right away and be super good at. You're never going to be perfect, either."
To Barnes, it truly is a love of the game that drives him. "It's supposed to be fun. It's really nice to be out here when the weather is so nice. You can see Mt. Rainier from numbers eight and nine here at the Club."
When Barnes and I part after our interview, I feel a little pang of envy that he gets to spend so much time doing what brings him joy in such an idyllic setting. The fact that he appreciates it in the moment is wonderful.
Good luck at state, Gabe.  We will be rooting for you.