By Mary Ellen Psaltis

I used to think 'greens' meant grass – like on the golf course. Then I learned greens were leafy things primarily eaten in the south. Overcooked spinach doused in vinegar and butter was as close to greens as my Midwest upbringing brought me. As I dove into my nutrition education, greens kept showing up. The message was simple: fabulous nutrition. Eat them every day.
Yuck.
Kale, chard, turnip or mustard greens, and collards; are you sure? Spinach – maybe. But the evidence kept building that consuming copious amounts of these vegetables was mighty nutrition – a powerhouse of nutrients sorely lacking in most people's diets.
OK – I'll try.
I asked friends for recipes. The most proffered advice was to take whatever greens passed my way, chop them a bit and lightly sauté them in olive oil with a dash of garlic and salt. Truthfully, this never excited me nor did it get me eating more of them.
A friend passed along an amazing risotto recipe that actually took only 30 minutes to make and included pieces of greens. They practically disappeared; it was a dish the whole family could love. The sweet of the peach, the tang of the cheese and the creaminess of the risotto – what's not to love? However, this did not radically increase my overall intake.
Last summer I told myself, "It's finally time." I will take all the greens I get from my CSA farmshare and use them. No matter what. In the past I had either politely refused to take them or if I did bring them home they went straight out to my worm bin. No more.
As berry season launched, I had the idea that I could add a few cups of greens into my morning smoothie. I started with spinach, which is surprisingly mild and almost disappears into the drink. With fresh frozen berries, a splash of water and almond milk, the spinach went down with a smile. Easy.
It might not taste like a malted milk shake, but over time my taste buds have become accustomed to the desirable sweetness of fruit tempered with a few cups of greens. As the summer progressed, I experimented with rainbow chard, curly chard, beet greens and anything that was leafy but not lettuce. I did use lettuce once. Not great.
My husband is more a morning oatmeal person and not fond of thick liquids in the morning. He lovingly called my nutrient rich shake, sludge, as it is often a brackish green color unless there are ample amounts of red berries. I prefer to call it my Morning Glory. My blender makes enough for two servings, so I drink one and save the other for tomorrow. It might separate a little, but a few stirs and it's as good as it was the day before.
Jason Phillips, Zoe Juice Bar owner, agrees that smoothies are a "real simple, easy, convenient way to get your greens." He drinks them almost every day, because he likes them and because of the serious health benefits. At home he doesn't use a recipe but uses what is on hand. He likes both spinach and kale. Zoe Juice Bar receives 500 pounds of produce every other day, so you can be sure they can whip you up a fresh drink.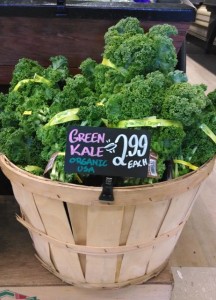 Here's an easy way to get started:
2 cups greens (spinach)
1 -2 cups berries (I like to add them frozen)
1 ripe banana
1 – 2 cups water or coconut/almond milk
I whirl the greens and liquids first then add the banana and then the berries.
You can add just about anything to your shake. All fruit works. Berries may be my favorite addition, but I also like pineapple and kiwis. There are other vegetables that might be of interest to you. You can choose carrots, cucumbers, celery, or beets. If your blender is strong, add nuts or seeds. A piece of sweet potato adds quite a bit of sweet and will thicken up your mixture. It's great.
Depending on your eating program, you could add yogurt (please use unsweetened). Some people might add protein powder or supplements as prescribed.
A smoothie is quick, easy to make, can be taken with you and depending on your ingredients, makes a healthy, nutritious breakfast.  It might also satisfy an afternoon hunger pang or an evening sweet need.
Recap
Greens:  Spinach, kale, chard, bok choy, collard, mustard and dandelion, parsley, mint
Fruit:  All, even avocados
Add:  Seeds, nuts, yogurt, coconut oil, peanut butter and spices like cinnamon, nutmeg and even turmeric.
I am toasting your vibrant health!
Eat Well – Be Well