When you think about the history of Thurston County, you might not immediately think of a bar.  But in their 31 years as neighborhood bar, The Office Bar and Grill in Tumwater has gathered and displayed a large collection of Olympia Brewery memorabilia.
When Jim and Mitzie Phegley opened The Office in 1983 across the street from South Puget Sound Community College (SPSCC), it became a gathering spot for brewery workers, SPSCC students and area residents.  Jim, a longtime Olympia Brewing Company employee, had accumulated some Olympia Beer signs and memorabilia during his career. That collection has grown over the years to include vintage Olympia posters, beer steins, plaques, model trucks, hats, mirrors, clocks, photographs and even a box of Olympia Beer Cookies that were once sold in the Brewery Gift Shop.
When you walk in to The Office Bar and Grill, if the vast array of Olympia memorabilia doesn't catch your eye first, the warm and inviting atmosphere will.  Recently installed booths along the front windows are fast to fill up with patrons who come to watch a televised sports game, celebrate a birthday, grab a drink with friends or partake in one of the popular evening specials, including all-you-can-eat spaghetti for $3.99 on Sundays and $.99 tacos on Tuesdays.  Use of the two pool tables is free all day every Sunday.
The Office Bar and Grill has eight televisions and a 10-foot screen, making it a great place to watch sporting events.   When the Seahawks play morning games, they open early and feature $1.99 breakfast sandwiches.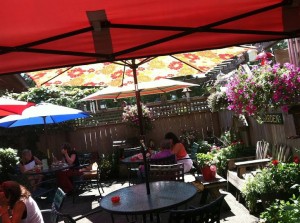 With 17 beers on tap, a large selection of bottled beer and a full menu, there is something to please everyone.  Snacks and appetizers include mozzarella sticks, tater tots, nachos onion rings and chicken wings.  Juicy burgers, chili, fish & chips, salads and sandwiches round out the menu, and come with sides like cole slaw or potato salad.
For almost as long as The Office has been open, some of their cooks and bartenders have been serving customers old and new.  One cook has been there for over 20 years, and a bartender has been there almost as long.   One longtime cook's sister is now working in the kitchen as well.
What you might not notice at first glance, but you won't want to miss, is the beautiful patio.  Fully fenced and beautifully landscaped, the patio offers table seating with and without umbrellas.  Bird feeders hang around the perimeter, and soon the flower baskets hanging from the fence will be overflowing with colorful blooms.  You'll feel right at home on the patio for lunch or dinner, or a leisurely afternoon drink with friends on a sunny day.
The Office is a great place to celebrate a birthday. For groups larger than eight people, reserve a table in advance for an evening or weekend birthday party, The Office will provide balloons and table decorations, as well as a free t-shirt for the guest of honor.  On St. Patrick's Day, beer-themed shamrock signs hung from the walls and ceiling, green beer and corned beef sandwiches were featured, and everyone got a leprechaun green top hat.
The Office Bar and Grill has and ample parking lot, including over 100 parking spots that are sold quarterly to SPSCC students for daytime use but are available to bar patrons in the evening and on weekends.
Stop by The Office for a daily special or a drink, and check out the collection of brewery memorabilia, the beautiful patio and the fun and comfortable atmosphere.  The Office Bar and Grill is located across the street from SPSCC, at 2030 Mottman Rd. SW in Tumwater.  For more information, see their website or call 360-754-5760.