By Tom Rohrer

Put aside the state championships, collegiate scholarships and national recognition and you'll find that Lane Russell and Brooke Feldmeier are teammates first.
The two seniors are Tumwater High School track and field superstars.  They are now in the early stages of their final high school track and field seasons and have their sites sent on repeating as state champions.
Following the end of the season and the summer circuit, the two will be moving across the country to continue their track and field career at the Division I level.
Russell has signed with Princeton University in New Jersey while Feldmeier is heading south for the University of Mississippi in Oxford.
Though it seemed to have little effect on their 2013 performance, the two THS captains are relieved to have made their collegiate decisions heading into their senior season.
"It's a huge weight off your shoulders and it's just a very nice and secure feeling to know where you are going," said Feldmeier, the defending 2A state champion in three events.  "It doesn't mean you can stop working but it's still a relief."
"After I made the decision where to go, it definitely took some of the individual pressure off.  I spent a lot of last year thinking not only that I want to do well, but I have to do well because of college," said Russell, who was the 2A state champion in the triple jump last year. "This year, it's still just as intense but in a different way.  Instead of thinking I want to do something good so colleges take notice, it's more to do something good because I want to leave a legacy."
Had they graduated in 2013, the duo's legacy in T-Bird track and field history would already be prolific.
Feldmeier earned state championships in the 200 and 400 meter races and the 100 meter hurdles.  She currently holds the school record in all three events and also in the 300 meter hurdles, the high jump and heptathlon.
Russell won the 2A triple jump crown by nearly three feet and finished second in the long jump by less than an inch.  His 47'1" posting in the triple jump stands as the Tumwater record, a distance he plans on breaking again this spring.
Feldmeier and Russell's performances nearly won the T-Birds two team state championships in 2013, as the Tumwater boys finished second to Sehome while the girls conglomerate took seventh.
"It was a special meet but personally I'm a little bothered by my second place finish (in the long jump)," said Russell.  "That's something that's driving me this year, to make sure I come out on top in both my events."
"I look back and think the only way it could've gone better is if we had won the team championship," Feldmeier noted.  "I performed as well as I could and that really puts some pressure on myself this year.  That's something I'm looking forward to, being the defending champion and facing the competition."
Though the two will certainly face stiff competition at the state level, their opposition takes on a whole new level next fall.  Division I track and field can be a stepping stone towards turning professional in the sport and sets up an opportunity to compete for Olympic medals and world championships.
Feldmeier and Russell had plenty of suitors in line for their athletic and academic skills, requiring them to make a difficult decision.  Both highlighted the reasons behind their respective college choices.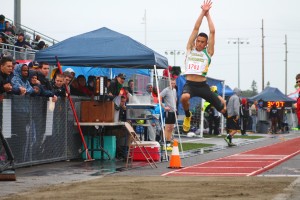 "Basically Ole Miss came to my house and the head coach (Brian O'Neal) said he does one home visit a year and usually sends his assistants out to other recruits.  He picks one female and one male prospect to visit per year, and I was the one. That was exciting and we had a great connection right away," Feldmeier said.  "He had his laptop out and showed me exactly what I should be doing in terms of training and preparation.  He circled Olympic years and World Championship years and what he wants to accomplish there.  (O'Neal) seems like the coach I'm looking for."
"On my official visit, everyone was like 'this is the guy you want as your coach' and everyone on campus was just really nice," she continued.  "(O'Neal) is training an Olympic athlete right now, so I met him too. It really seems like a family there and that's the type of atmosphere I'm looking for."
"My official visit (to Princeton) had a big bearing on my decision.  I was being looked at heavily by Princeton, Cornell and Stanford and I'm sure I would've been happy with all of them," Russell said. "It was where I felt I could live for the next four years and I when took my visit to Princeton, I absolutely loved it."
"The guys on the team and the coaches were great and really by end of visit, it felt like I home to me," he added.
Looking beyond the high school season to college, it's clear the T-Bird standouts have plenty to be excited about.
"I watched a video of the Heptagonal (Ivy League) championship and seeing how intense everyone is in the event really opened my eyes.  Teams really support their members and I think that's the biggest difference between college and high school," Russell said. "A lot of high school track is about gaining exposure and showing up on college recruiter's radar.  It becomes more about the team in college and I'm looking forward to that."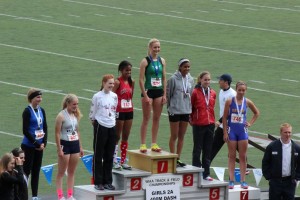 "I'm excited for the coaching aspect because I've never had technique training," Feldmeier said. "My technique will be so much better and I think that will allow me to take the next step in my development."
Before Ivy League Championships and Olympic level training, Feldmeier and Russell will look to serve as role models for the younger T-Bird athletes.  Both led instructional stations during the first couple of Tumwater practices and continue to mentor younger athletes.
"Again, it comes back to leaving that legacy," said Russell, whose younger sister Peyton is a sophomore on the THS team and a state contender in the triple and long jump.  "And that's about more than winning meets and state championships.  It's about leaving the program in better shape than when you got there."
"When you're a senior, you have the opportunity to give advice.  Sometimes it's advice you wish you had received," said Feldmeier.  "I just want to set a good example and show the team how to work hard and improve."
Throughout their time at Tumwater, the two have been able to set examples for each other and continue to share a passion for the sport.
"I think Brooke has had a huge impact on myself and we've spent a lot of time together talking track. Aside from being a crazy talented athlete, I think Brooke really brings a devotion to the sport and her craft. She's realizing just how good she is and has committed strongly to that," said Russell. "Seeing another person training like Brooke does, it pushes me so hard. It makes you motivated to stay out on the track and work."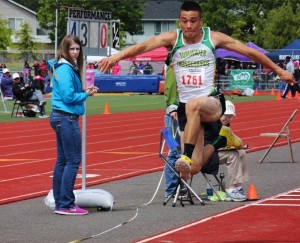 "I love how dedicated Lane is and he's one of those athletes that truly gives 110 percent," said Feldmeier. "He's so focused and prepares himself for every meet. He eats right, studies right, trains right.  He does everything perfect basically."
Following their graduation in June, Feldmeier and Russell will go their separate ways on their respective track and field journeys.  What they will always have is a shared period of time chasing a dream, a period they have a hard time believing is nearing an end.
"Just last week my mom bought my plane ticket to Mississippi and I realized that I will be taking that flight five months from now," Feldmeier said. "It's crazy for me to think about."
"The fact that high school is almost over has hit me on numerous occasions.  We're both fortunate that our careers will continue, but it's certainly going to be a new experience," said Russell. "We're almost done here, but we still have a long ways to go in our careers."