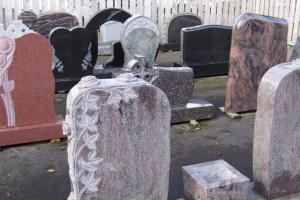 Death is not a subject most of want to think about. There's only one problem. Sooner or later it's going to happen, so why not be prepared?
Tony Ward is the owner of Lasting Touch Memorials in Yelm. He's in the business of helping people figure out how best to remember a life. His advice? Do it yourself. "Grandpa liked Ford cars, so the family puts a generic Ford car on the monument," says Ward. "Turns out Grandpa liked a '32 Ford."
The difference may seem miniscule but when you're dealing in memories it is best to get it right. About one-third of Ward's customers are "pre-need." Basically, a healthy person comes in and picks out exactly what he or she wants ahead of time. This takes the stress off friends and family. Less stress translates to fewer arguments and hurt feelings.
Then there's the financial element. Memorials can be expensive and a "pre-need" is more likely to pay for it themselves. "There's no cost to families down the road plus it locks in today's cost," says Ward.
Finally, picking out a monument yourself is going to save time. Granite comes in hundreds of different colors and the actual monument can be made into just about any shape. Add in pictures or words and the process can take a while.  In the end, remember this is likely the last impression you're ever going to make so why not make a good one, or at least the correct one.
To find out more about creating your own memorial contact Tony Ward at 360-458-9070 or visit the Lasting Touch website by clicking here.