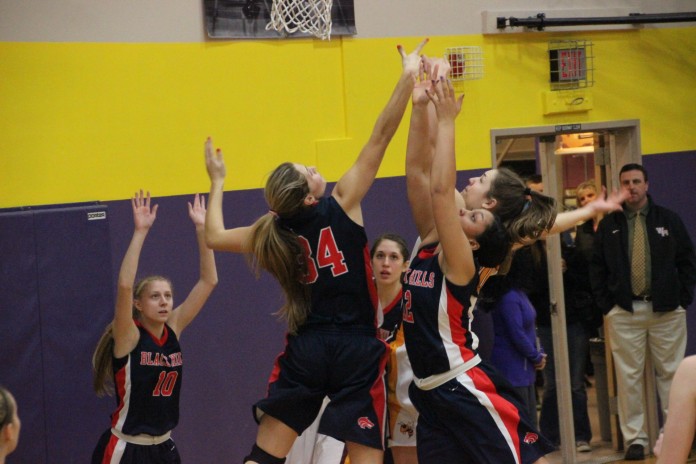 By Tom Rohrer

For Tanya Greenfield, Saturday night culminated with the one speech she hoped she wouldn't have to make.
After losing to White River 71-63 in the regional round of the WIAA 2A Girls' Basketball State Tournament last night, Greenfield's Black Hills squad retreated to the locker room at Puyallup High School.
Their season over, the Wolves players and coaches came together one last time before heading home to Tumwater.
"It was tough….there were a lot of tears, a lot of hugs," said Greenfield, the Black Hills head coach. "You never prepare for this situation because you try to think about winning and not losing.  That wasn't how it worked out tonight."
The loss was the final high school game for five Black Hills seniors including starters Sarah McGee, Nicole Nurmi and twins Sydney and Taylor Sauls.
Bound to play at Division I Southern Utah next winter, McGee was terrific for the Wolves, scoring 18 points, 16 of which came in the first half.  Nurmi added 18 as well and her 10 second half points kept the Wolves in the game heading into the fourth quarter.  Taylor and Sydney Sauls posted 12 and six points respectively while senior reserve Selina Lalau's six points all came in the second half.
Greenfield was pleased by her senior's efforts throughout the contest
"They came out from the start playing like it was their last game and that doesn't surprise me," Greenfield noted. "It was an all or nothing scenario and they gave their all.  I know they wanted the win, but they can be proud about what they left on the floor.
Down 37-31 at halftime, Black Hills got back to back three pointer from Taylor and Sydney Sauls to even the score at the start of the third quarter.  It was the closest Black Hills would come to taking the lead, as the Hornets proceeded to go on a 16-11 run heading into the fourth quarter.
A two point basket by Lalau with 6:10 remaining in the contest cut White River's lead to 55-52.  However, White River would score two quick baskets and never led by less than four points the remainder of the game.
Though the scrappy play of the Wolves kept the game tight until the final buzzer, Black Hills couldn't make the plays required to take the lead.
"We kept coming back but that takes a lot of energy," said Greenfield.  "When you keep having to come back from these deficits, it's hard to find the push to take the next step.  We didn't take that step."
The Hornets received 25 points from freshmen Kendall Bird, 19 from junior Amanda Lance and fourteen from Kristin Sturdivan, the only three White River players in double figures.