By Tom Rohrer

A favorite pastime for former high school athletes is to reminisce about the "glory days." Thoughts on these years often revert to the losses rather than victories.  For the fortunate, victories stand out over defeats.
Since 1984, seven teams from Thurston County have won a WIAA football state championship.  All of these championships are spread between three local schools: Capital, Olympia and Tumwater.  Olympia took home the 3A championship under head coach Bobb Dunn in 1984.  Later that decade, Tumwater won two 2A state championships (1987/1989) in three years and also added a 3A state title in 1990. In 1994, Tumwater added a 4A state title to the trophy case.  Two years later, in 1996, Capital High School won their first of two state championships over a three year span, claiming the 2A crown in 1996 and the 3A title in 1998. Over a decade later, Tumwater earned their fifth state title in school history as they were victorious in the 2010 2A state championship game. All of Tumwater's championships were under legendary, and current T-Bird head coach Sid Otton, while Capital was led by the now retired Wayne Sortun.
Memories from these championships lie in the hearts and minds of the coaches, players, fans and parents involved.
In 1987, Chris Martin was a sophomore lineman for the Tumwater High School football team. It was the T-Birds first year of running the "Wing-T" offense, a scheme developed to use a team's athleticism and knowledge of the game to compensate for a lack of size.  Considered gimmicky by opposing teams and coaches, the same offense would also be used by the two championship teams from Capital in the 1990s.
"We didn't have a lot of big guys. Our starting left guard was 5'8″ and 160 pounds," said Martin. "We used lots of misdirection plays and had some great athletes."
Back in the late 80s, the state championship games were held in the now destructed Kingdome, a monstrosity of an arena known for its gray concrete features, loud confines and bright green astroturf.  The Capital championships were each won in the Tacoma Dome.
Martin was the starting long-snapper for the punt team in 1987 when Tumwater defeated West Valley  21-14 for the championship and would go on to start on the offensive line as a senior in 1989.
As an underclassman, Martin remembers how exciting it was to play in the Kingdome for the first time.
"It was new for us, playing in this huge enormous building," said Martin, who also played baseball and basketball for the T-Birds. "You get out on the turf and it felt like running on a pillow."
Two years later, led by future USC quarterback and Rose Bowl MVP Brad Otton, the T-Birds expected to win their second championship.  Accomplishing that goal was a feeling Martin still hasn't forgotten nearly 25 years later.
"I'm getting chills thinking about it," said Martin about the T-Birds 27-7 victory over Cheney High School in the title game. "I remember we went into the locker room after the game, and someone turned on Queen.  We were screaming the lyrics to 'We Are the Champions.' We were feeling pretty sky high."
Seven years and two more T-Bird titles later, it was Capital's turn for a mini-dynasty.
It would turn out to be a collection of Steamboat Island and Griffin School graduates that formed the core of the Cougars 1996 title team.  One of those standouts was Cody Lee, a wingback and cornerback who also starred on the basketball court for the Cougars.  Joined by friends such as Ryan O'Connor, Nick Mondeau, Kyle Camus and Charlie Kentfield (all of which grew up with Lee on Steamboat Island), Lee and the Cougars would defeat West Valley High 17-7 to bring home the school's first championship in football.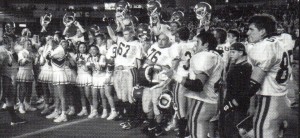 Lee was part of a backfield that featured star running back Anthony Griffin (future Eastern Washington University starter), quarterback Darren Tinnerstet (now the Cougars offensive coordinator) and fullback Kentfield.  In the title game, Lee intercepted a pass, in what would be the nail in the coffin for West Valley.  The previous week, Lee had over one hundred yards rushing, a touchdown and another interception.  Steamboat Island kids, Kentfield and Dustin Johnson, scored the two touchdowns in the 1996 title game.
The camaraderie and unselfishness of that CHS team was what Lee believed to be the key in their title run.
"The best thing about that team was nobody cared who scored. Nobody cared who got more carries," said Lee.  "We just had a bunch of dudes who were buddies and wanted to win."
Like Martin, Lee had a championship moment that he can still reflect on.
"I remember it being pretty surreal and just an awesome experience.  We were all really excited," said Lee. "And then I remember walking onto the field after game with Kentfield, Griffin and a couple other guys and we just stood out there at the 50-yard line. No one else was in the stadium, and we talked about how it was the last time we would play football together."
However, Lee was quick to move on to his next endeavor.
"That was short lived," said Lee with a chuckle. "I was at basketball practice early the next morning."
That 1996 Capital team laid the foundation for what would be the most successful run in school history. Along with the 1998 championship team, Capital would advance to the 4A state semi-finals in 1999 and the 4A state title game in 2002.  (Capital lost both  games to Kentwood.)
Standing on the sidelines during the 1996 title game was Leyen Vu, then a sophomore for the Cougars. Two years later, Vu and his own collection of Steamboat Island buddies would help lead Capital to a thrilling 29-27 victory over Mariner High School in the 1998 state title game. Mariner was led by quarterback Teyo Johonson (who would go on to start at tight end for Stanford University) and future Stanford running back Amon Gordon. Both Johnson and Gordon would advance to stints in the NFL, where Gordon would play defensive end.
Vu, a starting linebacker for the Cougars that year, remembers going up against the two future Stanford stars.  It was not an encounter he fondly remembers.
"It was on the goal-line, and I remember thinking, I've got to go low rather than try to stand up and meet him in the air," said Vu, not known for his height. "It didn't end well for me."
Vu and the Cougars would end up getting the last laugh against Mariner thanks in large part to the play of their defense.  Capital forced six fumbles in the game, many of which involved Vu. Quarterback Taber Lee (younger brother of former Major League Baseball first baseman Travis Lee), future Arizona State University wide receiver Skylar Fulton, Jared Trigg, sophomore running back Jake Carlyle and Casey O'Connor all contributed to the successful game.  And, you guessed it, grew up on Steamboat Island.
Up 22-20 in the fourth, Capital recovered a fumble by Mariner and on the very next play, Lee connected with O'Connor on a long touchdown pass to give the Cougars a commanding nine point lead in the fourth quarter.  Earlier in the game, Fulton scored on a long kickoff return and also had a touchdown reception.
"It was just a classic game for us that season.  They were so much bigger than us, but we just knew how to play, knew how to win," remembered Vu. "We knew we were good going into the season, but we didn't expect the title.  We just had the right group of guys."
Vu still recalls the blur in the locker room after the victory.
"I remember just trying to take everything in, singing the fight song, hugging everybody," said Vu. "At the time, you don't realize how much it will mean to you and how much you kind of take those moments for granted.  It was a high of all highs."
The moments from these state championships now endure in the memories of Martin, Lee and Vu.
All three still live in the Thurston County area and are occasionally reminded of their past victory.  Martin went on the field in 2009, at a Tumwater home game in celebration of the 20-year anniversary of the game.  Lee continues to play in annual flag football games around Thanksgiving with a collection of his 1996 teammates, while Vu still roams the sidelines as the team doctor for various high school teams.  Regardless of how often the feelings from the championship return, they will always be a part of their lives.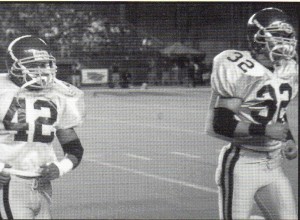 "I'll always remember how great of friends we were and still are," said Lee. "That's the thing you take away still after all these years."
"I'm not a guy to live in the glory days, but it's fun to think about. I still have a VHS tape from the 1989 game laying around somewhere, but I'm not sure I have a VCR anymore," Martin added with a chuckle.
"After that game, I felt like I never wanted to play again," said Vu of the 1998 championship game. "It was that physical of a game.  Luckily, I didn't have to, and we went out on top."
Tumwater High School will look to add another state title to the trophy case on Saturday, Dec. 7, when they take on Lynden High School for the 2A state Title.  The game is set for 10 a.m. in the Tacoma Dome.
Some stats regarding the two Capital victories came from the following Seattle Times articles.