By Kate Scriven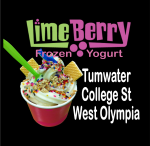 Traditions abound this time of year and the annual photo with Santa is on many family's "must do" lists.  My most favorite Santa photo of my two girls is from when my older one was a patient and rule-following Kindergartener and her sister was a rascally 18-month-old toddler.  The looks of resignation and terror, respectively, are something we laugh about every year when the photo collages come out of storage.  So, while it may not be a the "Norman Rockwell" photo we were hoping for, it is still a treasured family memory.
Make some Christmas memories for your family this year by visiting one of the many events featuring Santa listed below.  Whether you opt for the traditional seat on Santa's lap, list in hand, or one of the more creative options (think Santa riding an Olympia Fire Truck or sharing breakfast with you) one thing is for certain.  The magic of Christmas and its traditions will be passed down to another generation.
Breakfast (or Tea) with Santa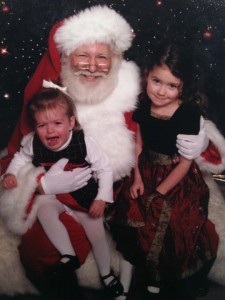 The traditional visit with Santa involves waiting in a line, an excited sharing of hoped for gifts, and a quick photo with smiles, and sometimes tears.  If you want something a bit more involved, why not have breakfast, or afternoon tea, with Santa.  Many places throughout Thurston County are hosting events where you can dine with the big guy as well as snap your perfect pic.
Santa Visits while Cutting your Tree
Many families start the Christmas season by hunting for the perfect tree.  You can combine this tradition with a seat on Santa's lap at many of our local tree farms.  Hours for visits vary by location, but are generally on weekends.  Click here to read up on local farms to visit, finding the perfect tree and snapping the perfect picture all in one day.
Holiday Festivals and Bazaars
As many of our readers have discovered, we have a ton of holiday bazaars on our events calendar, easily found by sorting the events using our categories feature.  And, many of these events include visits with Santa.  In addition to Santa's busy bazaar schedule, there are many holiday festivals and community parties happening in the coming weeks where Santa will be a highlight.  Here are a few to get you started, but do hunt check our calendar for full listings.
See Santa in the Great Outdoors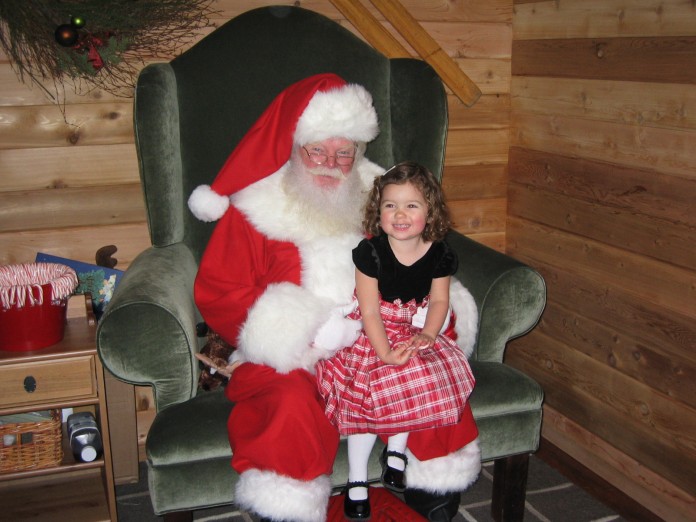 There are several choices to see Santa in as he travels through Thurston County bringing Christmas Greetings, and often candy, to neighborhoods.
Traditional Santa Pictures for the Kids (and Pets, too!)
If you are looking for a traditional visit to see Santa, taffeta dresses and ties in place, try one of these local venues.
Whatever "knee" your family lands upon this Christmas season, ThurstonTalk hopes that there are more smiles than tears and most of all, memories created that will last for years.
Thrifty Thurston highlights inexpensive family fun in Thurston County.  The weekly series focuses on family-friendly activities throughout our community.  If you have a suggestion for a post, send us a note at submit@thurstontalk.com.  For more events and to learn what's happening in Olympia and the surrounding area, click here.