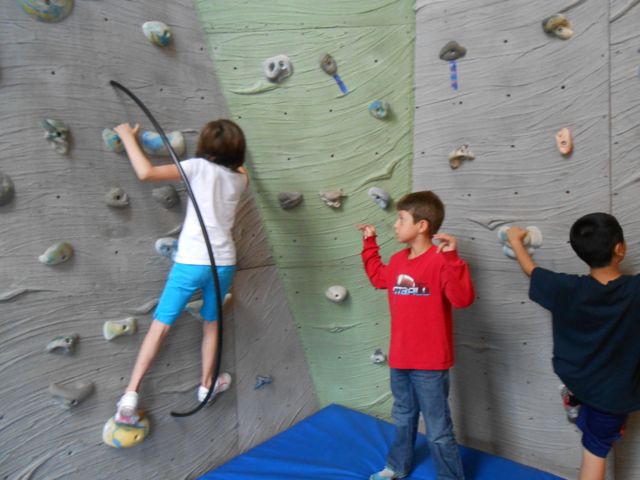 By Kathryn Millhorn
The Y is a treasure-trove of activities, opportunities, and community for over 150 years.  In the Thurston County area, we are blessed to have two Y branches, both offering numerous ways to participate in healthy activities.
Whether it's through indoor, year-round activities like swimming and fitness or educational offerings for students of all ages, the Y has something for every ability, age, and schedule.  Though the winter holiday schedule can be chaotic when balancing school, vacations, work, parties, and soggy weather, the Y Winter Camps offer a perfect break for cabin fever.
Beginning the last week in December and continuing through January 3, the camps offer activities for children from preschool through sixth grade.  They will be held at the two South Sound Y branches (Briggs and Downtown) as well as Horizons and M.T. Simmons Elementary schools.  There are full-day and half-day opportunities and many different topics to choose from.
'Creative Construction' focuses on building, engineering, and designing while 'Lights, Camera, Action!' highlights improvisation, film-making, and theater.  'Mad Science' explores the scientific method and the 'Young Chefs' Cooking Camp' employs culinary arts.  Dance and sports are featured through the 'Sports Extravaganza,' 'Step-up Dance Camp,' and 'Winter Olympics.'  Preschoolers will enjoy both the 'Polar Express' or 'Snow Bunnies' options and the 'Winter Wonderland' showcases everything our local Y has to offer.
The Y also offers late fall and winter youth sports on a regular basis and a variety of activities beyond traditional gym and swim.  December 6 is their 'Magical Holiday at the Y' event, a free evening of games, crafts, Santa pictures, and holiday offerings.  Kids from kindergarten through grade 6 can participate in the 'Fantasy Lights Excursion' on December 20, a trip to see 300+ lights in and around the Spanaway Lake area.  Winter sports teams accept registration through December 18 for basketball, indoor soccer, and volleyball for kids pre-K through grade 12.
Many local businesses and organizations offer Y membership discounts for their employees, as do regional health plans and military families.  But the Y is committed to opening their doors to as many people as possible and assistance is available to those in need.  Full details of their various membership levels can be found online or can by calling 360-753-6576.  The pricing for winter break camps varies and you can register on the YMCA's website or in-person at either branch.
Winter break is often—by necessity—spent indoors but that doesn't necessarily mean sitting still!  Seasonal damp weather isn't an issue when you're exploring sports, science, food, and fun.  And just because school isn't in session doesn't mean learning won't take place.  Make the most of winter while it's here but enjoy the Y all year round.