Submitted by The City of Lacey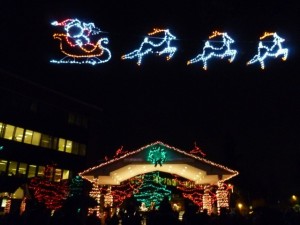 The first week of December is full of free fun in Lacey! The first event to kick off the season is the South Sound Community Orchestra Holiday Concert featuring the all volunteer orchestra along with the Rose Garden Choir. The concert, sure to get you in the holiday spirit will be held at the Lacey Community Center Tuesday, December 3 from 7:00 -8:15 p.m. This is the seventh year for the concert featuring local musicians of all ages that come together all year long to practice and enjoy music.
Since 1996 the City of Lacey has set aside the first Thursday in December to turn the holiday lights on throughout the city, signifying the beginning of the season. Early on the trees in the parking area at Fred Meyer on Sleater-Kinney were the site of the lights, but later the focus of the festivities moved to Huntamer Park on Woodland Square Loop SE, where there were more trees as well as a stage to light up.
In 2008 an animated Santa and his reindeer were added.   He flies over the park in the evenings throughout December following the annual lighting ceremony. The Lighting of the Christmas tree is a chance for the community to come together and listen to caroling with the 100 voice choir of Komachin Middle School, enjoy some hot cocoa provided by Sunbreak Baptist Church volunteers, and delight in the arrival of Santa and Mrs. Claus  on the "Santa Mobile" provided by the Lacey Fire Department. It's a fun event that celebrates the community as well as the season. This year's festivities will be held on Thursday, December 5 at 6:00pm.
The week will wrap up with the Signing Santa on Friday, December 6, from 6:30-9:00 p.m. at Chamber's Prairie Elementary. Presented by the Signing Santa Organization and Lacey Parks & Recreation, this program brings deaf and hard of hearing children together. It's a chance for all children to gather and see the spirit of giving, seek new friends, and promote awareness of the deaf community to all. It is an exciting opportunity for hearing impaired children to share their holiday wishes directly with Santa, in their own language. Visit www.signingsanta.org for more information.