By Libby Kamrowski, Timberline High School intern to Thurston Talk

Mull over your far-fetched daydreams of the future. It's likely you imagined something resembling The Jetsons – flying cars, robots, pneumatic tubes. Somewhere in the scheme of things I'll bet you imagined a cutting-edge classroom, students who have the whole world at their fingertips.
And finally, through a decision by the North Thurston Public Schools administration to introduce tablet technology into classrooms, it seems that we've caught up to that future.
"I truly do see that this as the new movement," said Kristina Wilkinson, social studies learning coach.
It's not a concept that's hard to accept. Even the most traditional supporters of learning appear to have no significant opposition.
"Students are super excited about it. You put a tablet in the hands of every student and it's quiet. It's engaging. It feels positive," AP Government and Freshmen World Studies teacher Renee Kilcup.
With only minor technical difficulties in this unique learning process, I haven't come across a single person in my AP U.S. Government class who has viewed the tablets negatively. There appears to be a renewed interest in the innovation of teaching methods as well.
"The teacher is the facilitator of learning. And now they're opening the doors. It allows the teacher to find out what students are passionate for. They're not just the gatekeepers of information," said Wilkinson.
This is the driving force behind the tablet takeover, and Wilkinson has played a key role in introducing the 700 Samsung Galaxy tablets into select departments in three high schools in NTPS.
My own peers at Timberline are avid supporters of the opportunity. "It's like Candyland," said freshman Ryan Keplinger. "It's a wonderful feeling for students to be in control of making the right choices or not."
North Thurston Public Schools supports the straight and narrow navigation through tablet tech. On the back of each individual tablet is a laser-etched crest of NTPS, in addition to including a tracking device. The combined measures are a theft-deterrent, but also enable the tablet to be found if lost.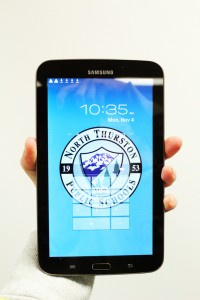 Who could have guessed at the perspective that an LED screen and a bit of metal could give? Not just to students and their coursework, but teachers too. "I think tablets meet students where they are, which is digitally. They're used to screens, and for learning, it allows for self-discovery.  It opens up a lot of different perspectives," said Kilcup.
Log in via the NTPS universal password and you're into the World Wide Web and its applications with Firefox, Chrome, Schoology, even the calculator all competing for your clearly divided attention. But once you get where you are going via on-screen keyboards it's nearly impossible to avoid becoming transfixed by sharp and gleaming graphics. Zooming in and out provides the amusement similar to a child rolling an automatic car window up and down. Just pinch or flick and everything refocuses on its own.
The machines have all the regular district filters, just as the regular computers do. "Our district understands the benefit of our technology. It really opens the door for educational use. It's not just for Facebook or Twitter; it can be used as an informational resource," Wilkinson reiterated. With such capable technology glowing in our faces, Instagram selfies are kept beyond our hands.
The fascination with this new academic privilege has not yet dissipated. Our generation, as well as those passed, have been used to flipping through the occasionally water-stained pages of a 10 pound textbook. Multiply that weight by three or four books and you've strained your back. But the magic of a tablet is you cut the hassle of books for yourself and the environment with a sleek slab of metal and glass.
Besides convenience they enhance learning. "You're able to see more visuals and see certain things that are very limited in the books," said Keplinger. We're no longer limited to the perspective of a single publisher, now we can see the views of different sources and studies. We see lists, links, and pictures to connect the educational dots.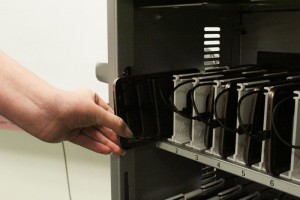 With the introduction of a tablet takeover, learning is on the brink of being revolutionized. Select schools state-wide are implementing the advanced push for alternative learning. State testing requirements are envisioned to be completely digital in the near future and Wilkinson believes that if the tablet pilot in the ninth or twelfth grade social studies department goes well, it could spread to eleventh grade history, too.
It's possible in the future, we won't be able to imagine a time without tablets in the classroom. North Thurston Public Schools is embracing the change on the early edge of innovation, a testament to their investment in the future of learning. "We'll come across minor road bumps," said Wilkinson, "But the integral use of technology for education is happening. And it's exciting."