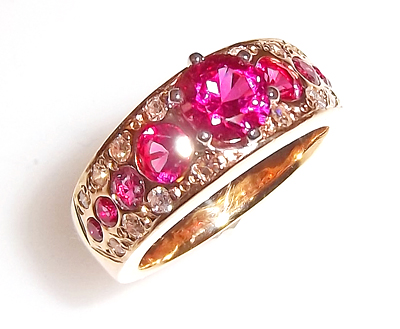 Submitted by Hartley Jewelers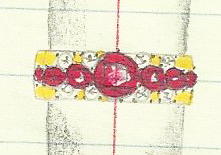 When Carolyn Hendricks' mother passed away a few years ago, she was the only one left in her family.
"I had the duty of going through all the things," Carolyn explains. "My mother wasn't a great jewelry person and I was surprised by some of the pieces I found."
An array of rings and pins held significant family and historical importance. But looked at separately, they had little value or practical use. Carolyn also had some pieces given to her over the past 30 years that she no longer wore. She hoped to transform the lot into something new.
"I knew that Rick Hartley would be the one who could do it," Carolyn says. Rick is the owner of Hartley Jewelers and has worked with Carolyn and her husband many times in the past to create special jewelry pieces.
Carolyn took the bundle of miscellaneous bits to the store. "I wish I had taken a picture of it before Rick got started," she says, "because it was an amazing transformation."
Among that bundle was a ring Carolyn's mother gave her when she was 14, with a main center stone of ruby. Another ruby ring had been Carolyn's mother's, given to her around the same age by Carolyn's grandmother.
"And then in my mom's things, I found a ring with two small rubies that she'd labeled as being my grandmother's," Carolyn continues. "It was a surprise; I never saw my grandma wear any jewelry."
Carolyn could see that a new ring would favor rubies — very fitting, since it is her birthstone.
She also had a variety of small stones from her dad that she wanted to include in the new piece. One of them was from a 20-year service recognition pin from Nalley Fine Foods in Tacoma, and one was from a Lion's Club pin.
"My mom had done a pretty good job labeling what these pins were," Carolyn explained. But one required a bit of Internet sleuthing.
"The one I found most exciting, was a fraternity pin that my dad had from the University of Missouri. He graduated from there in 1936." Carolyn could read the Greek letters on the pin, but knew her father hadn't been in a social fraternity. "I found out that it was a business fraternity, which still exists at the University of Missouri."
Carolyn also found a fraternity pin of her brother's with a small diamond. "I realized I could just have my whole family in this ring," she says, smiling.
Carolyn remembers Rick looking over all these family treasures very thoughtfully.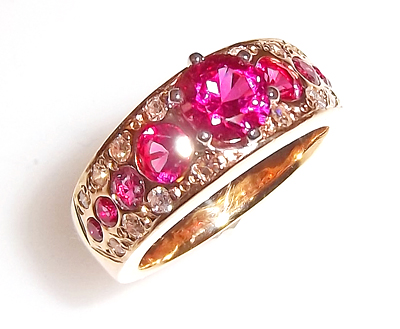 "I showed him some rings in the store that I liked that we could maybe pattern something after," says Carolyn, "but he also knew I wanted it to be unique."
Rick did a couple sketches, Carolyn chose one, and a ring was made.
"They have this great process of working with wax molds, so you can actually put it on your finger," Carolyn says. "He'll just drop the stones in and if that's not right, he moves them. You can see exactly what it's going to look like on your hand. It's fascinating."
Carolyn wore the finished ring a couple of days, but it just didn't feel right to her. "I took it back and said, 'Rick, this just isn't me,'" Carolyn recalls. "And he said, 'I knew that. I thought you would choose the other design because it is you.'"
Her budget for this project was tapped out, but Rick assured Carolyn that he wanted it to be exactly right and set to creating the second design.
"A few weeks later, he brought out this one, and it was exactly what I wanted," Carolyn says.
All the gold for the ring came from the family pieces Carolyn brought in, as well as most of the stones. "Mostly, it's my family," Carolyn says of the ring she often wears now, on her right hand. "My whole family, right there."
"We had all these pieces that truly, just having them separate, they were too small, you couldn't even see them," Carolyn says of the original pile of gold and stones she brought into Hartley Jewelers. "There was no reason to keep all this little stuff. But once you put everything together, it became this dramatic, beautiful piece."
And she loves to tell the story behind her stunning new ring. "When somebody says, 'That's a pretty ring,' I love to say, 'There's some real history here.' And, it's a new history for this ring."