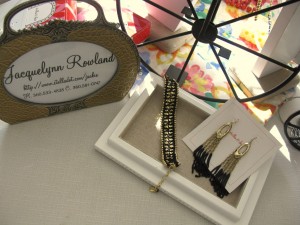 I'm a jeans and t-shirt kind of girl.  Or, as the temperatures drop, a long-sleeved shirt or sweater might appear.  But, overall, I'm pretty simple.  As an on-the-go working mom of two young girls, I need easy.  I've come to realize, though, that by taking a moment to add a cute scarf, a stack of fun bracelets or a bold necklace, I elevate my 'mom' look to something that approaches stylish.  And increasingly, I've found myself turning to the affordable, yet quality pieces from Stella and Dot.
Aside from quality and great style, another reason I keep coming back again and again to this line is Jacquelynn Rowland.  An independent stylist with Stella and Dot since 2008, Rowland is no rookie to owning a business.  She first began working from home at the age of 22 (38 years ago!) when her first daughter was born.  "I felt fortunate to have something where I could be home with my girls during the day and schedule shows in the evenings when my husband was home," shares Rowland.  "Not only did I earn good money for our family, but the girls built a strong relationship with their dad while I was away in the evenings."
It's this valuing of family that has kept Rowland coming back to direct sales businesses for so long.  While she has also worked more traditional jobs, she has always chosen to come back, longing for the flexibility to be a mom, and now a grammy, first and foremost.  "The experiences I've had as a stay-at-home mom, working mom, and now wife to a semi-retired husband, give me a unique perspective that allows me to effectively coach my team to success.  I understand where they are, in any stage of their life, because I have been there."  And the business is perfectly suited to any age, from new mom to newly retired.
While she has worked for a variety of companies, Stella and Dot has been her favorite by far.  The leadership of the company, as well as the high-end feel of the product, keeps customers loyal and stylists successful.
Started in 2003 by founder Jessica Herrin in her living room, the company grew quickly, gaining national attention for both its designs and business savvy.  Business and creative leaders took note and came on board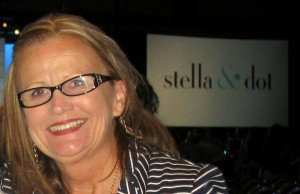 and after 4 years, and two new babies for Herrin, Stella and Dot, named for Herrin and Chief Creative Officer Blythe Harris' grandmothers, was launched.
In 2008 Rowland got a call.  She had been successfully working a career with another home-based jewelry company for years and her success, and experience, was noted by the corporate team at Stella and Dot.  The San Francisco based company asked Rowland to become their first stylist in Washington State, launching the company in the region.  After looking over the company's impressive resume, and more importantly, their amazing products, Rowland jumped in with both feet.
"Jessica Herrin is a mom first and is very family oriented.  She believes so much in empowering women in their businesses, but also in the role of the mom and how important it is to spend time with your kids," shares Rowland, who annually attends the company's convention with top leaders from around the world.  "This is why she built Stella and Dot with the structure of what we call social selling.  She built this business so that moms could have a job, earn money, contribute to their family income, but not have to sit behind a desk, missing out on the important years of their children's lives."
And Stella and Dot's concept of a home-based business is modern.  This isn't your grandmother's home business and it's not your grandmother's jewelry either.  It's a modern take on working from home that doesn't result in a closet full of lack-luster inventory that no one wants or an environment of high-pressure sales that turns people away.
And Stella and Dot's growth proves this is true.  Herrin received the Ernst and Young Entrepreneur of the Year award in 2011, the company was awarded the ACE Award for Innovation in Retail Sales in 2012 and has hit over $200 million in sales. With a Board of Directors including the past COO and CFO of Zappos and founder of Bare Minerals makeup, the company has its sights set high for continued international expansion (Stella and Dot is currently open in Canada, the UK, Germany and France).
Stella and Dot's products nearly sell themselves.  Gracing the pages of national publications such as In Style, Vogue, Cosmopolitan, and Real Simple, the company's products are everywhere.  Celebrities  love the looks and pieces have been seen on the ears, arms, and necks of Jennifer Aniston, Carrie Underwood, and Sheryl Crow to name a few.  And with price points starting as low as $12, there is something for every budget.
Better yet, host a trunk show yourself and get your favorites for free.  It's as easy as gathering some friends together, pour a cup of coffee or glass of wine, and shop at home.   At every show you'll see signature favorites, new seasonal 'wow' pieces, and the newly added line of bags, wallets, and scarves.
"My passion is accessories," shares Rowland.  "I love to share Stella and Dot with women and want them to feel better when they leave a trunk show than when they arrived.  Getting together with your friends should be rejuvenating to you socially, something to look forward to.  But I also help rejuvenate their wardrobe.  Putting on a bright scarf or a bold necklace and cuff can change a whole look, making you feel more put together when you walk out the door, even if it's just to the store."
While I'm still a "jeans and t-shirt" mom most days, I do feel better about myself when I'm pulling my mini-van into Trader Joe's wearing fantastic earrings and hauling my kid's snacks and a Barbies in a stylish new bag.  And for that little pick-me-up, I have to thank Jacquelynn Rowland.