By Tom Rohrer

A season ago, the Rochester High School football team finished with a 2-7 record and failed to score over 17 points in any of their nine games.
Following the disappointing season, a search for the team's next coach began and then concluded when Rochester decided on hiring longtime Black Hills High School defensive coordinator Eric Snelson.
The school felt that Snelson, who replaced Tom Griggs as head coach, could represent the time the fortunes turned for the Warrior football team.  As he finishes his first year, Rochester  stands at 5-2 overall with a 4-1 conference record and an opportunity to win the 1A Evergreen League championship.
Having the chance to turn around a program was part of the appeal for Snelson, who played football at Stanford University before heading to the NFL and playing for the Los Angeles (now Oakland) Raiders in the late 80s.
"I wanted to change the traction here and we've really altered the whole culture from the ground up," said Snelson, who started three seasons at tight-end for Stanford before graduating in 1988.  "As a coach, being a part of that change is part of the reason we do what we do."
Warrior players quickly noticed the changes Snelson and the rest of the coaching were trying to instill.
"The coaches came in with different mindset," said standout senior quarterback Tyler Gedney. "There is more attention to detail in every aspect of the team, and really, they came in and weren't going to accept losing."
To quote an old football adage, great coaches are made by great players, and the Warriors roster is full of talent on both sides of the ball.
Joining Gedney in the back field is the running back duo of senior Tyler Yarber and junior Lucas Eastman, who missed the entire 2012 season as a sophomore.  Yarber leads the league in rushing, while Eastman has taken some of the pressure off of both his running mate and quarterback.  Eastman finished second in the 145 lbs weight class at the 2013 1A state wrestling tournament last spring and is also a standout for the Warrior baseball team.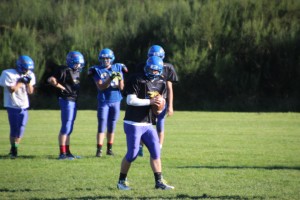 The focus of opposing defenses a year ago, Yarber is thankful for the emergence of Gedney and Eastman.
"Not to sound cocky, but I'm happy the focus isn't all on me.  Last year I felt that weight on my shoulders a little too much," said Yarber, who missed his entire sophomore season to an injury.   "Gedney is killing it and that takes a lot of attention off of me.  Lucas can be that work horse as well.  We have sort of a three headed dragon."
Operating out of the spread offense last year, Gedney served as a drop-back passer, limiting his opportunities to roll outside of the pocket.  Now in more traditional pro-style offense, Gedney is able to roll-out on play action passes, giving the athletic lefty a chance to make plays with his legs.
"Last year, when I was dropping back mostly I would get a lot of guys in my face," said Gedney, also a member of the Rochester varsity basketball team. "I like it when I'm on bootlegs and rolling out.  It gives me some options and keeps the defense a little confused."
Defensively, the Warrior's run a 3-4 base formation (three down-lineman, four linebackers), but are constantly modifying the scheme in order to cover the variety of offenses they face in the Evergreen Conference.
"We run a variation of the 3-4 that nobody else runs. It's a compilation of several different defenses that the Rochester coaching staff has picked up over the years," said Snelson, who coached the linebackers at Black Hills along with his defensive coordinator duties.  "Throughout the year, we face the spread, the wing-t.  Between those, you cannot make a bigger leap in styles.  We have to be able to handle this variety of offensive sets, and that comes from guys playing together towards a common goal and a common scheme."
In order to get his players to believe in the play calling of the coaching staff, Snelson had to establish an important factor prior to the start of the season.
"To have a successful football program, the trust between the players and the coaches has to be really high," said Snelson, who switched from tight-end to linebacker upon entering the NFL. "That's what we've really tried to build in a lot of different ways. I assessed the league, the talent we had after spring ball, and made predictions to this team on how we would do, always knowing that my credibility would be bolstered or broken down.  The results we've had, that's instant credibility."
The transition for Snelson to the program was made smoother as he brought a collection of previous Black Hills coaches along to Rochester.  One of those coaches is Jack Zilla, who was head coach at Black Hills for 15 years prior to the 2013 season.  Zilla, in an unrecorded interview with ThurstonTalk.com, mentioned that Snelson was doing a phenomenal job and noted that his former assistant still looked like he could play the game himself.
Trust has carried over to the coaching staff, as Snelson gives his assistants breathing room to instruct the players.
"We have over 100 years of coaching and playing experience on the staff," said Snelson.  "I give them guidelines, but I let them coach.  We rely on each other."
While the 2013 season has been a success to this point, the Warriors have faced adversity on the field.  On Thursday, Oct. 10, the Warriors fell to the defending 1A state champion Montesano Bulldogs 32-31, a loss that may end up helping the Warriors in the long run.
"We know there will be other games like that and now we know how to handle that type of situation," Yarber noted.
"As much as I wish we had won that game, it helped us come back to earth a bit," said Gedney.  "We had a great week of practice after that, and we rolled over Forks (by a score of 35-7).  We responded well."
For an old-school coach and player like Snelson (who played with Hall of Fame Linebacker Matt Millen and pro-bowl linebacker Rod Martin while on the Raiders), relating to the Rochester players and students has been an easy task.
"Rochester is a funny place.  You come here and see the kids walking around with kendamas," added Snelson.  "The kids are just more relatable and are less wired to technology."
After three years of losing seasons, seniors like Gedney and Yarber are seeing how much winning can bring to their school and the surrounding community.
"There's a lot of support around school and it's the first time since I've been here that football is a big thing," said Gedney. "I love that pressure."
"Now everyone thinks RHS football is awesome and that's a 180 turn from last year," Yarber said. "A lot more people come to the games.  Parents bring all their family. It's amazing."
Rochester, who plays a non-league game against Stevenson this game, will travel to Tenino High School on Friday, Nov. 1, a game in which the winner will be crowned league champion.
"We have Stevenson this week and we're focused on them no doubt, but we know how big that Tenino game is," said Gedney. "We will be prepared for the opportunity."
"If our kids can take care of their responsibility, we will be successful," said Snelson.  "We've focused on that responsibility all season long, and we'll do that leading up to the Tenino game."
What a difference a year (and a coach) can make.