Olympia's Roosevelt Elementary School is building a healthy future for more than the children it houses.  By using a new array of solar panels installed by Sunset Air, energy costs will continue to give back to the schoolhouse for many years to come.
Through a Community Solar program for Puget Sound Energy customers, donors invest in solar array projects in—and on!—public spaces.  The power generated is used by the building itself but also sold back to Puget Sound Energy, thereby defraying costs for the host.
Sunset Air president Brian Fluetsch has been active in green energy for over 30 years.  He and his business wanted this project to send a "real positive message to the community on the importance of renewable energy."  The students at Roosevelt are also able to see and study the results of such green technology as it becomes part of their everyday life.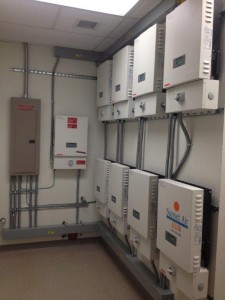 While the installation itself only took a few weeks, the donors to the Community Solar project should see a return on their investment in as little as seven years.  With incentives for using Washington State products and labor, tax credits, and PSE bonuses, "everybody wins," says Fluetsch.
Rebecca Japhet, Communications Director for the Olympia School District, says their goal was to install a system that would have a minimum impact on the school building while providing the maximum amount of power possible.
Because of Sunset Air's extensive solar experience on other local buildings like the Olympia Farmer's Market, the project went smoothly and benefits everyone involved.
Roosevelt is also the starting point on the upcoming Thurston Solar Tour, Saturday September 28.  This event is part of the National Solar Tour, which began in 1995 and is now "the largest grass-roots solar event in the United States, with over 165,000 participants visiting some 5,500 buildings in 3,200 communities across the United States," according to their website.
Despite our unique weather patterns, the South Sound has tremendous solar energy potential.  Research from the US Department of Energy shows that Western Washington receives 15% more annual sunshine than Germany, yet they're the world's leading user of solar-generated power.

Renewable energy is becoming a way of life in our area.  Whether it's reusable shopping bags, eco-friendly recycling, or complex solar arrays, everyone can play a part in our region's enduring beauty.  For over three decades, Sunset Air has been at the forefront of this amazing field and strives to teach its importance to their clients and our community alike.
Sunset Air offers many residential, commercial, and affordable ways to capture this free energy on their website.  They can also be reached at 360-456-4956 or by dropping by their extensive Lacey showroom.