By Kate Scriven
Olympia Orthopaedic Associates has many milestones to mark.  From their founding in 1972 to their expansion to two locations in 1997 to the opening of the Tumwater Ambulatory Surgery Center in 2002, the group's landmark events have signaled their ongoing commitment to serving the South Sound with the highest level of care possible.
September 2013 brings another reason to celebrate – the first anniversary of the new Westside Facility.  The state-of-the-art center is not only a beautiful building, but a facility designed carefully and intentionally to create the best experience, and deliver the best care, for patients.
Three clinics are now housed under one roof.  Carefully considering how decisions would improve the patient's experience, the building was designed to promote resources for the physicians and staff but create an amazing space for Oly Ortho's patients.
While the building opened its doors last September, it has taken a full year to work out the kinks as the group has familiarized itself with the building, and each other.  To help facilitate the transition, Oly Ortho hired Mary Anderson as the Clinic Administrator.  "Several aspects of Oly Ortho have changed and grown over the year, but we've grown together.  The fact that we brought three separate clinics into one was a challenge, but an exciting one," shares Anderson.
"We brought all the separate physicians and their teams under one roof and now it's not 'Tumwater' or 'Westside' as its own entity.   We are all united and we've created a whole new environment," adds Anderson.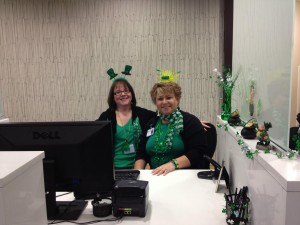 This new environment conscientiously puts patients first and foremost with newly implemented structures such as a dedicated concierge helping visitors and facility wide guidelines on how to engage with patients, called AIDET®, The Studer Group.  These guidelines were implemented as part of the collaborative vision of the new clinic.  With so many providers coming together, bringing their own methods and procedures, it was critical that the group establish common core values and behaviors to ensure the Olympia Orthopeadics experience was positive, efficient and consistent for all patients.
AIDET stands for the following:
Acknowledge – A warm welcome should greet each visitor and assistance should be provided as needed.
Introduce – Oly Ortho employees will introduce themselves, sharing a bit about who they are, their role in the group and their certifications.
Duration – Timelines for procedures, appointments and test results will be provided promptly and consistently.
Explanation – Time will always be taken to give a thorough explanation of each patient's situation and all questions will be answered.
Thank You – A value is placed on thanking patients for putting their trust in Oly Ortho's practitioners.
"The clinics were like independent islands before, and now we've all come together," explains Anderson.  "Even though they all still have their own specialties within their own pods, there is a new mindset that we are all working for the same vision."  This vision is guided by the principles of AIDET and the true nature of the caring, compassionate people that make up Oly Ortho.
Yes, the Olympia Orthopaedic's Westside Clinic is an impressive building.  With its onsite MRI center, massive outpatient surgery center, in-house Physical Therapy, world-class spine and neurosurgery clinic and so much more, it would be easy to look at it as all about "prestige." But it's not.  It's all about care.
Each decision by each practitioner is based on one question – "Is this the best for my patients?"
"We always are improving and growing and changing," explains Anderson.  "We are asking each day, 'how do we best serve the patient regardless of the specialty?'"  Anderson's primary responsibility is to help constantly evaluate, reflect, suggest, and adjust based on patient and staff feedback.  And Oly Ortho genuinely welcomes feedback.  "It's through the patient feedback that we are able to get better.  If we know what went well and what needs improvement we can grab onto that data, assess, and change our systems to ensure the patient has an improved experience their next visit."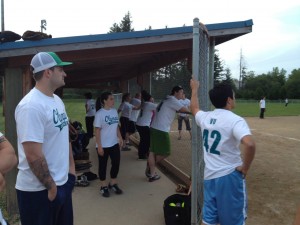 "The doctors and staff have gone through a lot.  Everyone had to relearn all their systems.  It's not just a new building, but a whole new day-to-day routine from where to put your pencils to how we track patient wait times.  And through it all they have been phenomenal.  They have been such troopers and learned to go with the flow and after a year it's just clicked," shares Anderson.
So if you are visiting Olympia Orthopaedics for an appointment, or just happen to be on Olympia's Westside driving by the new clinic, give them a little wave and say "Happy Anniversary."
It's another big milestone in Oly Ortho's long history of serving Olympia's residents.  But really, it's just the beginning.