By Mary Ellen Psaltis
I'm lucky. I can eat bread, peanuts, cheese, eggs, milk or soybeans and nothing unusual or uncomfortable happens. Anymore that seems to be the exception rather than the rule. My daughter feels much better when gluten is totally eliminated from her diet. When she first began to realize this, gluten-free eating was just getting news time, and there were precious few products labeled 'gluten-free.' It was unheard of to find baked goods.
Times have changed. Our consciousness is growing. And this is fabulous.
Pockets Full of Pie, a business that opened this spring in downtown Olympia, is dedicated to baking goods that are always gluten-free. Owner, Annie Miller has her own food considerations, which has provided inspiration for a creative array of treats that are made without gluten. They are also generally baked without dairy products, eggs or soy. This will be good news to many Olympia bakery fans who have other food sensitivities or allergies.
Annie Miller grew up on an Oregon farm with a mother who was "a great cook." She reminisced that with her German and Swiss heritage there was "always something delicious around." Miller's forays into the kitchen began at a young age (walking, but barely) where she ended up being covered in flour from head to toe. She was also the beneficiary of multiple excursions with her maternal grandfather to bakeries where they created delicious memories together. In fact, Miller believes, that he "paved the way for a big sweet tooth."
Over time, Miller realized that her medical-related employment did not satisfy her fully. She became increasingly interested in recreating the foods she had enjoyed in the past but without any of the ingredients that bothered her. With the help and support of her boyfriend, Ben Boylan, Pockets Full of Pie, was launched to satisfy your baking hungers. Pockets Full of Pie fills the sweet tooth in a way that won't upset the stomach of a person with celiac disease or bother the sensibilities of a person who wants to eat fewer products of animal origin.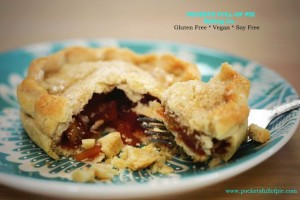 Bite into one of their cupcakes: Chocolate Salted Caramel, Coconut Lime, Lemon Blueberry or Carrot Cake, to name a few. Maybe you long for a traditional cinnamon roll or a taste of sweet potato pie. There are plenty of choices. I was intrigued with one of the newer options: the Back to School – a mixed berry pie with peanut butter cream within. Think of a traditional peanut butter and jelly sandwich, but better!
As the holidays approach, Miller is expanding the sweet menu to include seasonal favorites such as pecan pie. Even now, you can order an apple, pumpkin or mixed berry pie. Brand new savory options such as Curry Cauliflower or Curry Lentil are also on the horizon. These will still be gluten, dairy, egg, and soy free.
Miller is imagining expanding the menu to include future savory items. Keep checking the website for new additions. Miller stresses that Pockets Full of Pie will always be dedicated gluten-free. Most are also absent of dairy, eggs or soy or GMO's. Future offerings like quiche would include eggs. "We will always have a lot of vegan options," she assures me.
It is important to know that Pockets Full of Pie is a wholesale bakery. That means their products are found in business around town including the following:
GF Joe's in Tumwater: 5739 Littlerock Rd SW, Tumwater   360.628.8010
Olympia Eastside Co-op: 3111 Pacific Ave SE, Olympia   360.956.3870
Dino's Coffee Bar: 1822 Harrison Ave NW, Olympia   360.489.0848
Dancing Goats Coffee Bar @ Bayview Thriftway: 516 4th Ave W, Olympia (front entrance)   360.352.4901
Ramblin Jack's (chocolate cakes only): 520 4th Ave E, Olympia   360.754.8909
Fishtale Brewpub (chocolate cakes only): 515 Jefferson St SE, Olympia   360.943.3650
Yelm Food Co-op: 308 E Yelm Ave., Yelm   360-400.2210
It is possible to place a special order, and it's easy. You can do this by phone, Facebook or through the website. Free delivery is offered within downtown Olympia or for a nominal 50-cent per mile charge beyond the downtown core.  Alternatively, make arrangements to pick up your order where the baking is done in downtown Olympia.
Planning a party or getting married? Pockets Full of Pie can cater your event and provide a fabulous dessert buffet. Although they do not make a single cake to feed a large crowd, they can make a cake topper and also provide plenty of individual desserts. It is a wonderful way to allow everyone, including those with serious allergies and food issues, to join in the food part of the celebrations.
If you are looking for Pockets Full of Pie goodies and don't find them in your favorite grocery store or coffee shop, you might ask the manager to carry them. Miller is still marketing her products to local outlets and establishing customers.
We can all make the food choices that support our optimum well-being. Maybe you are just fine with eating gluten, eggs, soy, and milk. Of course, you don't have to have food issues to enjoy a cupcake from Pockets Full of Pie. Anyone can savor these treats! Fortunately, even if you have serious concerns such as allergies or intolerances, you may have your cake, eat it and be glad you did.
Eat Well – Be Well