By Charlene Rubinstein

To celebrate my son's final day of school we grabbed a friend and headed to Woodard Bay Natural Resources Conservation Area.  It's a wildlife sanctuary located just 15 minutes from downtown Olympia.  This place is teeming with wildlife, which includes birds of all types, river otters, bald eagles, a large colony of bats, and one of the largest heron rookeries in the state. There's second growth forest in addition to native plants galore.  The size is substantial.  The more well known Priest Point Park is not even half this size.  At 800 acres it has 5 miles of undeveloped shoreline.
We arrive on one of those sunny, carefree June days.  The shore, located just below the parking lot, is at low tide and the kids waste no time getting out of the car and head to the muddy banks.  Before they have time to rip off their shoes we notice a car parked in the driveway with a gentleman shutting the gate.  He introduces himself as Bob Wadsworth, a volunteer with the Department of Natural Resources.  If you ever arrive on a rainy day you might find him fighting off Himalayan blackberries or English Ivy.  "It's just me, a guy with clippers, keeping after this stuff."
We are impressed, and especially intrigued when he points out the squeaking sound above us.  "Eagles," he says.  Still in the parking lot, near the main road, we hear their calls.  For such majestic creatures the sounds are weak and easily mistaken for a seagull.  He explains that there's a pair of eagles with a nest nearby.  Before we head off down the trail he tells us to keep an ear out for the heron rookery.  Heron's are colonial nesters and over 60 can be found in a nearby group of trees.
Excited, we set out. The nettle lined paved Whitham Road is roughly one mile long and sweeping views of the bay peek through occasionally amongst the thick forest that lie between us and the water. Interpretive signs describe the wildlife. A large sign explains the current restoration process happening here and an important part of it has been the removal of 1,450 tons of creosote-treated materials on the Woodard Bay Trestle and a portion of the Chapman Bay Pier.  Creosote is considered a toxic substance by the Center for Disease Control.
Just a five minute walk from the entrance we come to the trail head for Loop Trail.  A sign greets us and explains the prevalence of our native Banana Slug in this area. Walking and keeping an eye out for slugs we start out on a very well maintained boardwalk.  Bird calls surround us and the gentle swaying of the enormous trees can be heard as the leaves softly stir in the wind.  The boardwalk is taking us on a journey deeper into the forest and far from any sights or sounds of our busy world.
Our simple hike takes a turn for the memorable when the three boys suddenly spot the bright, yellow, plump salmonberries that taunt us every few feet. Now I know we've found the best way to celebrate my son's final day of school.  Loop Trail is approximately 1.5 miles long and for the next 45 minutes we stake out salmonberries and gorge ourselves.
The boardwalk ends and we are soon on a one-person wide dirt trail with the occasional tree roots sticking out.  Salmonberries are plenty and we slowly make our way, stopping sometimes on the benches found along the trail.  Just when the boys start asking for water, we find a lookout tucked away under a cedar tree.  This is by far my favorite part of Loop Trail and recommend this stop not be missed.  It's just a few feet off the main trail and offers a perfect view of Chapman Bay.
Our journey ends where the trail meets back up with the main road.  We step back on even ground and with stomachs full of salmonberries, we slowly make our way back to the car.  I recommend bringing a snack and sufficient water and then head 400 feet up the road to take in the lovely view of the Inlet.  Have a seat on one of the benches and listen to the harbor seals bark away.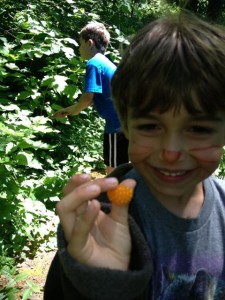 Despite our gluttony, loads of salmonberries remain ready to be eaten.  Next up are thimbleberries.  They are more delicate but in my opinion, more tasty.  Go out and enjoy our Northwest feast!
To reach Woodard Bay, from Olympia, go north on East Bay Drive, which becomes Boston Harbor Road. Turn right onto Woodard Bay Road. Travel about 1.5 miles and the road jogs to the left then picks up again to the right. Follow Woodard Bay Rd to the bottom of the hill. The parking area is on your left, just before the bridge.
Please note that a Discover Pass is required to park at the Woodard Bay Natural Resources Conservation Area .
The Cornell Lab of Ornithology has an extensive database of bird sounds.  To help you identify the bald eagle call visit this site.
Thrifty Thurston highlights inexpensive family fun in Thurston County.  The weekly series focuses on family-friendly activities throughout our community.  If you have a suggestion for a post, send us a note at submit@thurstontalk.com.  For more events and to learn what's happening in Olympia and the surrounding area, click here.