By Mary Ellen Psaltis
Creativity is the ability to look at the same thing and see something new. If you haven't been to Casa Mia lately, it's time to revisit. You'll still find the classics that have defined the restaurant – perhaps the green salad smothered with mozzarella and black olives or the award winning Pizza Sole with creamy Gorgonzola sauce. But you will also be able to make new friends.
Casa Mia originated in Hoquiam in 1952 by an Italian immigrant named Phil Bellafato.  According to local history, "Filthy Phil" grew up in Little Italy, New York and settled in Hoquiam after military service stationed him at Fort Lewis.  That restaurant still operates and continues to be family owned but is not part of the Casa Mia franchise. Bob and and Sue Knudson opened the Lacey Casa Mia thirty-one years ago at the corner of College and Pacific. They later changed locations to the current address on Martin Way, and in 1985, turned what was once an automotive service station into the second Thurston County location.
Many pizzas served. Time marches on.
Now it's 2013, and their son Chris, both a North Thurston High School and Western Washington University graduate, has joined the business. Over the past three years father and son have worked to re-imagine all aspects of their restaurants. This meant looking at each menu option and keeping many but adding new ones.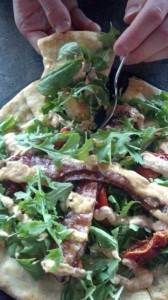 For example, now you will find a caprese salad: a fabulous recipe with roasted tomatoes, fresh mozzarella, pesto and a balsamic glaze. The Italian BLT features layers of sundried tomato aioli, smoke house bacon and fresh mozzarella. How about a piadini? That's fresh baked flatbread topped with salad.
The actual menu has been reorganized, redesigned and reprinted. There are more appetizer, salad and main dish choices. More wine, too. Another addition is a daily Happy Hour from 3:30 to 6:00pm and from 9:00pm to closing.  Enjoy a $3.00 glass of wine or micro-brew and order a bite to eat. Certain items, such as two 10' pizzas, are priced for happy hour at $6 a piece.  You can order from the full menu as well.
Dietary considerations and culinary desires have also shifted over time. Casa Mia has a gluten-free pizza crust and a main course with white beans. Also check out the mushroom risotto. Pizza possibilities abound – and as Chris Knudson told me, "Pizza is a blank canvas." You can build your own from five sauces and plenty of toppings – from artisan pepperoni to white truffle oil.
The colors, lighting, tile flooring and Andy Warhol prints are part of the redesigned look. The Lacey location is undergoing many changes at this time. Cruise the new website; get your mouth watering and head to the location nearest you. You can find Casa Mia Italian Restaurants at the following locations:
Olympia – 360-352-0440
Lacey – 360-459-0440
Yelm – 360-400-2277
Kennewick – 509-582-0440
Lakewood – 253-473-0400
Puyallup – 253-770-0400
Richland – 509-946-0500
Change may not be easy, but then again, it might be as easy as (pizza) pie. Casa Mia did not want to be stagnant, as Bob Knudson said. You can make your changes one menu item at a time.
Eat Well – Be Well