By Tom Rohrer

No matter how long you have been away, it always feels good to return to your roots.
Before March 22, it had been thirty years since Halle Hutchison walked the halls at North Thurston High School.
The Managing Director of Brand and Marketing Communications at Alaska Airlines, Hutchison (a 1983 graduate of NTHS) has previously led the branding campaigns and efforts for such companies as T-Mobile, AT&T Wireless and Expedia.com, among many others.  She spoke to about 30 advanced marketing students at her high school alma mater.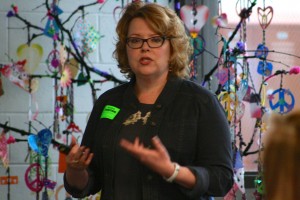 She was a perfect candidate to speak to the students, as she could highlight her experience in the marketing world while at the same time providing examples of ad campaigns and branding ideas she has been involved with.
Following her graduation from NTHS, Hutchison would go on to study film and media at The Evergreen State College.  She then started her professional career as a production assistant for King5 News in Seattle and would eventually move to Los Angele to work for a music video company before deciding to enter the business and marketing world.
An established figure in her industry who works with high level CEO's and vast ad agency companies, Hutchison admitted she was a little nervous to give her presentation to the group of students.
"I was very nervous at first, just because I hadn't been here in thirty years," Hutchison said. "It was very surreal to be here.  They were a good group, and it was good to get them talking and involved."
Near the end of her presentation, which included slides that diagramed marketing strategies and terms (along with statistical analysis), Hutchison asked the students about brands they enjoyed and what they represented.
"Everybody is a consumer, and everyone has an opinion on marketing," Hutchison said. "It's not like I have to reach very far to get people engaged on that subject."
At Alaska Airlines, Hutchison works with a wide variety of company employees, from mechanics to high level management.  No matter the individual's daily job, they always have suggestions for Hutchison on advertising, something she has learned to accept.
"You have to be respectful, because people may think they understand and have great ideas when they really don't," she said. "You ask them what their objective is and usually they come to their own conclusion that it's not an appropriate idea."
While she is mindful of unwarranted suggestions, Hutchison believes it's important that each individual markets themselves to the best of their ability, something she passed on to her teenage audience.
"I do think people should brand themselves, we're all brands," she said. "And you can do that on your own. It's common sense and a basic human need, something I think everyone has the potential to realize."
Stephen Coker, the librarian at NTHS and an old classmate of the speaker, helped organize the event.  Coker believes Hutchison's career, which didn't necessarily begin in marketing, is an example kids can look up to.
"I think it's cool that you tried some different things, got some experience in another field before finding your passion or your calling," Coker said to Hutchison before the presentation. "Lots of (upperclassman) they are always saying how they have to do this or that to get to where they want to be.  They don't need to know what they want in life right now, and it's important that they explore a variety of options."
Hutchison joked that as a student at North Thurston, she was told by the school's guidance counselors that she should become an attorney.  Driven by a still burning desire to direct films and videos, Hutchison has been able to oversee and create commercials for her current (and past) company(s).
"Instead of a movie, I've gotten to make a lot of 30 second stories," Hutchison said. "That in itself is really extremely challenging."
By interacting with the students, Hutchison obtained some appreciated knowledge on what appealed to them and how they view such things as the Alaska Airlines logo.
"I need to be out there.  It's a very physical, hands on kind of job," Hutchison said. "Part of my job as a marketer requires me to be plugged into pop culture, and I've always sort of liked that. You need to know what people are thinking because those are the same people you are communicating to."
While all the students present at her speech may not even go into marketing for their eventual careers, Hutchison expressed the power of confidence within oneself.
"No matter what you do, you have to have a confidence in yourself that you're the right person for the job or that your ideas can be beneficial," Hutchison said. "Obviously, you want to gain experience and see results, but to get to that point, you need that personal confidence."
All in all, it was a happy reunion for Hutchison.
"What a cool experience," she said. "It's an important time in these kid's lives, and it's just great to come back and see that stage in their development."