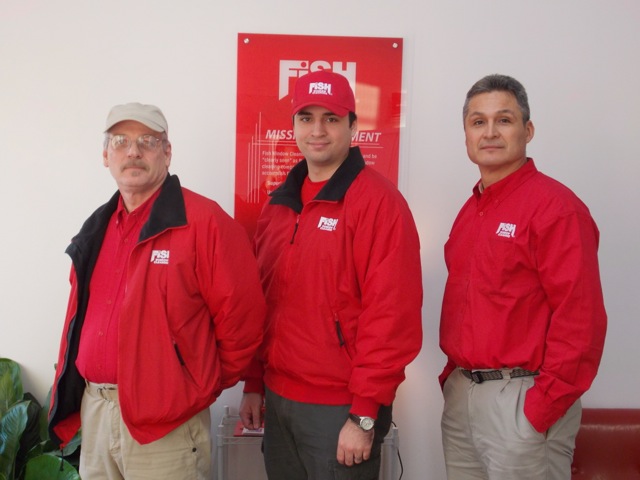 "I can see clearly now, the rain is gone," croons Jimmy Cliff in his famous song, which is a Thurston County theme song this time of year.  We yearn for the long awaited, "bright, bright, bright, bright sunshiny day" that is promised.  That day always comes, and when it does, there is one downside for me – seeing how TRULY dirty my windows are.  Say what you want about our grey and gloomy weather, but it certainly camouflages my lack of cleaning prowess.
Fortunately, when I fail to wash my windows, only my kids and occasional guests might notice.  However, when you are a business owner, having clean and clear windows means much more.  A clean storefront is your first impression to customers and exterior windows speak volumes about the care and cleanliness of what lies inside.  It can mean the difference between a customer shopping in your store or eating in your restaurant and simply passing you by.
If you've ever tried, though, to wash a large plate glass window with the old "paper towel and spray" method, you'll know that the results are less than satisfactory.  Enter FISH Window Cleaning.  They have the tools, and the know-how, to make sure you, and your customers, can see clearly through your store windows, even on that "bright sunshiny day."
FISH Window Cleaning, based in Lacey and owned by longtime resident Glenn Dobson, is new to Thurston County.  But the company has been around for years.  Started in 1978 by Mike Merrick, FISH began as a small, local company that provided uniformed, reliable window service with the philosophy of making every customer feel like the only customer.  After 20 years, and much growth, Mike realized that FISH Window Cleaning wasn't just a great company, but a marketable franchise concept.  In 1998 the first FISH franchise opened and it has grown to include over 220 franchises in 40 states.
Dobson came to FISH in the fall of 2012 after a long career in corporate technology support which took him all over the world.  His wife was born and raised in Olympia and the couple moved back to the area over 12 years ago, looking for the good schools and family friendly environment that Thurston County is known for.  They raised their daughter here while Dobson telecommuted for his job.  However, the day came when his company consolidated all employees to their Washington DC headquarters.  For Dobson, staying in the Northwest was more important than pursuing his corporate career and he took an early retirement at age 50.
After a little time off and lots of golf, Dobson got down to deciding "what he wanted to be when he grew up."  While owning a small business appealed, the capital costs and extensive effort to set up all the internal systems – billing, payroll, insurance – did not.  Through research he hit upon the idea of franchise ownership.  While many opportunities existed to own a franchise, none stood out as much as FISH.  "Window Cleaning?" he asked himself.  "Really?"  But it wasn't the allure of sparkling clean plate glass that drew him in, but the integrity and solid corporate system that was included with a FISH franchise.
"FISH had the corporate support I was used to.  I really liked their business origin and the people I interfaced with at every turn were excellent," shares Dobson.   "They had the package deal – checklists, training, office set up, tech support, accounting services – everything."   With this corporate support in place, Dobson knew he could be successful.
During his 2-week training at Corporate Headquarters in Missouri prior to opening his store, Dobson had his first chance to wash some windows.  He looked forward to getting his hands dirty and learning what his employees would be doing on a daily basis.  His assignment was in a local Childcare Center.  "When you walk into a daycare center as a window washer, you ARE somebody.  Four-year-old kids think you are the coolest thing ever.  First, they've watched you wash the outside and then you go inside and their little eyes get really wide," laughs Dobson.  "I don't know how to describe it except that you are adored.  They look at your tool belt, squegies, ladders and poles – you are some kind of hero and that's pretty great for a day at work."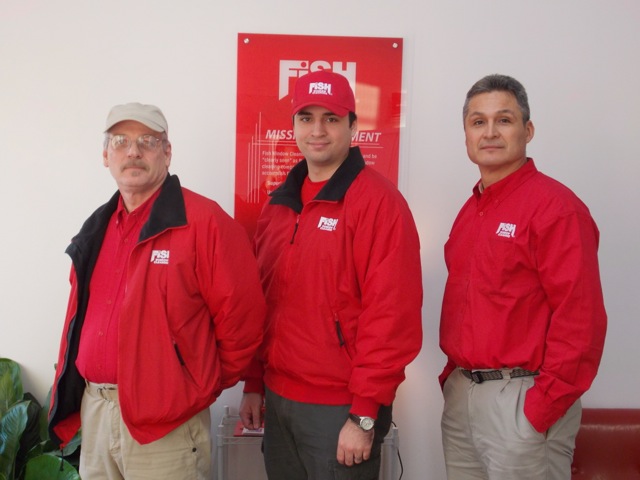 While the preschool set may adore the guy making the magic happen, it's the business owners who have the biggest smiles on their faces.  When a FISH washer shows up, you know it's them.  From the bright red van and uniform to the flawless customer service and flexible scheduling.  It's professional service with a truly personal touch.  Your washer is your washer.  Every time.
Since opening the doors of FISH Window Cleaning in January of 2013, Dobson has signed over 80 new customers.  More than half are on a regular cleaning schedule.  Currently, FISH offers service for commercial properties and residential homes.  And the business owners he has talked to are pleasantly surprised with his prices.  FISH is affordable and provides a professional service previously unavailable in our area.
FISH Window Cleaning
www.fishwindowcleaning.com/olympia
360.350.0170