Valentine's Day is a time of celebration for couples, as they can reflect on their relationship in a fun way that highlights their love.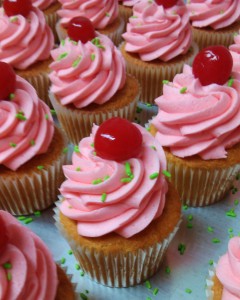 The vital February holiday brings out the romanticism in all genders, and fortunately for Thurston County residents, there are plenty of ways to celebrate the special day.
Whether it's a delicious gift for your favorite sweet-tooth or a romantic evening for two, the Olympia area is the perfect place to celebrate the Valentine's Day holiday.
"I am excited and I love Valentine's Day," said Amanda Beers of Sweet Charley B's Cupcakery (360.350.0332) in downtown Olympia.  "I think mostly because it's fun and focuses on the right things to celebrate."
Always a delicious and presentable treat, cupcakes have seen growth in popularity in recent years which increases even more during the early portion of February.  While Sweet Charley B's Cupcakery will be operating its first Valentine's Day as a business, Beers noted that she has seen an increase in sales around all holidays, and that menu items in the store relate to each particular holiday season.
For $12.50, customers can purchase a half-dozen cupcakes and can choose from a variety of rotating flavors.  The store has eight daily flavors plus a gluten free choice, and Valentine's Day flavors include Red Velvet, Hersey Kiss and Red-Hot.  Seasonal candy-shop style treats and vintage sodas are also available for sale in the store.
After picking up the cupcakes downtown, it may be time for a romantic dinner for two.  Located off of Division Street in West Olympia, La Petite Maison (360.754.9623) has a reputation for being one for the most romantic settings in Thurston County.  This atmosphere is accentuated by the delicious French cuisine menu and extensive wine list that will cater to the needs of any couple.
"Our attention to detail is very in touch.  We know people are trying to invest in a memorable holiday experience," said La Petite Maison Chef and Owner Justin Wells. "We had three proposals last year and the setting is very beautiful. It's a night where we take an opportunity to pamper our guests."
Wells noted that every night during Valentine's Day week is well attended at the restaurant.  He makes a point of not overbooking reservations to accommodate the high number of people looking to celebrate the holiday in style.   Additionally, the restaurant's prix fixe menu allows guests to sit down, relax and enjoy the evening.
"We offer a prix fixe menu every night, but we don't offer a standard menu on Valentine's Day because it's difficult for service," Wells said. "It's easy for the guests and they don't have to worry.  They can just sit down, then the champagne is poured and the food starts flowing."
"It's a great time for Olympia and the economy, and it's great to make special occasions awesome," Wells continued.  "The beautiful flowers in the restaurant and special desserts make the atmosphere so nice around this time of year."
The Swing Wine Bar and Café (360.357.9464) overlooking Capitol Lake proves to be another delightful way to shower your sweetheart.  With drinks named "Embraceable You", and "Desire", it's not surprising many flock to Swing to celebrate with that special someone.  On Valentine's Day, renowned guitarist Vince Brown will be playing in the establishment's wine cellar.  The aptly named menu items, which include love potion oysters, bleeding heart artichokes and chateaubriand (among many others), add to the holiday festivities.
"The music is nice, it's not too loud or invasive, and you can be as involved or detached as you wish," said Nicole Butigan, the owner of the Swing Wine Bar and Café. "That's why Vince plays here every Wednesday. It makes our downstairs a cozy atmosphere, especially with the fire place down there."
"I think what makes it such a great setting is the menu and how we cater it to Valentine's Day," Butigan continued.  "We have a good time and like to have fun and that's what this holiday is all about."
Swing Wine Bar and Café has both an upstairs and downstairs sitting area, both of which are ideal settings for a romantic dinner.  Butigan and her staff know how important the night is for couples.  They will do anything to make it a memorable evening.
"Valentine's Day – it's an unusual day.  We don't have all the regular customers and get a lot of people who don't go out often and build up this evening," Butigan said. "There is lots of pressure, and we want to make sure that everyone has a nice evening. Fortunately we have an experienced staff and know what we're doing."