You may have tried Marchetti Wine at a restaurant or during a special event in town, but getting a glass has just become much easier.  Now you can sip a glass at a new tasting room located right in downtown Olympia, on 5th Avenue in the New Caldonia building.
Wonderful Ambiance
The first time I went into the New Caldonia building, I felt like I had happened upon a treasure of a spot.  The building interior was previously an old hotel and still maintains some of the original wooden rafters and detailing.  There is a central glass covered atrium which seems like a little downtown oasis especially if it is raining.  Towards the back of the building is the warm and cozy wine bar.
The small tasting room is draped in earth colored walls, cork flooring and has a large tasting bar and several small bistro tables.  The curved, glass covered windows view out towards the atrium and create an open and inviting atmosphere.  A beautiful landscape painting of Italy is behind the bar and helps remind you of the wines origins.
Italian Family Traditions
Rich LaRosa, the winemaker, has been making big red wines since he was a child.  Introduced to the process through his family, including his Italian grandfather, dad and uncle, Rich explains, "I grew up making it.  And then of course I couldn't wait to get away from it!  When I was in my 30's I called my Dad and said, 'I want to start making wine again.'  I did it as a hobby and gave it to a buddy of mine… and he leaned on me for two or three years to sell it."
Marchetti Wines are made in the tradition of the Old World, without the use of chemicals or preservatives.  This unique process of natural fermentation highlights the flavors from the grapes themselves and the oak barrels in which the wine is made and aged.  His wine is hand crafted and unfiltered.
Rich has been very active in the local community including being one of the founding members of the Capital Food and Wine Festival at Saint Martin's.  He has participated in many local events for the last ten years, both private and public, but opening up a tasting room for the public is a new venture.  "We had an opportunity, so I just jumped in," comments Rich.
Sitting down with Cheri Cassedy, who operates the tasting room, she is excited about upcoming events and partnering with local businesses.  Cheri has wine in her blood too.  She comes from the middle of Napa and Sonoma country and has been around the wine making process her whole life.  If you are looking for a laid back, friendly atmosphere she provides it, but she can also answer your questions about the wine.
Stop by for a Sip
Six different red varieties are being poured at the tasting room including, Sangiovese, Old Vine Zinfandel, Cabernet Franc, Barbera, Petit Verdot, Malbec and also a dessert wine or Port.  You can taste by the glass, order a flight of three wines or buy bottles as well.  They expect to be adding white wine varieties in the near future.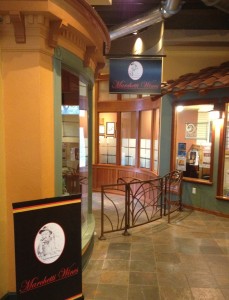 Even if you don't like to sniff it, stare at it, swirl it or try to describe it with funny words…but mostly just enjoy it, come down and drink here.  If you're lucky and Rich is in the tasting room while you're there, ask him to autograph your bottle and get a little more history about his family.
The tasting room is open Thursday and Friday 2pm to 7pm, Saturday 1pm to 7pm and Sunday 1pm to 5pm.  Check www.MarchettiWines.com for a listing of upcoming events.
*Editors Note:  Marchetti Wines has moved to a new location at 511 Washington Street SE in downtown Olympia.
Marchetti Wines
511 Washington St SE
Olympia, WA 98501
Phone:  360-359-4288