By Mary Ellen Psaltis
You've seen it before – the ubiquitous holiday cheese platter: cubes of bright orange cheddar stacked next to cubes of pale swiss. Maybe there are a few pepper-speckled jack pieces for variety. You can recall the requisite broccoli and carrot pieces. Yes, you've been there – eaten that. With a dash of imagination and a willingness to digress from this path just a bit, you can change your life… well, at least wow your friends and everyone's taste buds. Who knew cheese could be so good?! With a smidgen of planning, you can put together a party platter for any occasion.
Most of the work has already been done for you. Shelly Brown, Bayview Deli & Bakery Manager, has traveled far and wide to learn more about artisan cheese making and sampled more than a few. Brown has been impressed to find that many US cheeses are winning awards that previously were won only by European makers. She noted that "a lot of hard work and care goes into cheese making." Based on her experiences, she has made cheese selections from around the US and the world to stock Bayview's cheese displays. At this very moment there are two cheese 'islands' waiting for you to explore. You can walk around them and take your time to read and admire the labels. One case is a bounty of Wisconsin cheeses – the other filled with picks from around the world. Take time to visit both.
These holiday cases feature limited edition and many artisan cheeses. I toured both. Wow. How can I know which ones to select? Knowing that they are all good, I picked  Crave Farmstead Farmer's Rope, Boar's Head Gouda, and Kerrygold Reserve Cheddar (aged over 2 years). Three of us had an impromptu sampling. One friend, who is not a cheddar fan, enjoyed the Kerrygold and especially liked the gouda. The mozzarella is the most mild and deserved a hearty cracker or perhaps a splash of olive oil and a few basil leaves. We used lesley stowe's raincoast crisps. They are packed with seeds and zero bad ingredients. All three cheeses will be devoured with relish.
During your island hopping, pick a few – whether it's the name, label or whatever the attraction. There are no wrong choices. Sure, you will end up liking certain cheeses more than others, but you will likely find a gem that you would otherwise never have made the acquaintance.
Brown recommends that when you are selecting cheeses for your event, pick at least four: one that is soft, one mild, one hard and one flavored. That sounds easy enough, but there are no cheese police – and you can get any variety that you want. If you are overwhelmed by the sheer number of cheeses, let Brown make up a tray for you. Now that's a way to celebrate the holidays!
After you have made your cheese selections, it's time to choose your platforms – that means options for moving the cheese from plate to mouth, i.e., crackers and bread. These elements are meant to accompany the cheese  – not overwhelm it. Crusty bread slices are excellent. Cracker selection goes from bland water crackers to nutty wheat to ones packed with seeds and herbs. Like with the cheese, a variety is nice.
Now add the fruit. Pears and apples can be matched to cheeses, but it's fun to experiment to find what tastes best to you. Apples can be tart, hard, or sweet. Good pairings can be made with Pinova, Pink Lady and Winesap apples, to name a few. Dried fruits such as apricots and cherries add a little sweet to the saltiness of cheese. And remember the walnuts and almonds – they add the crunch. Candied nuts are a festive bonus. Bayview also stocks chutney and other cheese toppings.
You can also have fun exploring the spirit aisles. Winter beers, hard cider and many wines await you. The choices here are also staggering. Get a few suggestions from your favorite beverage manager.
Here are a few cheese guidelines: (Thanks to the Wisconsin Milk Marketing Board, Inc.)
Cooking and handling
Serve at room temperature, which takes sitting out (uncovered) of the refrigerator for 30 minutes to an hour before serving.
Take out what you think you will need, leaving the rest in the refrigerator.
Use low and shorter cooking temps and times. Otherwise these nice cheeses get stringy and tough. If you microwave, reduce power by 30-70%.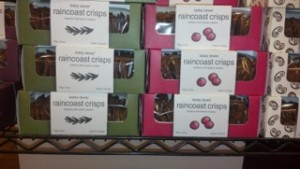 Storing Cheese
Fresh cheeses like ricotta or mascarpone are quite perishable. Keep sealed and cold and eat promptly.
Semi-soft cheeses like Havarti and Jack ought to be wrapped and put into plastic. The wax or parchment wrap lets the cheese breathe as the plastic prevents moisture loss.
Hard cheeses can be wrapped tightly in plastic, again to prevent more moisture loss.
Hard cheeses can also be frozen.
Overall, keep cheese under wraps and cool until use. As one cheese lover said, "Buy little and buy often."
Remember, any time is a good time to talk cheese. Eating it is also recommended.
Eat Well – Be Well.