By Tom Rohrer

In a sport known for highlighting individual achievement, the Olympia High School boys swimming team is hoping their efforts and dedication will lead to team success.
While the season may be young, Bear's head coach Mel Smith and a quartet of talented swimmers are already talking about state meet qualification in the 200 medley relay.
Each relay team in the event features four swimmers who swim 50 meters using their respective stroke.  The backstroke starts the relay off, with the breaststroke and back stroke following in order before the culminating freestyle portion of the race.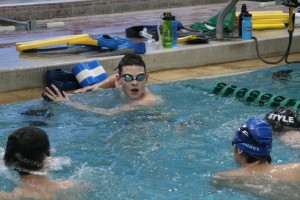 OHS's team consists of freshmen Andrew Wright (breaststroke), sophomore Garrett Carson (butterfly), junior Tim Ward (backstroke) and senior Co-Captain Wes Murry, who will be the anchor of the team in the freestyle.
In order to qualify for the state meet in the relay, the team will need to post a time of 1:44.5 or better, and so far, according to Smith, they're about 1.26 seconds off.  Smith, now in his sixth year as the head coach at OHS, believes the four individuals will make up a state meet relay team.
"They're probably four of the most dedicated individuals on the team and are all very talented in swimming and academics," Smith said during an OHS practice at The Evergreen State College. "They work hard, and they'll have to continue to do so.  But they have the talent and the ability to get there."
In the last two meets against Central Kitsap and River Ridge High School respectively, the relay team has posted a time of 1:47.75, good enough for first place at both meets.  As individuals and members of other relay teams, the four swimmers have had successful starts to the season.
Carson has meet victories in the 200 meter Individual Medley and 100 meter fly at each of Olympia's first three meets, while jumping on the 400 meter freestyle relay with Ward and posting the winning time against both River Ridge and Central Kitsap.  Ward has also won the 100 meter backstroke against River Ridge and North Thurston and has been a part of the 200 meter freestyle relay team (along with Murry) that posted the top time against River Ridge and Central Kitsap. Not to be outdone Wright has been the top performer in the 100 meter breaststroke at each meet, while Murry took first place in both the 50 and 100 meter free style race against Central Kitsap and River Ridge.
Practicing with each other and a host of other talented OHS swimmers pushes each individual to be better.
"I have the individual drive, but when you see others around you improving, you want to stay with them and make sure you're working as hard as them," Carson said.
"I'm thankful that there are so many hard workers on this team because that's just more motivation to keep it up," said Ward.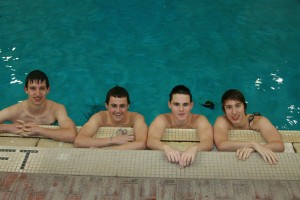 The four also harbor high expectations for themselves and the rest of the relay team.
"We have a great chance to make a run at the state meet which would be awesome," Wright said. "This program has a lot of history, and we all want to become part of that history, make our own name.  We have the ability to get there; we just have to keep on pushing."
While it is technically a team relay, Murry noted that there's still an emphasis on the individual and that every swimmer on the medley relay team is confident at their stroke.
"All four of us on the relay team have been swimming for a while now and each stroke comes naturally now," Murry said. "It's not like track and field where you're focusing on grabbing the baton.  You're focused on solely yourself."
Unlike other sports, where the results don't always tell the full story of the competition, swimming has absolute and final timed results that determine a winner and how hard one must work towards a better time.
"Swimming is a pretty unique sport where you're not relying on your teammates," Murry said.  "You swim the times that you got and you can't blame anyone else.  You know that you need to put in more work to drop that time."
Smith noted that along with the medley relay, the four individuals were close to qualifying for the state meet in their respective individual events.  In order to reach their goals, Smith says the four swimmers must keep pace with a grueling training schedule and work together to work out any kinks that present themselves in the relay event.
"We're 49 days from district which would be last chance to make state time," Smith said. "And they're currently training at 6,000 to 7,000 yards a day.  They are all getting broken down, which is what's supposed to happen.  In about 30 days, we'll start going to 4,000-5,000 yds. a day."
"The (relay) sendoffs are a little harder," Smith said of the challenges in the medley relay. "In freestyle relays, you have a standard rotation and they'll tend to be in good rhythm.  When you watch a breaststroker come in, they could have a different finish and it takes a little more work with them.  That's what they'll need to practice, the starts."
Ward noted that it's helpful practicing with teammates that have a great attitude and that Smith has instilled confidence amongst all of the OHS swimmers.
"(Coach Smith) has really helped with the mind set of guys and helped inspire everyone to become better swimmers and to put in the extra work," Ward said. "It's fun being at practice with all the guys because everyone is positive and works hard.  It's fun to be a part of something like that."
Smith says the idea of participating in the state meet is almost enough motivation for the team.
"A lot of guys have been to those big meets, the state meet, and they know what the atmosphere is like and how high the energy is," Smith said. "That's the ultimate goal, to swim against the best in the best environment, and I think these guys know how much fun that really would be."