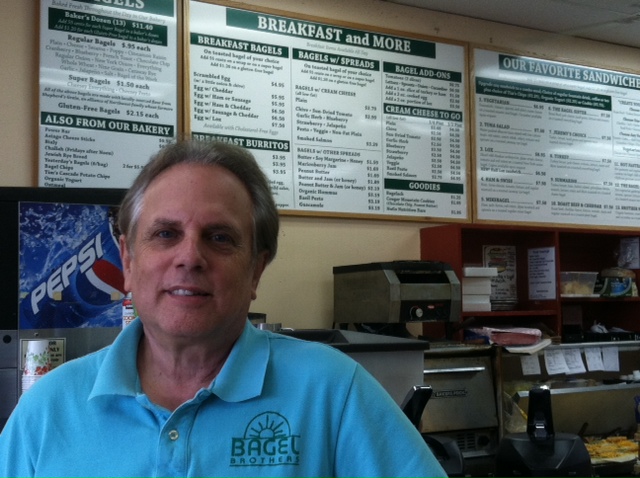 By Katie Hurley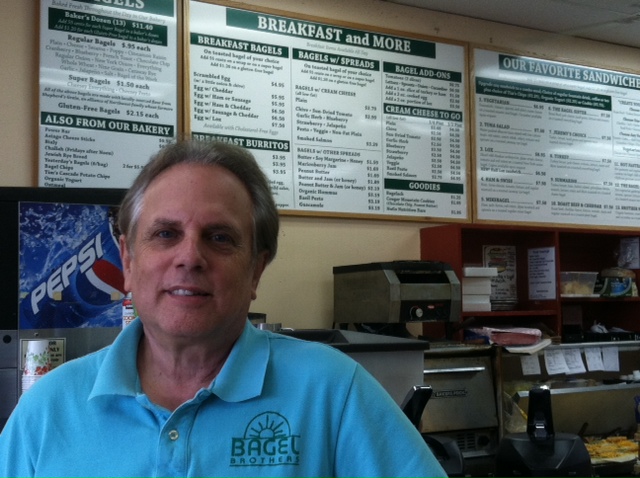 When Marc Feigen was thinking about opening a bagel store in 1993, the only bagels you could buy in Olympia were manufactured in bulk and were full of preservatives.  True bagel lovers had to drive to Tacoma or Seattle to get a fresh, authentic bagel.  Fast forward 19 years and you'll find people from Seattle and Tacoma driving to Olympia to buy their bagels from Bagel Brothers.
Feigen was a successful real-estate agent looking to open a retail business, and bagels were a niche that had yet to be filled in this area.  He researched the different methods and equipment for making bagels, and Bagel Brothers opened their doors in 1994, serving preservative-free bagels made from scratch and a full menu of deli-style bagel sandwiches.  That menu has now expanded to include pizzas, focaccia, Jewish rye bread, 20 different bagel varieties, 10 different homemade spreads, breakfast burritos, soups and some gluten-free items.
After just 6 months in business, Feigen approached the Stormans family to see if they would be interested in selling Bagel Brothers' bagels at their Bayview and Ralph's Thriftway stores.  When they placed their first order, it meant more than doubling the daily bagel production, and it also meant that Feigen wasn't going to have time for his real estate business anymore.  At this point, he could have switched to automated, bulk production equipment but Feigen's commitment to making quality products from scratch was a big reason for his success so he stuck with it.
One wholesale client led to another, and now Bagel Brothers makes almost 10,000 bagels a week, providing bagels to many institutions in the area including The Evergreen State College, Providence St. Peter Hospital and Tumwater School District.  Their largest wholesale customer is the Olympia School District, which buys all of the pizza crusts for the high school cafeterias and bagels for all of their schools from Bagel Brothers.
Product diversity is another secret to Bagel Brothers' success.  In addition to the wholesale bagels and pizza crusts, they provide fresh breakfast burritos for the cafeterias at Capital Medical Center, Evergreen and many espresso stands in the area.   They also offer catering, where customers can order trays of bagels and spreads or platters of a variety of bagel sandwiches.
Feigen is committed to using as many locally sourced products as possible in all aspects of his business.  He purchases all of his flour from Shepherd's Grain, an alliance of family grain farmers in Eastern Washington that practice sustainable agriculture.   Bagel Brothers serves organic, fair-trade coffee from Batdorf & Bronson, cider from Lattin's, and they serve OlyKraut on many of their deli sandwiches as well as selling a few varieties in jars to take home.
Bagel Brothers' commitment to Thurston County extends beyond their products.   "I'm a big believer in giving back to the community," says Feigen.  "We try to be good neighbors."  Bagel Brothers is a longtime supporter of the Hands On Children's Museum, providing in-kind donations to the museum as well as many other organizations.
Feigen says one of the advantages of doing business locally is that they can make decisions quickly and adapt.   A recent remodel added comfortable booths and a power outlet at every table for charging cell phones and laptops.   A commitment to customer service is a top priority at Bagel Brothers.   "We are on a first name basis with many of our customers, people we might not get to know otherwise," says Feigen.  At Bagel Brothers, customer service skills are one of the most important qualities in an employee.   "We're not just in the bagel business," says Feigen.  "We're in the customer service business."
Bagel Brothers' extensive menu of bagels, spreads, sandwiches, homemade soups, pizzas, smoothies and gluten-free items has something for everyone.  They are open Monday-Friday 7-5:30, Saturday 7-5 and Sunday 8-5.  A full menu is available at www.bagelbrothersonline.com.
Bagel Brothers
400 Cooper Point Rd. NW #22
Olympia, WA 98502
360-352-3676