By Tom Rohrer

Bowling pins at Tumwater Lanes and across Thurston County and Pierce County should've grown to fear the Black Hills High School girls bowling team by now.
Since the 2007-08 season, the Lady Wolves have won three league championships and three Academic State Championships apiece, and have been defeated only eight times as a team in regular season matches.
Last season alone, Black Hills had 11 bowlers featured on Evergreen Conference 1st and 2nd all league teams, including League MVP Nicole Hayes.
"We've had some really terrific girls on the teams since I've been here," said head coach Matt Bell, now entering his eighth season leading the Wolves.  "And that's been great because the older girls show the younger members of the team the ropes so to speak.  It's been a cycle of talent through here."
This season, the Wolves will be without Hayes and many of the other top bowlers from last year's team due to graduation.
"It's the youngest and most in-experienced team we've had since I've been here," Bell said. "But it's an exciting time to teach and coach the team up.  I think there is a lot of talent on this team that can be unleashed and harnessed over the course of this year and next, and it will be fun to see that talent and confidence develop."
Despite the exodus of all league talent, the Wolves still feature some experienced bowlers that have produced eye opening numbers.
BHHS has Evergreen Conference first team returnees in senior Ashley Aarts and junior Alex Putzier.  Aarts finished second on the team and third in the league with a 170.04 average in 2011, while Putzier finished fifth in the league with a 162.2 average.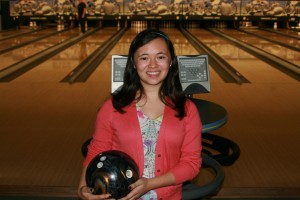 Aarts, the captain of the Wolves, and Putzier, the younger sister of former BHHS star Amanda Putzier, have the talent and the mindset to lead BHHS this season.
"I was like a lot of these girls when I first joined the team," said Aarts.  "And I got a lot of help from the coaches and the older girls on the team.  It's my turn to return the favor and so far it's been fun to do that."
"I've been around the program, Tumwater Lanes and the team for a while," said Putzier.  "I think it's just the natural progression of things, being a part of passing down that knowledge and techniques.  But we still have a lot of talent this year and could surprise some people."
Both Aarts and Putzier will be in the running for the Evergreen Conference Player of the Year this season, thanks in large part to the high caliber of competition they've seen in practice over the their bowling tenures.
"Having strong bowlers around has been awesome, and it really pushes you every day," Aarts said.  "You feel the need to improve and get better constantly."
"I have really pushed myself to become better and that has a lot to do with the older girls that were on the team," Putzier said. "You feel the pride when your part of this program and it helps drive you."
Along with strong athletes, BHHS bowling has featured strong, consistent coaching in Bell, and assistant coach Creed Clement.  Clement, who owns and operates Tumwater Lanes, is one of the top authorities of the sport in the area.  Bell says he continues to learn new things about bowling every practice from Clement, and that coaching the BHHS bowling team has been a great experience.
"Creed is so knowledgeable about the sport, and we wouldn't have had the success or the high caliber level of bowlers without his teaching," Bell said. "I've become a much better bowler just being around him and it's helped me as a coach.  This isn't a job to me, I enjoy coming to practice every day and part of that is because of Creed."
"It's the best of both worlds because Bell is more of an inspirational coach and coach Creed is a skills guy.  We learn so much every day at practice and you can see it carry over into matches," said Putzier, who had a high score of 251 in a match against River Ridge last season. "They both are great coaches."
"Both the coaches are part of what makes being on this team so fun," said Aarts, whose score of 219 against Tumwater last year was a season high. "It's hard to think about where we would be without them."
Coach Bell is quick to throw the praise back towards his players and the program as whole.
"We've been one of the more successful programs in the entire region and we've done it the right way," Bell said. "We've had special needs kids on the team and seeing them being able to compete is just as awesome as any win we've had.  This sport may not get a lot of attention, but the matches are competitive, intense and exciting to be a part of."