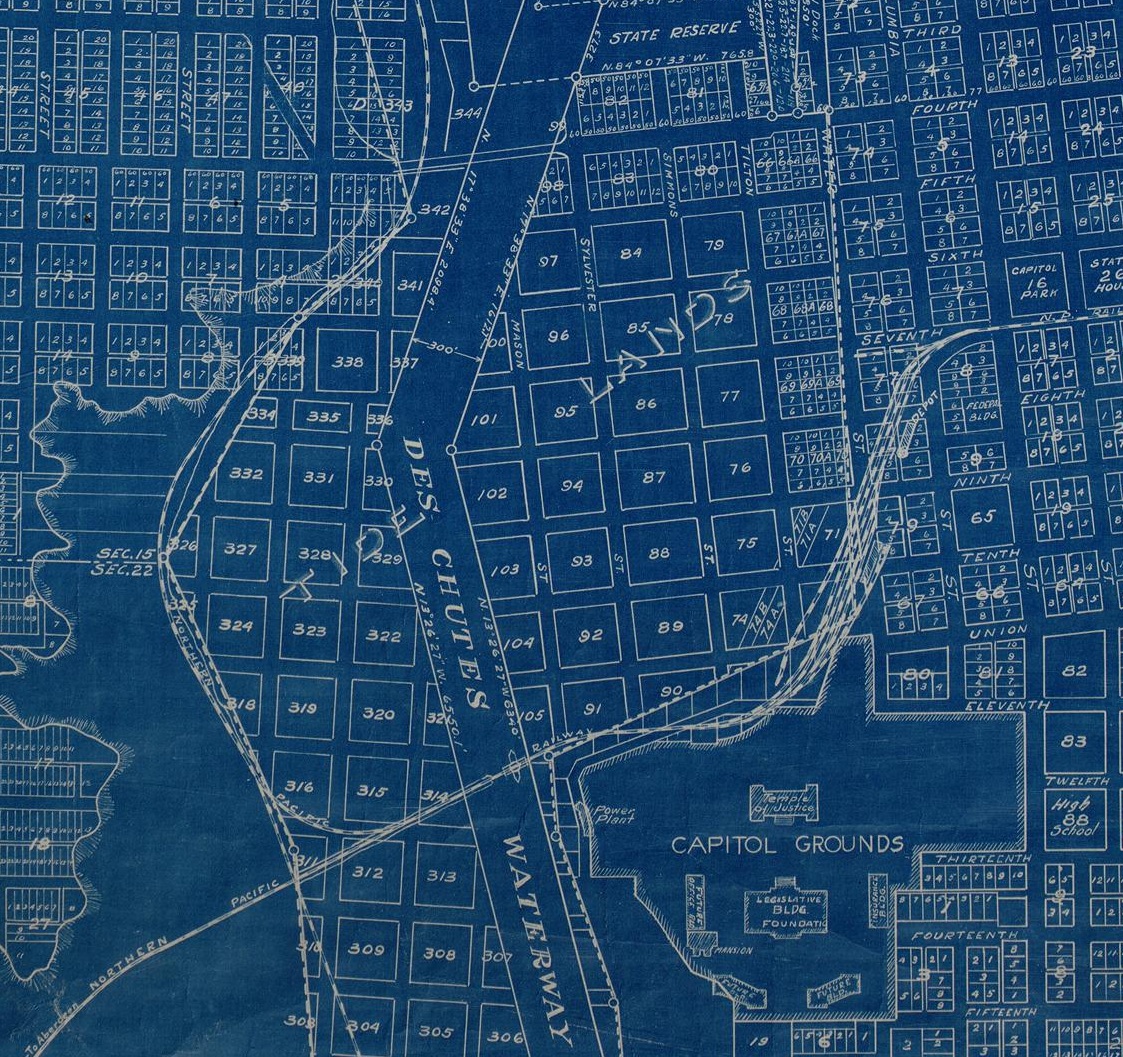 By Emmett O'Connell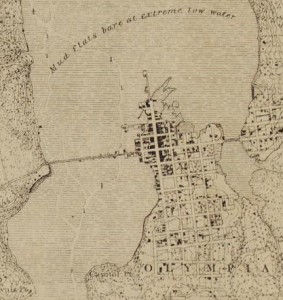 The commercial and industrial history of Olympia is in large part told by the city's migrating shoreline. Almost immediately after founding, Olympia's businessmen began trying to find a way to a deepwater port. For many years, that route was Olympia's "Long Wharf" or "Gidding's Wharf." By the 1880s the wharf was extended from 300 to over 4,000 feet over tidelands to deepwater.
In the end, it would be easier to fill in the tidelands than maintain a wharf.
The earliest major fills happened through the 1870s and 1890s, pushing north across the tideflats and west across the Deschutes Waterway. The most drastic fill occurred in 1910-11 when during the so-called Carlyon Fill (after mayor P.H. Carlyon). Over two million cubic yards of sediment were dredged and then placed behind bulkheads, creating almost 30 blocks of the port peninsula and the eastern part of downtown, covering the historic Swantown Slough.
The most amazing statistic is that almost 80 percent of the quarter of a million dollar project was privately financed.
The Carlyon Fill not only added space for Olympia's commercial district, but created a vibrant industrial area (including a cannery, shipyard and an door plant, among others) on the port fill
To me, the most interesting fills in Olympia's history are the ones that didn't end up happening.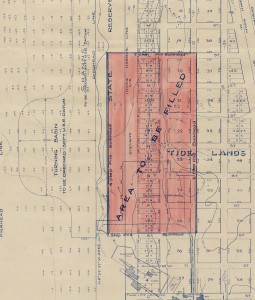 The first would have been a natural continuation of the Carlyon Fill. In 1914, Carylon proposed adopting a minor aspect of a plan for the capitol campus, filling in Deschutes waterway between downtown Olympia and the westside. In addition to adding to the number of buildable blocks, the proposed fill would have made a permanent connection between the downtown and westside. Up to that point, the east and west sides had been inconsistently connected by a bridge.
While this project was eventually built in part when Capitol Lake was created in 1951, it was opposed at the time by the City of Tumwater because it would have cut off that community's connection to the ocean.
Another planned fill would have cut off the possibility of Capitol Lake at all. For years, the area historically covered by the Deschutes River estuary and now Capitol Lake was platted with city blocks. Between the 1890s and 1930s, the state sold into private ownership the platted tidelands before purchasing them back to construct the lake.
Works cited and additional resources
Sea-Level Rise: Re-imagining the Urban Edge, by Brenda Lorene Snyder
Deschutes Estuary History project
Capitol Lake Action Plan, 1988
Rogues, Buffoons and Statesmen, Gordon Newell