When Suzan Milton heard about Comcast's Internet Essentials Program from the Rochester Boys & Girls Club, she was skeptical. It promised high-speed Internet access to qualifying families for just $9.95 a month – with no equipment rental fees and no price increases. It also offered a computer for just $149.
"I'm a firm believer that if it sounds too good to be true, walk away," Milton says.
But she and her husband – who adopted and have raised their grandchildren Nicholas, 11, and Samantha, 9, since they were infants – were tired of frustratingly slow dial-up speeds. They also knew that the kids would greatly benefit academically from high-speed computer access at home.
Milton called Comcast and asked questions about the program until she felt satisfied that it was the right move for her and her family.
"The goal of the program is to connect people to what's important," says Comcast Public Relations Director Walter Neary. "In this case, that's being able to do homework and succeed at school. For older students, it's also learning about jobs and college scholarships."
The program is simple and straightforward: Families with at least once child receiving free or reduced-price lunches through the National School Lunch Program can connect to the Internet at home for just $9.95 a month through Comcast.
Qualifying families must live in a Comcast service area and have not subscribed to Comcast Internet service within 90 days prior to applying for the Internet Essentials Program. They must also not have an overdue Comcast bill or unreturned equipment.
Other benefits of the program include the ability to purchase a netbook computer for just $149, as well as free online learning tools provided by Comcast to help new users feel comfortable using the Internet.
"I'm not so electronically friendly and I was unable to install it myself," says Milton, who called Comcast and explained her situation. Though a service call is not part of the program, they sent someone out within two days at no charge.
Before signing up with Comcast's Internet Essentials, Milton was paying $11.99 a month for dial-up. The difference in service – and to in their lives – has been astounding.
"Dial-up took forever and was always shutting off," she says. "With this, the minute you get your computer on, it's there. Boom. Plus it's two dollars cheaper."
Six months later, and Milton is relieved that she didn't let her skepticism keep her from trying out the program. Nicholas and Samantha benefit everyday from having broadband Internet access at home – and so does Milton.
"They love that they can get on their own computer and do their homework," says Milton, who also purchased the $149 computer through Comcast. "At Tenino schools, if you forget your homework, they have it online. You can print out your homework and not fall behind."
For Milton, high-speed Internet has meant an invaluable connection to her other grandchildren who live across the country.
Her daughter bought Milton an iPad after she got high-speed access and purchased a separate wireless router.
"Now I get to see my grandbabies in New Jersey. I get to see them walking, I get to hear Olivia saying 'Hi Gamma!'"
Milton begins to quietly cry. "Now we have a special connection. I really get teary because I couldn't have done this without Comcast being so generous and giving us an affordable way to stay in touch with my grandbabies."
Comcast's Neary stresses the importance of sharing stories like Milton's so other families might be encouraged to take advantage of the Internet Essentials program.
"About half of the households with incomes under $30,000 don't have broadband and that's just wrong," he says. "It's really about helping young people keep up, to avoid the 'digital divide' where a gap can be created."
Research undertaken by Comcast showed that students without Internet access at home often try to squeeze homework into their schedule during lunch hours or immediately after school when the library is open.
"One man at a Comcast event in Spokane said he'd been unable to be on the football team his junior year because they did not have Internet at home," says Neary.
So far, Comcast's Internet Essentials has connected more than 100,000 households around the country, which equates to more than 400,000 people.
"It's just exciting to be a part of that," says Neary.
He goes on to stress the importance of Comcast's program offering an affordable netbook computer. "We were able to work with some partners to bring the cost of a computer below $150," he says. "Studies say a big barrier for people in getting Internet is that they don't have a computer in the house.  These computers are our way of trying to help."
An important third piece of the effort is an education program where, once customers have the service and netbook, they can go to Comcast's website and watch a variety of videos about how to use the Internet and avoid scams.
"That, of course, is a huge concern," says Neary. "Because when you've just hooked someone up to the internet it won't be long before they get an email from somebody from another country offering them riches. You want people to be prepared for that."
Neary also points out the importance of helping spread the word of this program to qualifying families.
"The program has done very well, but we want to do even better," he says. "It would be great if organizations could help get the word out."
Educators, community organizations, and other who might know of families who can benefit from Comcast's Internet Essentials program are encouraged to visit Comcast's Partner Portal to access information that can be printed and shared.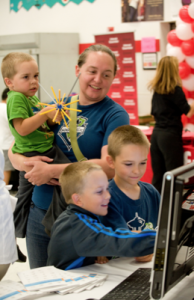 For anyone who might still be skeptical – like Suzan Milton was, initially – let Milton's first-hand experience with the program reassure you:
"There are no hidden fees and no hidden costs," she says. "Everything was exactly what they said it would be. If you qualify for this program, give it a try."
To apply, call 1-855-846-8376 (1-855-8INTERNET) to request an application, which must be returned with lunch program documents from your child's school. Once you are approved, Comcast will mail you a welcome package with everything you need to set up your Internet service.