Despite being split in half during last winter's storm and serving as a magnet for deer, our backyard apple tree consistently produces fruit.  Neighbors say that it's been in the 'hood for decades, although it's planting date certainly has not been verified.  My beloved, mangled tree serves as the inspiration for this post.  The tree's consistent production reminds me of my grandmother's tree.  It was the central focus of her miniscule back yard in an urban Seattle neighborhood, but the trusted tree bore fruit for decades.  She taught me to make applesauce and my kids now beg for her recipe, served best still warm from the saucepan.
October is a typical time to celebrate the harvest.  Warm apple cider soothes a sore throat or makes a rainy soccer game more bearable.  Apple pie, apple fritters, and other delicious treats are available at local pumpkin patches.
Commercially sold apples are marked with a sticker denoting it as fruit grown in Washington State.  For almost 100 years, the state has led the US in apple production.
Even though the climate in central Washington may be more suited to growing the crispy, juicy fruit, Thurston County farmers are growing and selling their crop locally.
For example, Carr's Organic Farm located on Gull Harbor Road grows ten varieties of certified organic apples.  Known by locals as a top spot to grab blueberries, the farm sells juicy apples in autumn, all grown on-site.
The health benefits of apples have long been pronounced both in pop culture and academic research.
"Apples contain lots of vitamins, are relatively low in calories, and taste great.  If we all ate an apple a day, especially instead of a candy bar, we'd be healthier," reports Dr. Samantha Ritchie of  Vantage Physicians in Olympia.
Dr. Erin Kershisnik, a partner of Ritchie's in Vantage Physicians, describes the Iowa Women's Health study which followed 34,000 women over 20 years.  Kershisnik reports that one of the study's findings is that women who ate apples had a significantly lower risk of death from heart disease.
"Now, these results may just be that these women lived healthier lives in generals, but some feel that there are compounds in apples that are powerful antioxidants and reduce inflammation in the body," adds Kershisnik.
"Apples are one of the fruits highest in fiber so they are likely to be more satisfying and filling, reducing the impulse to snack later," adds Dr. Erin Kershisnik, also with Vantage Physicians.
Apple-lovers from around Thurston County will converge on the 8th annual Apple Affair on Saturday, October 21st.  Rare and heirloom varities are served up by the slice.
Hosted by Steamboat Island's Madrona Grove Farm and Fruit Stand, the Apple Affair is a wonderful way to taste and compare more than 25 varieties of apples from Washington farms.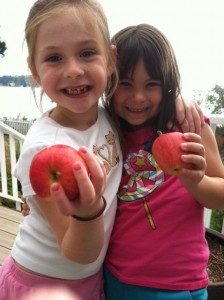 The majority of the apples are sourced from Feil Orchards in Wenatchee.  "They have been growing apples for over 100 years.  Jack Feil, now in his late 80s has preserved trees from every variety they've grown over the years.  Most of the apples (at the Apple Affair) come from this farm because they are the ones with all the old and unheard of varities," explains organizer Jeannine Anderson of Madrona Grove.
Anderson recommends the Wickson Crab apple – a tiny apple with giant flavor, crispy and juicy.  "We buy an entire box each fall to snack on through the winter.  It's an old fashioned cider apple that is as sweet as it is tart," adds Anderson.
The Apple Affair is free to attend and apples can be bought onsite.
While I doubt my backyard varietal is anything special, my hope is that it continues to bear fruit so I can share the applesauce recipe down to another generation.
Apple Affair
Sunday, October 21st  – Noon – 4:00 pm
Rignall Hall, just off Steamboat Island Road & 81st Ave NW
Thrifty Thurston highlights inexpensive family fun in Thurston County.  The weekly series focuses on family-friendly activities throughout our community.  If you have a suggestion for a post, send us a note at submit@thurstontalk.com.  For more events and to learn what's happening in Olympia and the surrounding area, click here.