Submitted by City of Olympia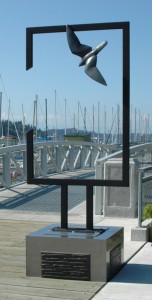 Windstar by Olympia artist Ross Matteson is the popular winner of the Peoples' Choice Award, and will be purchased by the City of Olympia following exhibition on Percival Landing. 
A public vote was held July 21-August 31, 2012, with voters indicating their top choice among the exhibition of loaned sculptures along Percival Landing.  A total of 485 votes were received during the voting period, up from 313 in 2011.  With 140 votes, Windstar by Ross Matteson was the lead by quite a distance, with runners up The Healer by Seattle artist Leon White, and Sound from the Ends of Time by Olympia artist Grey Brogdon, coming in with 74 and 66 votes, respectively.  The remainder of the votes were distributed among 11 other sculptures. 
Comments regarding why Windstar appealed to voters include the elegance of the sculpture, the relationship between bird and nature, the framed view, quality of craftsmanship, and what quite a few took to be the concept of freedom with the bird escaping through a window.
The winner was announced at the Olympia City Council meeting on October 2, 2012.  
The exhibition of loaned sculpture will remain on Percival Landing through next spring.  Following that exhibition, Windstar will be permanently installed in a new home in Olympia.  Members of the Art in Public Places Committee are actively looking for a visible, accessible location with strong ties to the natural environment. A site has not yet been determined and a recommendation will be brought back to Council at a later date.