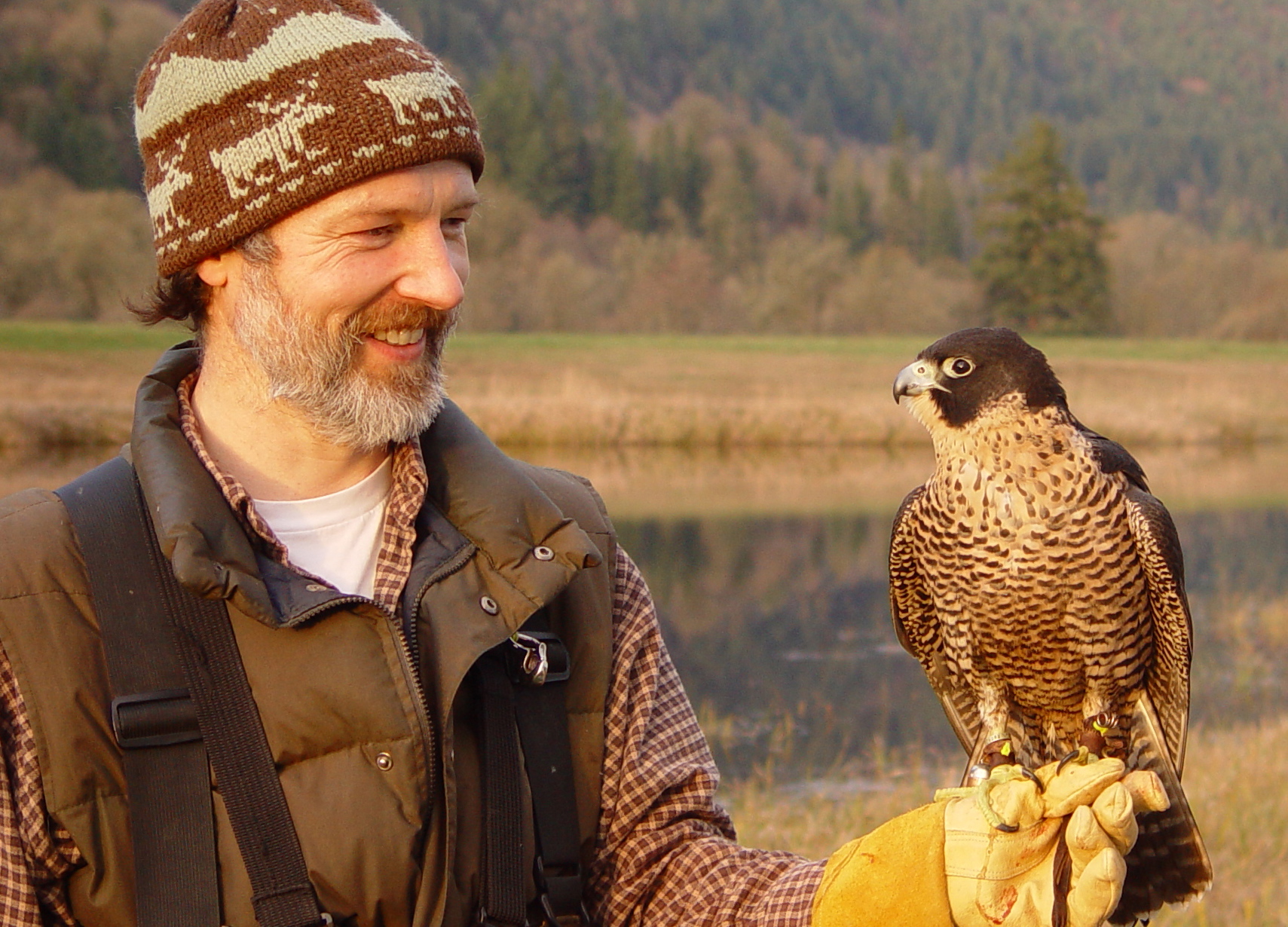 By Doris Faltys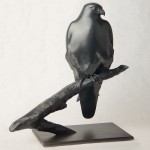 Sculptor Ross Matteson knows birds.  "Birds have always be a part of my life," Ross says as we walk across the lawn behind his house.  We stop in front of a shed with enclosures for his birds, a mews.   The peregrine falcon in front of us is watching.    "My father raised falcons," Ross says.  "He was a falconer, a bush pilot, and a biologist."  Ross is a falconer as well.  As he talks about his father and family we walk to the pigeon loft.   He opens the doors for his homing pigeons and all 24 of them scramble out.  They fly up, and into the air.  We watch them as they fly away.  "My connection with birds has been a constant.  I have learned a lot from being close to birds and other wildlife."
Ross says that his art also has Asian, Egyptian, NW Native American influences.  He explains how he encountered those styles.  "I grew up in a home full of beautiful old Asian Art, collected by my Grandfather in the 1930's when he had a military deployment in China."  Ross learned about Egyptian Art in museum exhibits and in Egypt, itself.   He initially discovered Horus the Egyptian Falcon God, though falconry texts.  At The Evergreen State College and University of Washington, Ross continued to explore his life-long interest in both ancient and contemporary NW indigenous art.   Childhood trips to Vancouver, Canada had introduced him to NW totems, dug out canoes, masks and bent cedar boxes.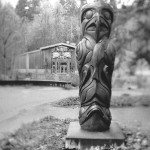 Media Arts was his main academic study at Evergreen.  His first major venture into running his own business came when he started a music-recording studio in the early 1980's with his brothers.  Ross states, "It lasted several years.  I learned so much about small business during this time."   His first commissioned bronze sculpture was for his Aunt and Uncle who were Western Art collectors.  "I worked hard to make their sculpture depict a rock nest ledge with a pair of falcons engaged in a food transfer.  This first bronze commission was the beginning of a very steep learning curve, which included in this piece, the struggle to have it proportionally accurate from all directions."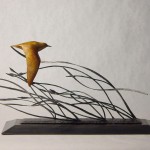 "In learning how to make a living as an artist I have had to make a choice about how much time to spend making art verses the marketing side of the business."    After 25 years of balancing these art and business responsibilities, he feels, "blessed by having friendships with collectors all over the world.  My wife, Genny and I have built this business together.   We have a life that intersects via my art with very diverse and interesting people."
Ross has agreed to meet with me during his lunch hour.  I follow him into the kitchen.  He gives me a cup of tea then grabs a baked potato from the oven, puts a few fixings on it.  We chat while he eats.   "Marble, bronze and other materials that I use for my sculpture are very precious to me. Each material has unique attributes that I am intimately familiar with.    It is a privilege to use these kinds of resources.   Bronze, for example, is 98%, copper.   Most copper comes from distant strip mines and energy intensive smelting processes.   Especially as an environmentalist, you just can't go lightly into this type of work.   It is at times dangerous, but it is almost always expensive, polluting and energy intensive.   I think that a finished bronze sculpture has a responsibility to enlighten future viewers for as long as the bronze lasts — which may be a very long time!"
One question he works with in order to create a sculpture with lasting value is, "How do you make an inanimate sculpture appear to be alive?"  Ross says it is, "not luck, or a bolt of lightning.  The answer includes observing and touching the world around me, and then systematically exploring a wide range of options presented by the material I am trying to communicate with."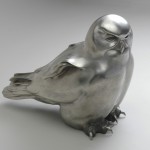 Ross is looking for qualities that seem metaphysical in how they give his materials a connection to birds, to a feather.   He tries to capture the essence.
This winter Ross spent time out on the coast observing the Snowy Owls.  He noticed the way the, "side winds blew up the feathers ….a smooth surface except for a couple of feathers."  Expressed in metal, those feathers need to feel light and soft.
Ross says that it takes tenacity to get it right.  He is frequently up until 3am inventing "bizarre little tools, and trying to polish strange places to get the effect that he is after for a piece, such as, Blowing Snow.   "Four out of five times what I try doesn't work.  Art needs inspiration but it is mostly the inspiration to care about what is around me and to ask such a good question that I will be driven to get an answer, even if without food or sleep".
Ross is always in the process of meeting new people, corresponding and learning.  His work is now in 16 countries around the world.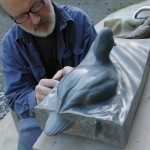 Outside his studio I get a, "sneak peak," at a work currently in process titled Ripple Effect.   It is a black Belgian marble sculpture of a bufflehead duck on rippled water.   For Ross, "the waves seem to be a metaphor relating to both time, and purpose."
This piece will be at the National Cowboy and Western Heritage Museum's prestigious Prix de West Invitational Art Exhibition and Sale which opens in Oklahoma City on June 9th.   The price for Ripple Effect: $25,000.
He is also getting ready for a retrospective show that will be held in 2014 at the Gilcrease Museum, Tulsa, Oklahoma.  The museum will bring in his artwork from collections around the country.
He has hope of debuting a book at this venue.  "Regardless of when I finish my book," he says, "it will feature what I have learned from many of the remarkable artists that I have met in my life.  I want to show linkage, how ideas flow…..art to art, person to person.  I think that I am attracted to artists who are perpetual students and who generously engage in ideas.  These people are my extended family."
"Do you feel that there are limitations on what you can communicate with your sculpture?" I ask.  Ross responds, "I like tackling big world challenges…such as reducing conflict in Middle East."
"I can make bird art about any issue, small or large…..but certainly including subjects such as war, peace….ideas that are important.   And, if I can truly communicate at this level with only one person, I will still be satisfied."
"Original, positive, beautiful art of integrity that communicates cross-culturally, provides especially important common ground for progress." Ross states.
He hopes that his sculptures that are placed around the world can help bridge diverse communities.   Ross is an optimist.   He has, "a strong belief in what one person can contribute to making a difference."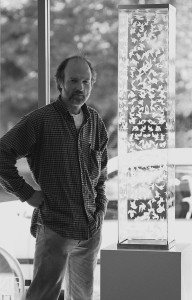 Ross Matteson has been represented through articles in the following magazines and periodicals: City Arts Magazine of Tacoma,  The Journal of the San Juan Islands, Persimmon Hill Magazine, Southwest Art magazine, U.S. Art magazine, The Christian Science Journal, and Wildlife Art Magazine.
On Ross' web site at: http://www.mattesonsculpture.com/ you will find a photo gallery of his work, a step by step photo journal of the making of a bronze sculpture, and read his book of photography, sculpture & poetry, The Falcon's Feather.