By Anne Larsen

Sometimes you just need to get off the mean streets and hit the dirt… (path that is). But, if you're like me, you're typically crunched for time and want to squeeze the most running you can out of your allotted running time slot. Luckily, we live in an amazing area with a plethora of off road running options. This article will focus on "in-town" off road options – I will tackle Capital Forest and that amazing network of trails in the future. You can connect the below trails to make it a long run "trail adventure" or run them individually – up to you!
I run trails with friends, for many reasons. The main reason is I love my running friends, and I just feel like it's the smart thing to do. Plus, I need people to stick in photos or to take my photo for articles….if you see me running with a hydration pack on….watch out, I'll take your picture!  Use your own best judgment when it comes to running trails, I see folks solo all the time.
Ok, so here are my in-town FAVORITE trails.
Watershed Park. Love, love, love Watershed Park. Located off of Henderson Blvd, you can park at the 2500 Henderson Blvd entrance to the park, and there you will find ample parking and an accessible portable toilet!  Watershed Park is a single track dirt path that loops through a relatively flat natural watershed area. It does have two killer hills and some low wooden bridges that can get a bit slippery in the wet months, but otherwise it's a very fast and fun loop. Because it is a dirt path, the wet winter months can turn sections of the path into mini lagoons, but if you wanted clean and easy, you'd be running on a treadmill.
There are a few entrance/exit paths into Watershed Park, one that leads up to 22nd Ave, where you can jump onto the Woodland Trail system. Woodland Trailhead has bathrooms and water fountains (yippee), and connects to the Chehalis Western Trail. Although it is paved, there are new "off shoots" along the trail that are pure dirt, high grass, and single track. They break up the monotony of the trail, and can give your legs a break from the pavement. Parallel to the paved trail is a dirt path, so you can always run on that.
When I run on trails I run by "time" and not "distance." You could easily park at Watershed Park, run a few loops through Watershed, jump on to the Woodland Trail, and then turn-around and get a good 1 – 1.5 hour run in.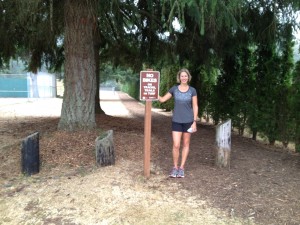 LBA Park. What's not to love about LBA Park? LBA Park boasts not one, but TWO drinking fountains, bathrooms, and a 1200 meter running path that surrounds the park. The park is located at 3333 Morse Merryman Rd and has abundant parking. The running path is wood chip with one wicked hill, but once you conquer that you can scream "I'm queen of the hill" on the descent. Nobody will stare at you, I promise.
The true beauty of LBA lies not in what EVERYONE sees….but in the two gates in the fence that lead to a world of trails that exist between the park and the Wilderness and Newcastle neighborhoods. I took a picture of the larger gate area….so you can identify it on your LBA Park adventure. I couldn't find my way out of this trail system with a satellite watch or map, so I always go with runners that know the area. It does seem like we just take all left turns, and that's my 'go to' navigational tool in a pinch. Check it out. It's cool.
If you park at LBA Park, do a few laps around the wood-chip path and then head into the Wilderness network of trails, you can easily burn through an hour plus of running. Try it and let me know what you think.
Priest Point Park. Good ole' Priest Point Park. Beauty, convenience, depth, and options – what more could a runner ask from a trail?!? Plus it has a sign that says "Jogging OK"!  Divided into two sections, the North section located by the Rose Garden parking lot and the South section located along Puget Sound, you can weave your way through Priest Point Park for a hardy amount of time. The Oly Trail Runners meet at the Rose Garden entrance on Thursday nights in the summer, run the trails for about 45 minutes and then head on over to Fish Tale Brewery for some rehydration. Friend them on Facebook, they are always up to something.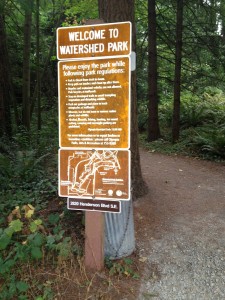 Now say, you want to have an in-town trail adventure and hit the most possible dirt…by combining the above trails and MORE. You can do it. I know you can! The options are endless, but I'd suggest this:
Park at LBA Park, run LBA Park and Wilderness trail until bored or thirsty. Refill water bottle and do a quick turn on the zip-line.
Run down Morse Merryman Rd, to Boulevard Rd, and take a left onto 22nd Ave. Dash into Watershed Park from 22nd Ave entrance (there are two!).
Do a few laps through Watershed Park, exit at 2820 Henderson (by Eskridge Dr) and run down Eskridge Dr till you hit Trillium Park. Trillium Park is over before you blink, so don't blink.
Take Carolyn Rd to Capital Blvd and run to East Bay Rd which leads you right to….. Priest Point Park. Tired yet? Eat a Gu and take a drink from the Foley's drinking fountain on East Bay Rd.  Relax, it's trails, you should be smiling and having fun.
Cruise through the North portion of Priest Point Park and then head out on 26th Ave. Zigzag your way through the Eastside of Olympia till you are back on 22nd Ave headed towards Boulevard Rd. At this point, you can take some sidetracks down Woodland Trail, or, like a cow to the barn, high tail it back to LBA Park.
Dirt, drinking fountains, bathrooms, high mileage and more. Mission – ACCOMPLISHED.
Looking for some trail running partners or friends? To find out the "dirt" on what's happening trail-wise look up some of these organizations on Facebook and HAPPY TRAILS!
Oly Trail Runners
Guerilla Running Trail Edition
Seattle Mountain Running Group
Northwest Trail Runs
4th Dimension Racing
On the Run Events