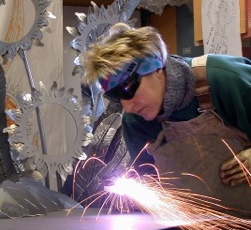 By Alec Clayton
Olympia's Washington Center for the Performing Arts hosts "27 Feet of Art… and More" featuring the work of local (and some not so local) artists.
The "And More" is considerably more. Sally Penley said "about 89 12-inch square pieces of art, all hung on the Mezzanine level, that have been generously donated by local artists, plus another 14 pieces in our 'special exhibit' on the main floor. These are larger items by some of our better-known artists in town, including Tom Anderson, Debra Van Tuinen, Mimi Williams, Jennifer Kuhns, Judith Smith, Shelley Carr, Jean Mandeberg, Sherry Bruckner, Marianne Partlow and Kim Merriman."
The title, "27 Feet of Art…and More!" originated two years ago with "25 Feet of Art" to commemorate the Center's 25th anniversary. The show consisted of 25 12-inch by 12-inch pieces. Last year they repeated it with "26 Feet of Art."
The art show opening reception is part of the three-day CenterFest, which runs Thursday, September 20th through Saturday, September 22nd.  A Dale Chihuly bowl will be auctioned off during the final day, just prior to a performance by Manhattan Transfer.
The show will remain on exhibit through Oct. 6 and will be open during performances at the center, by appointment, and for the fall Arts Walk.
In addition to the artists mentioned above, you will find works by: Ron Hinton (not to be confused with Ron Hinson, also included), Gail Ramsey Wharton, David Mark Leon, Susan Emley, Beth Evans, and Kathy Gore-Fuss, just to name a few of the many.
Ron Hinton has been an active metal artist for more than 30 years and frequently shows his work at Childhood's End in Olympia. His auction piece in this show is an abstract sculpture fabricated by photoetching computer-generated imagery into the bronze. "I tried to express the motion and energy that is put on display show after show at the Washington Center and exemplify what a treasure the center is for the community," Hinton says of this piece.
He goes on to explain: "My work melds the historical and traditional aspects of the metalsmithing craft with contemporary forms and modern technical processes. I draw on my academic training in metalsmithing for centuries-old techniques of soldering, forming, and fabricating.  At the same time, I use a photo-etching process to incorporate images onto the metal surface.  These images are etched into bronze, and can be combined with stainless steel, copper, or other metals to create an iconic work of art that will last for generations to come."
Gail Ramsey Wharton, recently profiled in ThurstonTalk article, is primarily a collage artist. Her latest works are a series of images taken from a very old art history book which she has altered to give contemporary meaning, including a lot of playful word play. She copies the images, paints into them and collages in words and bits of other images to change the meaning, often with cleverly used puns.
For instance, she has given Fra Angelico's 15th century fresco "The Annunciation" a new title: "The Pronunciation," to show Mary and the angel arguing over the pronunciation of tomāto-tomäto; and she has changed Botticelli's "The Birth of Venus" into "The Birth of Venus of Willendorf." Instead of the idealized goddess beauty on the seashell Wharton pictures the Paleolithic statue of a fecund woman that is thought to be one of the oldest statues in existence. Versions of each of these, Pronunciation and Venus, are included in the 27 Feet show.
Tom Anderson is one of Olympia's most well-known artists. (Click here to read more about his work.)  His works can be seen in many public collections such as the emergency room at Providence St. Peter Hospital, and he is the artist who designed the Park of the Seven Oars above the roundabout on Harrison Avenue downtown. Anderson works mostly with abstract forms painted, scratched and burnished onto aluminum sheets with a mixture of other materials to create rich and often surprising textures. His piece in this show is called "Domain," mixed media on aluminum on wood. "The word domain has multiple meanings which I like, as it reflects how art can also have multiple meanings," he says. "Specifically I was thinking about the idea of domain as it relates to the internet, a feudal geographic territory and the Ring Theory in abstract algebra that refers to the absence of zero divisors."
Debra Van Tuinen, who works almost exclusively in encaustic, is also a familiar artist to Olympians. Visitors to The Olympian newspaper have seen the large Van Tuinen on the wall behind the reception desk. She's represented in this show by a piece titled "Lake Louise Fall."
"My work is not an exact representation of the landscape," Van Tuinen says. "My paintings are meant to capture the emotions and thoughts that the landscape invokes in me. All that I experience and see becomes part of my work. How I respond physically, spiritually and intellectually to my environment is the essence (the spirit) of my work.
"The Lake Louise 2012 oil encaustic painting was inspired by a road trip through Banff last fall on my way to teach an encaustic workshop in Canmore, Canada."
She is currently creating a new body of work in oil on canvas for spring solo shows in Calgary AB, Vancouver BC and New York City. She will be featured in the 100 NW Artists book that will be released spring 2013.
Photographer David Mark Leon will be represented with a photograph titled "The Monk." He says: "I have been taking photographs for about 10 years as an amateur and this is the first time one of my photographs has been displayed for sale."  Mark is a Seattle resident.
Susan Emley's small, quirky paintings are colorful and have a childlike quality. "A quote from Swiss artist Paul Klee sums up my life as an artist," Emley says. She references the quote to describe her art -"Color has taken possession of me. No longer do I have to chase after it. I know that it has ahold of me forever. That is the significance of this blessed mind. Color and I are one. I am a painter."
Emley says that growing up in the Northwest taught her "to love the one million colors of green and grey found here. Later, living in the Deep South, Eastern Africa, Northern France and volunteering in Northwest Russia expanded my palette and love of art. With these experiences, I came to embrace all the colors and cultures of those who people the planet.  I love painting people and critters. When I enter the painting, they appear on their own."
Her painting in the show is titled, "Henrietta Polkadot." She says she wanted to be in the show because she loves to dance, "and, the Washington Center is all about the celebration of life through all forms of artistic delights."
The art show opening, wine tasting and auction will be Friday, Sept. 21 at 5:30 p.m. The show will remain on exhibit through Oct. 6 and will be open during performances at the center, by appointment, and for the fall Arts Walk. To preview works online, click here.