Submitted by Cinderella's Closet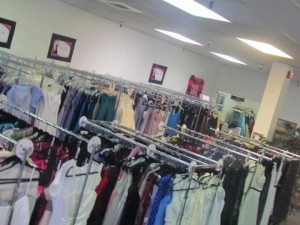 Anxiety, smiles of satisfaction, then ecstatic joy  – all happen any day at Cinderella's Closet shop at South Sound Lacey Mall. Adult volunteers (the helpful Fairy Godmothers) and teenage  assistants serve our community ladies of any age from 13 onward. Finding the right size, color and style gown to turn that woman or girl into a Cinderella for her current formal dance is a happy but serious task.
Past volunteers remark at the pleasure of working in this boutique setting with gorgeous dresses and being rewarded with the satisfaction of being an important part preparing a young girl for her first dance or encourage a frantic woman invited to a major wedding or ball to find the right style to make her a beauty worthy of that occasion. With 1500 colorful and even glitzy dresses in sizes 0 to 24, there is a great deal of hunting for the right or best dress.
Feeling pretty is part of self image development so needed for young girls and even some of us women who struggle to enjoy a glamorous night out. Everyone who volunteers collects moments of satisfaction of being part of helping another's dream come true. Want to take part in the fun of making enchantment happen for others? Come join us during our homecoming rush months of September and October. Volunteer and work with the women and girls of our community who are seeking beauty at affordable costs.
Cinderella's Closet shop rents short party dresses and long formals, even sweeping ball gowns for that special evening affair. This community service is available for every teenage girl or women. Come in about two weeks ahead of your special occasion and find a dress or formal attire to rent and then return it immediately after your 'big do'.
Cinderella's Closet Network is a not for profit service organization with a 501(c)3 rating so we can accept cash or clothing donations and provide tax credit receipts. Generous donors contributed these lovely gowns for use by others in our area. Thank you!
Our vision is to serve, mentor and inspire all South Sound girls and women by helping each other look and feel beautiful and become more self assured.  Our mission is to provide low cost formal wear, free sponsoring of girls' for their formal dances, helping other community charities to support their formal activities, and creating esteem building activities for girls through volunteering at Cinderella Closet Network or their school fashion shows.
Call Mary Ann Detzler (co-founder) at 360-878-2026 or Lori Kenyon (volunteer coordinator)  at 360-550- 5336 to discuss availability to join us in this community service fun. Cinderella's Closet Network fall hours are Wednesday through Friday 3 to 6 p.m., Saturday 1 to 4:30 p.m. and Sunday 2 to 4 p.m.  Additional training times could be set up beyond our public hours. Come join!