Kim Piper proclaims that her team of RE/MAX agents have 'become very good at bad.'
RE/MAX Four Seasons, part of the most productive international network of independently owned real estate offices, has many attributes that simplify the home buying process.  However, over the past few years, the real estate agency has consciously shifted towards supporting families through the short sale process, and, of course, in good decision making overall when it comes to real estate purchases and sales.  With the unpredictable and complex changes in real estate and banking and the dramatic devaluations in property values, there are no norms any longer.  It's constantly changing.
"Most home owners don't sell right now thinking that they are going to make a huge profit and then invest and trade up to a more desirable home.  Instead, they are selling because of health care issues, income loss, divorce or family members moving home, or, a mandatory job/military relocation," reports Piper.
"We walk into chaos and into the middle of some very tough life decisions.  Our job is to help educate, inform, and assist our clients gracefully through the preparation and actual listing and sales process," adds Piper.
In real estate, a short sale occurs when the lender permits a property to be sold for less than the amount owed on the mortgage.
Many RE/MAX Four Seasons agents are fully trained as experts in the short sale process.  The agent serves as an advocate for the home seller and negotiates with the mortgage lender and other parties on their behalf.
"Our agents insist that home owners get good independent financial advice," comments Piper who adds that her team works with professional partners such as attorneys and accountants.  "We will successfully negotiate a short sale with a lender so the home owner is released from future liability and has the debt forgiven or if other terms are needed to close the transaction, the homeowner will knowledgeably agree to the terms of the short sale."
Piper sites her relationship with attorney Jessica Jensen who frequently provides her expert legal services at a discount to guide families through a short sale transaction.
Many times, Piper's clients are military families who are being relocated.  She shared one example during our interview.  A family bought their Tumwater home in 2007, which has since lost 40% of the value.  One family member is a Colonel with a high level security clearance who was being relocated to Europe.  If the home progressed into foreclosure, he would lose his security clearance and therefore his job.
"With the help of attorneys who gave the family solid legal advice, we were able to get the debt completely forgiven," remarks Piper.  "The Colonel, who never had a late payment, was a great neighbor and a strong advocate for the community, and, of course, serving his country, was able to keep his security clearance and he and his family were able to move on to his next assignment."
"And, we do this with professionalism, compassion and dignity," adds Piper.
With five offices, Piper's team includes co-owner Dean Stohl, 90 full-time licensees plus 25 additional staff and agent assistants.  RE/MAX Four Seasons offices are located in Thurston County, Gig Harbor, Tacoma, Moses Lake and Othello.
With an international network, RE/MAX is able to connect families moving all over the world.  "Even if a family opts to rent or wants advice on the best scenario in the new country, we are able to connect them to trusted advisors where they are going," says Piper.
Throughout the economic downturn in the real estate agency, Piper's company has been investing in technology to reduce overhead costs and help the agents be more effective.  "We've become technical geeks," she says with a smile.  "We had to make radical changes to become more efficient.  We decided not to reduce our services to our agents but rather 'raise the bar' to serve full-time dedicated agents" she adds.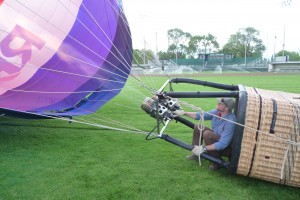 For example, the agency has unified its communications platform.  All updates made to an agent's tools, such as a smart phone or tablet, are immediately updated across all devices and computers; in the office, on the fly or at home.  "We easily receive 80 – 150 business emails a day.  If an agent responds to a client using one device, it immediately updates all devices," explains Piper.
RE/MAX also provides a full-time help desk.  "Since so much of our work is conducted via technology, we don't want our agents to have to 'figure it out on their own.'  They can simply call into the help desk and get questions answered promptly," describes Piper.
"We kept our overhead low by taking a leap into future technology.  We can respond quickly to our customers and our agents can be anywhere or work any time of the day or night," says Piper.
RE/MAX Four Seasons agents operate in a collegiate environment.  "I am proud of the integrity of our agents and the results they give their clients during very difficult times," summarizes Piper.
Contact RE/MAX Four Seasons via website or by calling 360.357.3336.