By Tom Rohrer

Local youth have the opportunity to learn the foundation of a sailor's life thanks to an introduction class provided through the Olympia Yacht Club's Junior Sailing Program.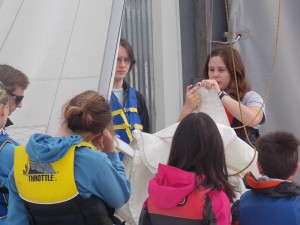 The program, which is also offered through the Olympia Parks and Recreation Department, allows for children and teenagers to (literally) learn the ropes and procedures associated with sailing.
Overseen by Jan Visser for the last eight years, the camp runs for five days a week for three hours each age group.  The Lil Luffer's class is dedicated to kids 8-11 with little to no experience on a sail boat, and teaches the youngsters necessary fundamentals.
"Kids in the program learn so many things, and that's really what sailing is, a combination of a bunch of different areas of focus," Visser, an Olympia citizen said. "It teaches them at a young age how to focus on everything in their lives and not just one thing in particular."
The camp counselors, many of which were taught by Visser and participated in a similar camp, are college aged and have experience using the wind to navigate the various channels of the Puget Sound.
"It helps having good instructors, and these (instructors) know what they should be teaching the kids," Visser said. "They all have been there before and know what should be taught and emphasized."
One of those home-grown instructors is Madison Marshall, a Western Washington University student and Capital High School graduate, who participated in a similar camp under the tutelage of Visser.
This summer marks the third year Marshall has been a counselor for the program, and he is happy to give back to the new crop of youth sailors.
"It's a good feeling and you really get to see the results of your instruction first hand," Marshall said. "It wasn't that long ago that I was in a similar position, and this camp really got me into sailing and I haven't really stopped since."
Class sizes for the camp ranges between eight to ten participants, a perfect size for beneficial instruction.
"Usually we have around 8 or so counselors, which are important.  It's great for the kids to have a lot of instruction, because that's how you learn," Marshall said.
Much of the camp's focus hones in on safety instruction, a vital component of sailing that cannot be stressed enough by the camp counselors.
"We'll start out with some basic sailing instruction, cover some terms, but a majority of that focuses on safety," Marshall said. "That's something they need to realize.  There is no sailing without safety."
Visser and her staff provide the necessary support to maintain the high level of safety.
"First off, all campers are always wearing life preservers, but we also keep a level of supervision close by," Visser said. "Our instructors aren't kids; they have the training and level one certification. We have instructors on the boats with kids and spotters nearby in the water and on land. We take all necessary pre-cautions."
The sport of sailing has grown in the area in terms of participation and organization, with both Olympia and Capital High School's fielding sailing teams on the competitive circuit.  That increase is an exciting possibility for all those involved in the camp.
"I think there are a lot more opportunities for kids and even adults to become involved," Visser said. "There are the competitions, and that's fun.  But you don't necessarily need a boat to be a sailor.  There are programs like this where you don't even need to be a member of the yacht club. "
"We get a lot of kids from the parks and rec, and we get a lot of kids returning from previous years.  Kids can also join the high school teams in middle school and that's a huge step," Marshall said. "I've been opened up to other organized races which are held throughout the week and pretty much anyone can join up.  There are a lot of opportunities."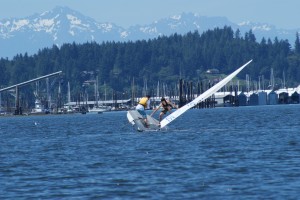 Providing children with the foundational knowledge to carry on the sport is the most rewarding part for Visser.
"Just seeing the kids develop, seeing them fall in love with the sport, that's my favorite part," Visser noted. "They learn so many skills and to see them enjoy learning them, that's special."
Youth, junior and adult sailing programs are offered at the Olympia Yacht Club throughout the summer.  For more information, visit www.olympiayachtclub.org or call Jan Visser at the Olympia Yacht Club at 360.754.6506.