Recently, another family joined us for a family bike ride.  Like most parents, we try to encourage being outdoors and getting exercise as a family.  And, as much as I would prefer to classify "reading a magazine on a lawn chair" as an "outdoor activity," I do my best to role model a healthy lifestyle.  So, I doubled up and combined family time with research for a Thrifty Thurston post.  It's all about efficiency, right moms?
First, a bit of an overview about the Chehalis Western Trail.  Thurston County owns and operates the 22-mile bike trail.  Looking for an additional challenge or to extend the pedaling?  Turn onto the 14.5-mile Yelm-Tenino Trail which hooks up at the south end of the trail. Prior to becoming a bike trail, this stretch of land was owned by the Chehalis Western Railroad until the mid-1980's.
Riding on the trail showcases a variety of ecosystems and environments in Thurston County.  The flat bike route is ideal for children.  With markers every half-mile, it's easy to know how far you've traveled, especially with little legs pedaling.  A complete map is available by clicking here.
On this particular evening, we opted to park near a trail entrance on 26th Avenue in Lacey.  If you have a lot of gear to organize, I would recommend using one of the more expansive parking lots which are located at Woodard Bay, Chambers Lake Boat Launch, Scenic Overlook at Chambers Lake, Yelm Highway Pedestrian Overpass, 67th Avenue trailhead and Fir Tree Road.  All of these facilities include picnic tables and restrooms.
One dad slung on a backpack of food and camera gear while another mom tucked her family's meal into the bike basket of her beach cruiser.  We fastened the helmet, hooked on a trailer, and we were off.
From 26th Avenue, we traveled about 4.5-miles one-way bike to Woodard Bay.  We opted to travel this direction to enjoy the scenery.  We passed a lily-pad laden pond, expansive fields, and idyllic farms.  Close to the end, the trail curves through a tree canopy.
This distance was ideal for six-year-old cyclists but the older girls were itching for more mileage.  With limited road crossings, the Chehalis Western Trail is ideal of permitting older kids to 'ride ahead'.  They were able to circle back and gain more mileage plus have the freedom of feeling like they were on their own.
Unfortunately, the nature trail to Woodard Bay is closed to protect sensitive nesting wildlife. According to Birdie Davenport, Natural Area Manager for DNR, the trail is expected to reopen in late August.  Davenport suggests visiting the area year-round.  The main public access is located just west of the Woodard Bay bridge, about 1/4 mile from the Chehalis Western trail parking area.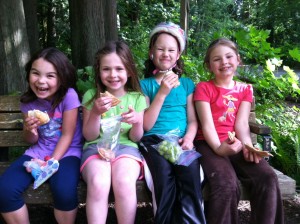 "Visitors can enjoy wildlife viewing with binoculars or spotting scope, access to the shoreline, picnic tables and a restroom.  There is also a loop trail through the forest about 1 mile in length that leaves from and rejoins the paved trail," says Davenport.  Sounds like a delightful way to extend your visit to the area!
We snacked, drank some water, and turned around.
If you will be traveling some distance to link up with the trail, you may want to plan your bike ride around one of these family-friendly events happening at Huntamer Park in Lacey.  All events are free!
On Tuesdays, through August 7th, the Lacey Parks & Rec department hosts the Children's Entertainment Series.  Each night, beginning at 6:30 pm, a different performer will take the stage.  View the complete schedule here to pick your favorite act.
A great mid-week pick-me-up is enjoying live music on Wednesdays at noon.  Saturday evening concerts begin on July 14th and continue through August 11th. It's likely that I'll plan my schedule around the Neil Diamond Tribute band but your family may be more in tune with celtic music, latin guitar or Johnny Cash.  Take your pick!  See the full schedule here.
After the Saturday evening concerts, Huntamer Park transforms into an outdoor movie theater.   Flicks are appropriate for all ages.  Spread out a blanket, under the stars, and rest your weary legs from all that cycling.
Attend the South Sound BBQ Festival on Saturday, July 7th.
Stay in touch with more local events by viewing the ThurstonTalk event calendar.  Thrifty Thurston is always looking for more ideas.  Drop a note to submit@thurstontalk.com.