By Laurie O'Brien
A very special art show is happening at Meconi's Italian Subs in Tumwater this week.  Teacher Joey Powers and students from the Art Club at Tumwater High School have created 25 portraits of orphans to support The Memory Project and are displaying them to the public before shipping them off to Honduras.  The portraits are already on display at the popular sub shop, but Friday night from 5 until 7 marks the "Opening Gala" of the show when student artists will be on hand to meet and greet the public.
The portraits and the show are the result of first year Tumwater teacher Powers hearing about The Memory Project, an organization that encourages art students to create portraits for children and teens around the world who have been orphaned, neglected, or disadvantaged.
When Powers heard about the Memory Project last fall, she knew it would be a good fit for her and her students.  "I literally got the post card mailer, and I shared it with my classes that day," she says.  Although she has a full schedule of five classes and a student load of about 160 kids, Powers created an extracurricular Art Club so that students could count their work on the Memory Project toward their required community service hours.   Of the 40 students involved in the club, 20 of them created Memory Project portraits.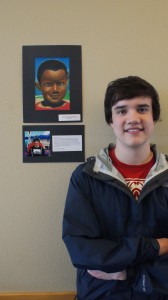 After contacting Memory Project Founder Ben Schumaker and signing on to participate, Powers was sent a packet with photographs of 25 Honduran orphans.  She let club members pick their own subjects and gave them free reign with the portraits.  "Oil pastels, prisma colors, water colors: Anything in the art room is theirs during club," she says.
Senior Colin Johnstone is happy he participated.  He usually works with pencils but pushed himself out of his comfort zone and tried oil pastels for the first time.  "It took forever to get the colors right," he laughs.  Johnstone estimates it took upwards of ten hours to complete the 8×10 portrait of his subject, "Jose."
Lindsey Johnstone, Colin's sister, was called in by Ms. Powers at the last minute to help complete one of the subjects who wasn't initially assigned.  Lindsey stuck with her favorite medium and created a graphite pencil drawing of "Karen" in about three hours.
"I've just been floored by the talent I have in my classes.  They've been phenomenal," says Powers.  The diversity of the portraits displayed is proof of her assertion.
In addition to hosting the show, Meconi's is donating a portion of Friday's proceeds toward shipping and other costs associated with participating in the Memory Project.
Powers is thrilled that the local eatery has agreed to host the show and sponsor the club's involvement.  She hopes they can make this an annual event.
What: Art Show featuring portraits by Tumwater High School students
Where:  Meconi's Italian Subs, 111 Tumwater Blvd. S.E
When:  Gala Opening, Friday, May 4th, 5-7 p.m.
Price:  Free admission.  A portion of sales all day Friday will help support the Tumwater High School Art Club's involvement in The Memory Project.  Donations are gladly accepted.
To learn more about the Memory Project: