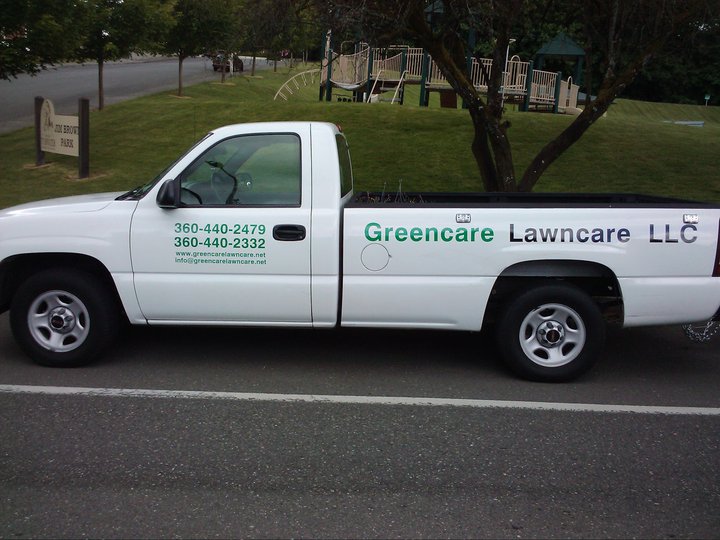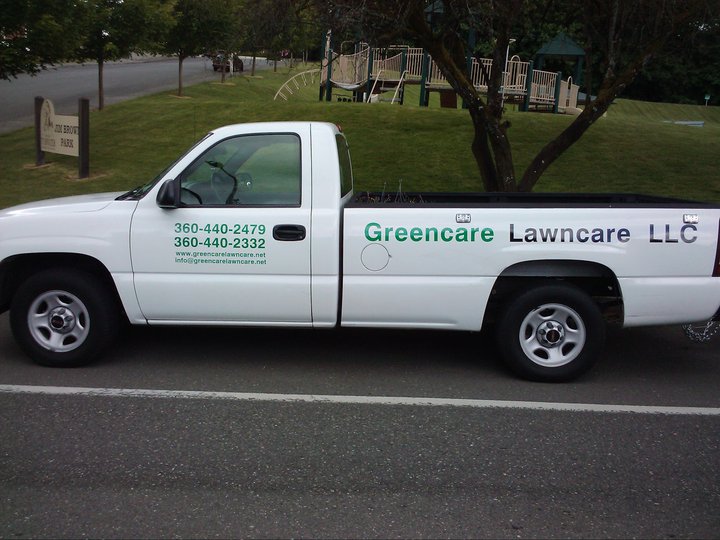 Now is the optimal time of year to start a lawn care program. From mowing fertilizer, to aeration, seeding, lime application, pruning, and more, Greencare Lawncare can take care of it all for you – and do so at a competitive price.
Owners Dan Thomas and Chris Nelson started Greencare Lawncare last year after being laid off from their roofing jobs.
"We just said, let's do it," Chris says of their decision to go into business for themselves. "We knew what we were doing and I had the money, so we gave our two-weeks notice and opened up the business."
The company's mission is simple: provide customers with a visually stunning landscape while sticking to three unwavering concepts: honesty, professionalism, and knowledge.
On top of general lawn maintenance services, Greencare Lawncare also offers insect control, perimeter pest control, and pressure washing.
"Dan and Chris have been servicing our lawn for over a year now," says Shawn Burdett, owner of Puget Sound Computer Repair. "They mow, edge, and clean up our property with great care and for a very reasonable price."
"They're always on time and have smiles on their faces, even when it's pouring down rain," Burdett continues. "They have a customer for life."
Thomas grew up on 20 acres in Little Rock. "I was mowing yards when I was four years old," he says with a chuckle. "My mom and dad have pictures."
Nelson, who grew up in Lacey, suggested Greencare Lawncare's name while the duo drove back and forth squaring away their business license and other start-up details.
"It's a good name for a business in Washington," he says with a smile.
The men have invested in the best machinery for their lawn care business – mowers, blowers, aerators, dethatchers, and more. "Every penny that I have, every dime, all my retirement, is in the business," says Thomas.
And they've already set their sights on more equipment. They'd like to upgrade to bigger mowers and eventually buy a dump truck.
"It's backbreaking work to empty all the grass out of the back of our current truck," says Thomas.
"And we wouldn't have to get out at all!" Nelson says with a laugh, imagining the ease of emptying the dump truck at the landfill.
Both men agree that the best thing about owning their own business is being their own boss.
"And not having to worry about being laid off," says Thomas. "Everything falls on us. If it doesn't work, it's only because we didn't work hard enough."
Most of the work they do now is residential, but the goal is to add in more commercial work, as well.
Greencare Lawncare's prices are extremely competitive, thanks to low overhead. "We don't have 40 guys working for us, 40 trucks to maintain, and a 5,000 square shop," says Thomas. They're a two-man show.
According to Nelson, many of their customers say the bids they receive from Greencare Lawncare are more than 40 percent lower than those from competitors.
Thomas is quick to point out that there are lots of quality lawnvcare companies in the area – but Greencare Lawncare offers the same great service at better prices.
"You have competition, and then you have hacks – people that drive around with beat-up trucks and mailbox stickers on the side of their truck that says they mow yards," Thomas explains. "That guy is not our competitor. That guy's not paying taxes, and he won't be around long."
Greencare Lawncare accepts bid requests via its website. They also welcome any questions.
There are a variety of choices for services and payment plans.
"We'll give our customers a bid and they have an option, instead of having one big payment every month, they can spread it over a year and that way they have smaller payments," Thomas explains.
In the slower winter season, Thomas and Nelson do leaf and yard clean up. "We're also thinking about offering to hang up Christmas lights," says Nelson. "No one likes climbing around on ladders in the wintertime – "
"But we've been there," Thomas says with a laugh, alluding to their roofing days.
Both men are much happier doing lawn care and don't miss their construction days at all.
"My back feels much better," Nelson says with a laugh. "This is a lot better than doing roofing 8 to 12 hours a day."
Follow Greencare Lawncare on Facebook, where Dan and Chris have been known to publicize $5 lawn mowing specials for the first 50 people to respond to the post. A similar promotion will appear in an upcoming Community Values magazine.
Greencare Lawncare
360.440.2479
www.greencarelawncare.net
info@greencarelawncare.net