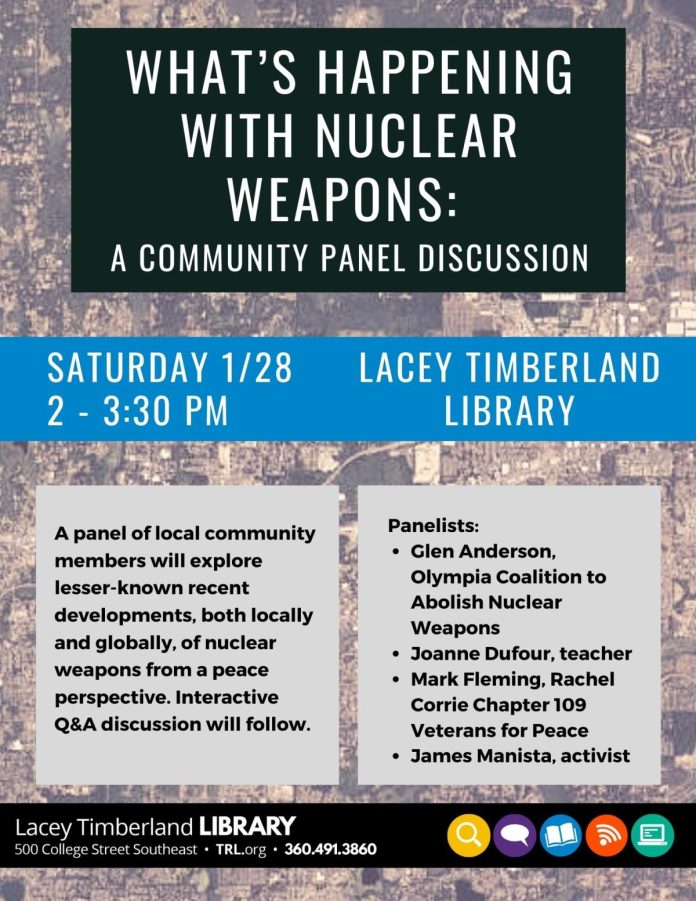 When:
January 28, 2023 @ 2:00 pm – 3:30 pm
2023-01-28T14:00:00-08:00
2023-01-28T15:30:00-08:00
Where:
Lacey Timberland Library
500 College St SE
Lacey WA 98503
A panel of local community members will explore lesser-known recent developments, both locally and globally, of nuclear weapons from a peace perspective. An interactive Q&A discussion will follow the panel's presentation. The presenters are four well-informed persons from the Olympia area: Glen Anderson is chair of the Olympia Coalition to Abolish Nuclear Weapons and a longtime advocate for peace issues, Joanne Dufour has blogged, taught and spoken about nuclear and disarmament issues, especially the Treaty for the Prohibition of Nuclear Weapons, Mark Fleming is the secretary of the Rachel Corrie Chapter #109 of the Veterans for Peace in Olympia and a Vietnam veteran who will address the military factors concerning nuclear weapons, and James Manista is a peace activist who has taken direct action resisting the Trident nuclear submarine at the Bangor Naval Base in Washington.