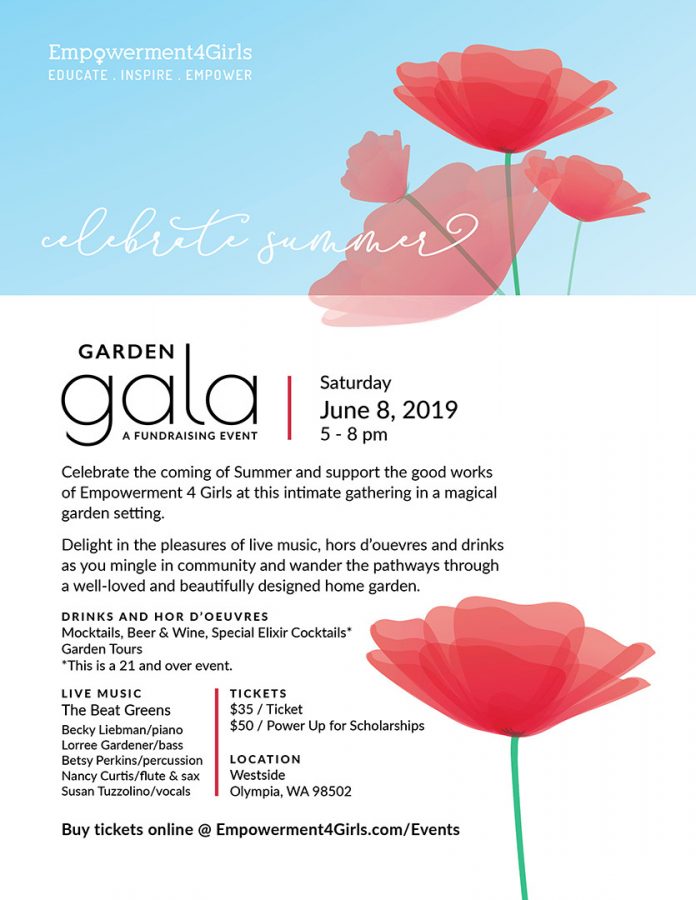 When:
June 8, 2019 @ 5:00 pm – 8:00 pm
2019-06-08T17:00:00-07:00
2019-06-08T20:00:00-07:00
Where:
Westside Olympia
Westside Olympia
Contact:
Kristen Rubis
248-345-4303
CELEBRATE Summer with Empowerment 4 Girls!
You're invited to celebrate summer and support the good works of Empowerment 4 Girls. Join us for an intimate gathering in a magical garden setting. Delight in the pleasure of live music, hors d'ouevres and drinks as you mingle and wander the paths through a well-loved and beautifully designed home garden.
DRINKS AND HOR D'OEUVRES
Mocktails, Beer & Wine, and Special Elixir Cocktails*
The lovely Katie Rains as Garden Goddess Bartender
*This is a 21 and over event.
GARDEN TOURS
Delight in the beauty of a well loved garden of 25+ years on the Westside of Olympia!
LIVE MUSIC: The Beat Greens
Becky Liebman/piano
Lorree Gardener/bass
Betsy Perkins/percussion
Nancy Curtis/flute & sax
Susan Tuzzolino/vocals
LOCATION
Saturday, June 8th
5-8 pm
Westside, Olympia, WA
TICKETS
$35 / Ticket*
$50 / Power Up for Scholarships*
*Event Ticket includes 1 Drink Ticket.
BUY TICKETS: https://www.empowerment4girls.com/events.html
Can't make it?
We understand that summertime is busy. If you're unable to make it to our Garden Gala you can join us in helping to empower young girls by making a $25-250 contribution to our Scholarship Fund. Thank you in advance if you do. We could not do this work without you! https://www.empowerment4girls.com/contribute.html
I hope to see you at the event!
Kristen Rubis, Executive Director
Empowerment 4 Girls