Ever heard of a sustainable micro-farm specializing in cut flowers, arrangements and bouquets? That is exactly what Fion Yen is doing with her new Yelm flower shop, Harmony in Blooms. Opened in 2022, it is the product of years of schooling, experience and love.
Yelm, Washington, Flower Farm
Fion Yen, originally from Taiwan, came to Yelm, Washington, for job training after getting her second Master's Degree at Brown University. She met her husband in Yelm and they married in 2014. Plants, however, have always been in Yen's life.
"My father was an orchardist since I was a kid, so farming has never been a foreign concept to me," she says. "My first gardening experience dates back to my college time when I majored in Botany. And from then on, I gardened wherever I could and even more so after my husband and I moved to our own land in 2018. I am a plant lover, and over time, I have collected an array of plants from culinary herbs, medicinal herbs, and berries, fruits, and vegetables as a modern homesteader, to perennial flowers and shrubs."
She Is not exaggerating when she says she loves plants. When asked what her favorite flower is, she quickly gives you a list, by season. "I love every flower I grow!" she says. "It is hard to pick just one favorite, so if I am allowed, I'd choose ranunculus for spring, peony for early summer and English rose and dahlia for mid, late summer and fall, based on their performance, my personal preference and they are also beautiful when dried."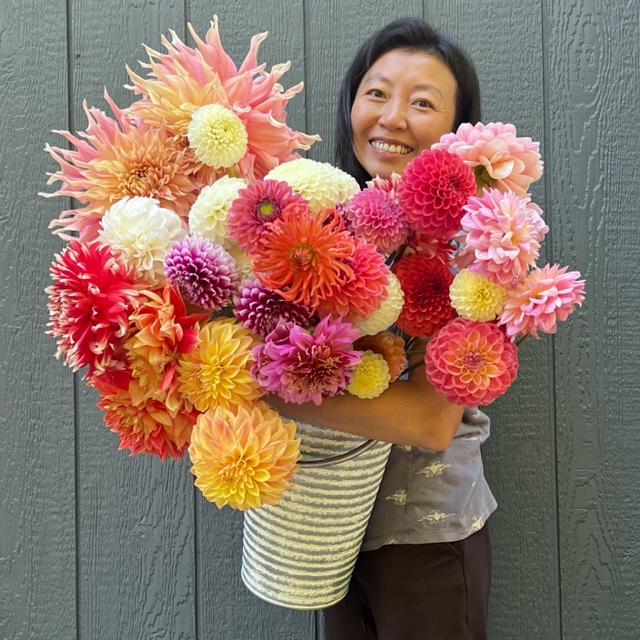 After learning about Floret Flowers in Mount Vernon, Washington, Yen decided the cut-flower world was the one for her. She took their class and then opened Harmony in Blooms soon after.
Sustainable Flower Farm in Yelm
While it may sound simple, growing her own flowers on her micro-farm – as she calls it – for her floral shop in Yelm takes a lot of care and planning. "It is more than just picking and selling flowers from the garden because not every flower makes great cut flowers, and when growing flowers for profit, there are standards to meet," Yen explains. "Flower quality, stem length and vase life are some examples flower growers are looking for. From crop selection, soil preparation, sowing, planting, pest management, and fertilizing to harvesting at the proper stage and post-harvest care, farming is time and energy-consuming and labor-intensive no matter the size you are."
In addition to making sure her quality is the best, Yen is also concerned with sustainability. She wants to make sure future generations can thrive and that means preserving the planet we have. Things like reducing pollution, saving energy, water conservation, soil health and preserving natural habitats for wildlife are important for Yen when working on her own micro-farm, which is less than a quarter of an acre.
"In my garden and farm, my focus has been on soil health, so instead of feeding the plants, I feed the soil," Yen shares. "My practices include no-till or low-till, organic amendments, drip irrigation to conserve water, and mulching with compost to feed the soil, prevent erosion and reduce water usage. And besides growing a diversity of flowers and plants, I introduce beneficial insects and do companion planting for pest prevention and management." When she does have to spray or fertilizer, she uses organic products. One her shop side, she minimizes the use of plastic bags in her packaging.
Speaking of packaging, Yen notes that 80% of flowers sold in the United States are imported from other countries. That's a lot of packaging and a large carbon footprint. She says they are also sprayed due to regulations with importing. And, because a lot of flowers don't travel well, Yen says buying local gives you more options.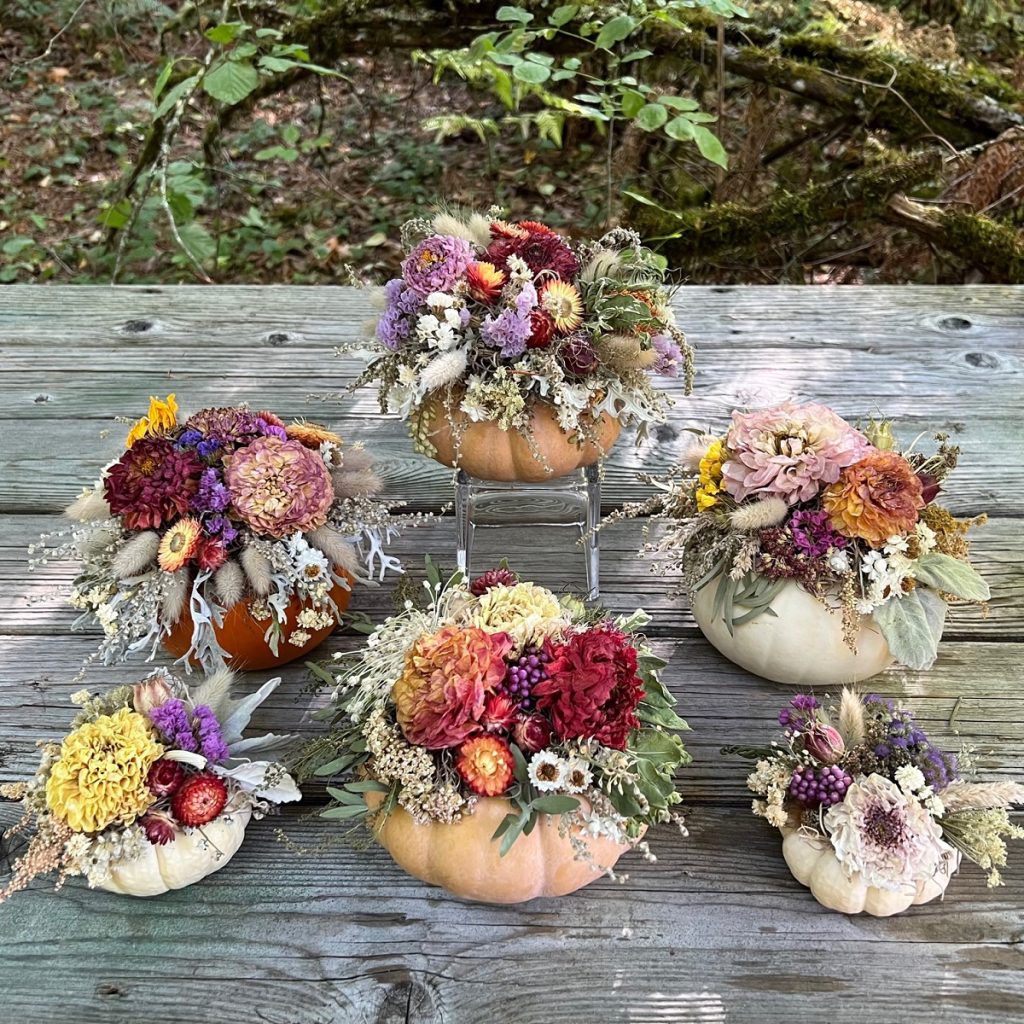 Custom Order Flowers from Field to Arrangement
Each flower bouquet or arrangement from Harmony in Blooms is cut to order from her own flowers grown in Yelm. She does have a flower stand by the road that occasionally has sales. The best way to order one of her sustainably- and locally-grown flower bouquets is on her website. Her season is late March or Early April mid-October, depending of course on the weather that year.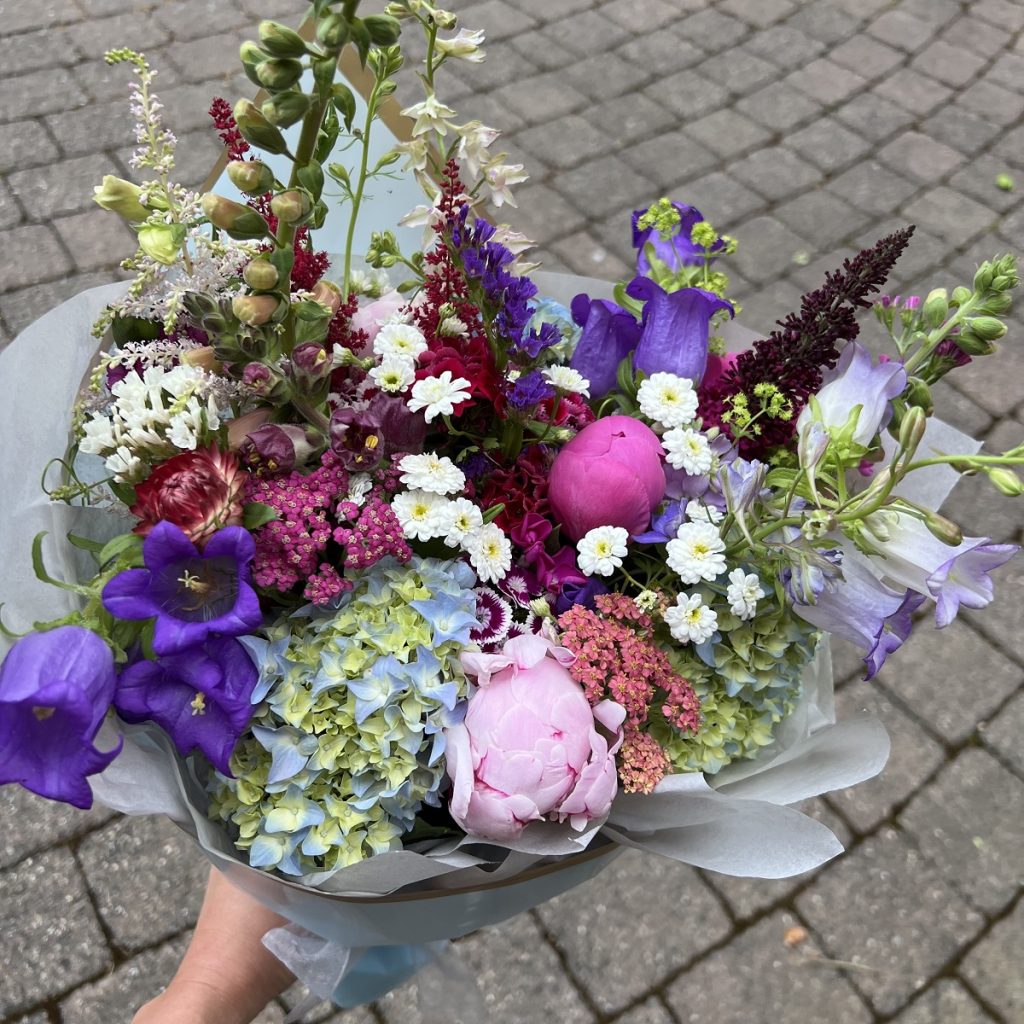 Although she currently doesn't go to Farmer's Markets, she thinks it would be great fun to interact with the customers and it's on her radar for the future. Other plans include adding more native flowers to her farm and using them in her final products. She is also hoping to host in-person workshops on flower arranging while continuing her own education in farming and floral design.
To purchase your own custom floral arrangement in Yelm, visit the Harmony in Blooms website. You can follow Harmony in Blooms on Facebook for updates on what is ready to be cut!