From spooky delights to festive holiday lights, you are going to want to head to Northwest Grind in Olympia, Yelm and Rochester and Bubbleology in Yelm. Owner Crystal Bundy and her amazing staff are working hard to provide the best service and products – including incredible new drinks and specials.
Coffee Specials in Olympia, Yelm and Rochester
All three Northwest Grind locations are brewing up fun specials for October and November 2023. For the rest of October, try the Love Bites – a 32-ounce blended cookies and cream drink with strawberry puree, topped with whipped cream, a JELL-O syringe, candy corn, Halloween donut and glow-in-the-dark vampire teeth with a lid rolled in crunchy ghosts!
For those who need a big pick-me-up, try the Zombie Brains! Green Lotus energy drink topped with strawberry cold foam and strawberry popping boba. And remember Northwest Grind's Lotus' are on tap, making sure it's the freshest and most carbonated Lotus you will ever taste.
Try both of these drinks before they go back to the grave on November 1!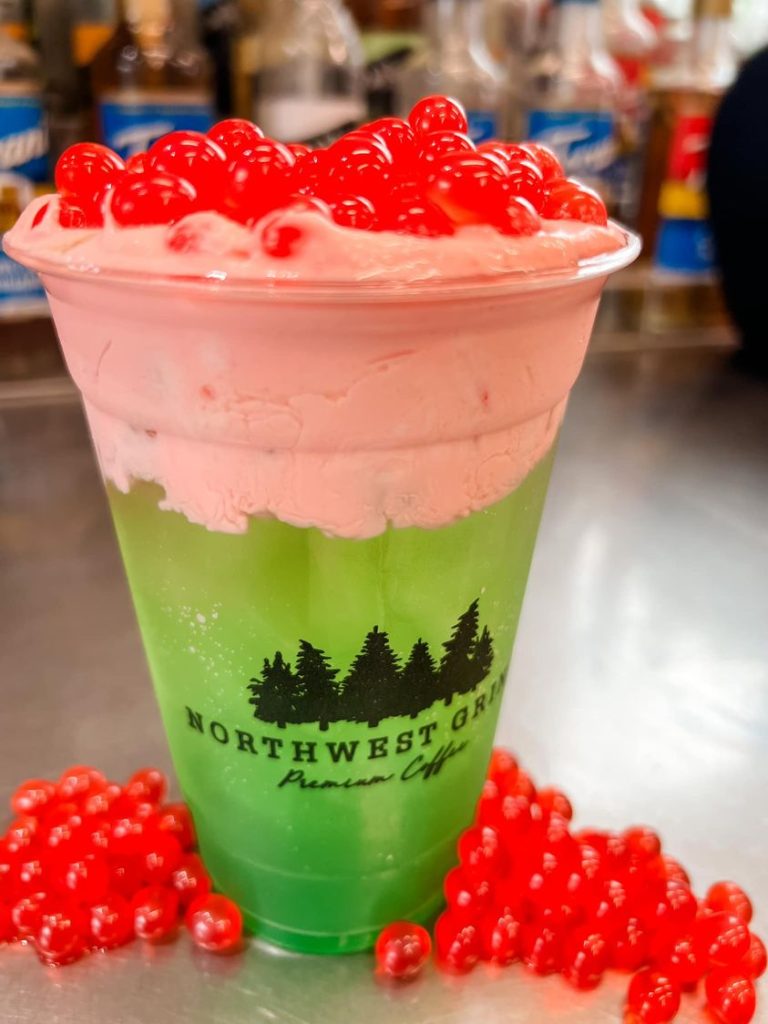 But don't fear, there will be more big specials starting November 1 to kick off your holidays! Try the Yippie Pie-Yay! This incredible drink is a 32-ounce blended with spiced chai drizzled with pumpkin sauce and topped with whipped cream, a caramel apple sucker, two rolled cookie wafers, and your choice of apple or pumpkin mini pie (choice while supplies last) with a lid rolled in graham crackers – it truly is an entire holiday dessert in one delicious drink!
Trick-or-Treat at Capital Mall
Don't miss Trick-or-Treating at the Capital Mall on October 31, 2023, from 5 p.m. to 7 p.m. Northwest Grind will be open and you can try their October Big Specials, get some candy and take photos in their cute shop. And remember, dogs are welcome so bring your pup in costume and order them a special pup cup!
Bubble Tea Specials in Yelm
Bubbleology in Yelm is the only Bubbleology location in the U.S. that is offering the monthly specials created especially by Bubbleology at its headquarters in London! "I worked on the owner a lot to allow us to bring these special drinks to our customers in Yelm because I want to give them as many options as we can," shares Crystal. "I am so excited to be able to offer these incredibly tasty, limited bubble teas in Yelm."
Before October 26, 2023, head to Northwest Grind/Bubbleology in Yelm to try their Harvest Fruit Punch which is pumpkin with white peach, strawberry and a sprig of rosemary with strawberry jelly topping. Or, try the Pumpkin Spice Boba which is pumpkin with cinnamon and boba pearls topped with whipped cream, cinnamon, and honeycomb cereal. This drink screams fall! Have a dairy allergy? Ask for it without the whipped cream and made with one of their milk alternatives!
Stay tuned on their Facebook and Instagram accounts to learn what their November Bubbleology specials will be!
Healthy Drinks at Northwest Grind
Part of having as many choices for her customers as possible includes offering health choices and alternatives for those with allergies or dietary needs. If you haven't tried their real fruit smoothies made with 100% real fruit and yogurt. Fruit choices include mango, banana, mixed berry, pineapple, strawberry and peach. Choose any combination of these fruits for a wonderful boost of antioxidants and other vitamins!
They also have over 30 sugar-free flavors to put in your hand-crafted coffee or Lotus drink, along with fat-free milk and all the popular milk alternatives including oat, almond, coconut and soy.
New Canned Drinks at Northwest Grind Rochester
Have you ever wished you could buy yourself or your co-workers a few drinks to have for later? Well stop by the Northwest Grind drive-through coffee in Rochester and check out their brand-new canned drink! "We are always looking to be innovative and to offer our customers things that no one else has," shares Crystal. "Our customers are loving this new canned option!"
Northwest Grind can now can your favorite coffee, tea or Lotus Energy drink so you can drink it later. Carbonated drinks last about seven hours, Crystal says. Any other coffee drinks last up to five days in the refrigerator. Order your favorite, take it to go and when you need a pick-me-up, it's there!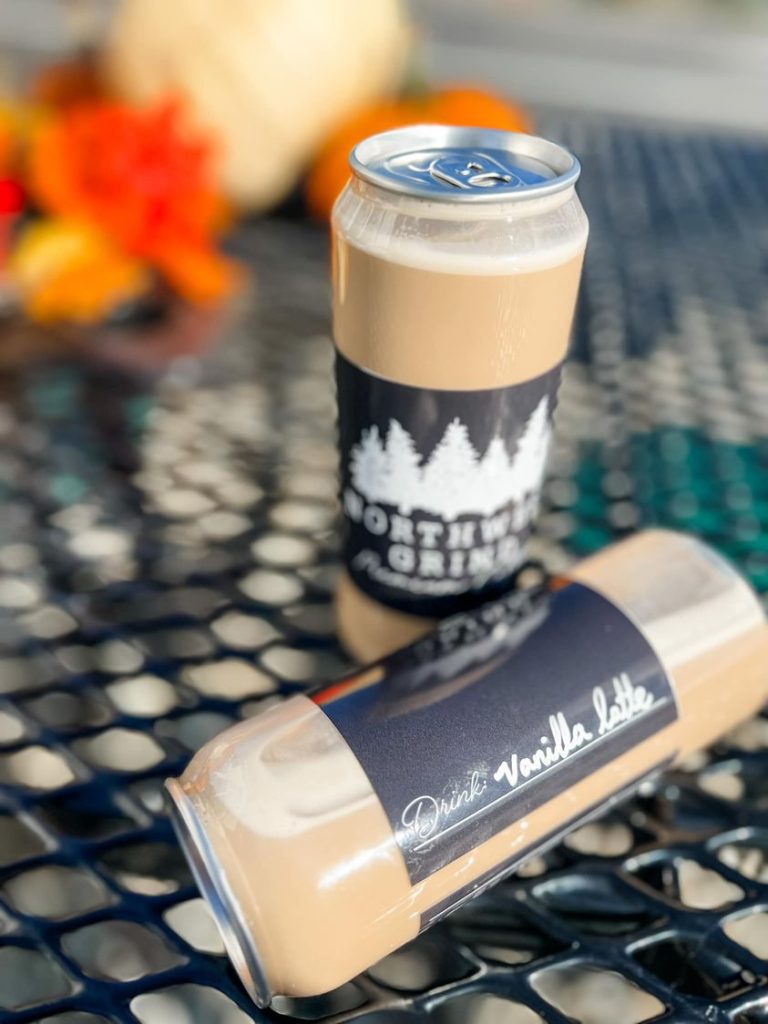 New Mobile Orders Launching Soon at Northwest Grind Olympia
Crystal is also committed to making the customer experience as wonderful as it can be, and that includes shortening the wait whenever and however she can. "In Yelm we have runners now that come out and take orders whenever there are more than 2-3 cars in line," she explains. "The team has worked really hard to master getting orders out quickly, while still being polite, friendly and having a bit of light conversation."
Another way she is helping cut back wait times is through mobile app ordering. Both the Joe App and DoorDash will be available soon for the Northwest Grind Olympia location. "We are testing at this site and as long as all goes well, we will expand to our other two sites in a few weeks," Crystal shares.
Those who make a mobile order can take advantage of priority parking right outside their Capital Mall location, just look for the Joe App parking spots next to the handicapped spaces. "It's right outside our door," Crystal says, "Maybe 25 steps?"
Black Friday at Capital Mall
Finally, don't forget to shop Black Friday and Small Business Saturday at the Capital Mall with Northwest Grind! On Small Business Saturday they will pop-up vendors outside of the Northwest Grind location, full of fun, locally-made items. And of course, Northwest Grind carries plenty of swag for the drink-lover in your life, including beanies, traveler mugs and more! And of course, gift cards make amazing holiday gifts for everyone in your life.
Another great gift for this holiday season that also supports a great charity is the Northwest Grind Coffee Cards Yelm High School is selling from November 1 through December 19, 2023. The cards are $20 and gives the owner 5, 16-ounce drinks of their choice! Buy for yourself, your Secret Santa, Hannukah gifts or that aunt that never is happy with anything you buy her. The cards support the nonprofit Yelm Connects Booster Club start-up fees, so they can support the high school community, explains Crystal. The cards have no expiration date so feel free to buy a few! Cards are available for purchase after school hours.
Follow Northwest Grind on their social media accounts to stay up to date on all their specials, including upcoming holiday giveaways happening in December!
Northwest Grind IG
Northwest Grind Olympia Facebook
Northwest Grind Yelm Facebook
Northwest Grind Rochester Facebook
Sponsored